Grogan's Mill Farmer's Market
When: Saturdays* November 2, 9, 16, 23 & 30, 2019
Time: 8:00 a.m. – Noon
Where: 2230 Buckthorne Place, The Woodlands, TX 77380 – Buckthorne Place & Grogan's Mill Road at Grogan's Mill Village Center
Presented by Grogan's Mill Village Association. For more information call 713-992-5893. *(Except for some holidays)
Free "Law Line" Service
When: November 4, 2019
Time: 5:00 p.m. – 7:00 p.m.
Have a legal question?A free call-in public Law Line for residents of Montgomery County who have general legal questions is offered on the first Monday of every month at 281-645-6344 from 5 p.m. until 7 p.m. by volunteer attorneys from The Woodlands Bar Association. (If the first Monday is a Federal holiday, then the Law Line will be offered on the second Monday of that month.) Topics include bankruptcy, family law, criminal law, consumer protection, and more. The volunteer attorneys do not provide specific counseling yet offer general information and inform people about their rights and options and what legal resources may be available for callers to follow through with their concern. Callers' identities, as well as the identities of the volunteer lawyers, will remain anonymous.This free public service is a project of The Woodlands Bar Association in conjunction with the United Way of Greater Houston, Montgomery County Center. The Woodlands Bar Association is comprised of private practice attorneys from both large and small law firms, judges and corporate attorneys and seeks to promote high legal standards, education and community service in the area. The Law Line offers a local community service opportunity for members to share their unique legal skills to provide service to others. www.WoodlandsBarAssociation.com
The Woodlands Township Veterans Day Tribute
When: November 11, 2019
Time: 4:30 p.m. – 5:30 p.m.
Where: Town Green Park, 2099 Lake Robbins Dr., The Woodlands, TX 77380
Admission: FREE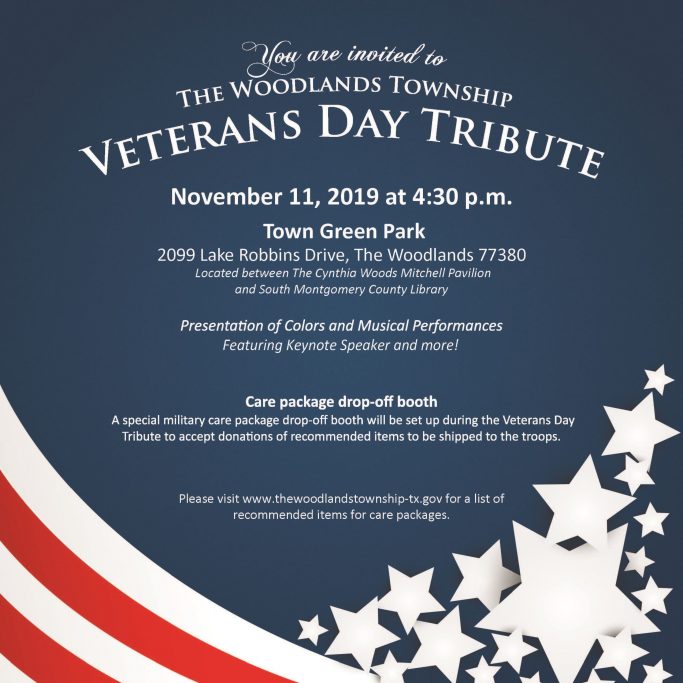 For more information call 281-210-3800.
37th Annual Lighting of the Doves Festival
When: November 23, 2019
Time: 3:00 p.m. - 9:00 p.m.
Where: Town Green Park and The Woodlands Waterway, 2099 Lake Robbins Dr., The Woodlands, TX 77380. The Lighting of the Doves Festival is a long-standing tradition in The Woodlands that signifies the start of the holiday season in the community. Symbolizing peace during the holidays, the ceremonial illumination of the giant doves has attracted thousands of visitors each year. The Festival includes traditional and international performances, showcasing the cultural diversity of The Woodlands and holiday traditions celebrated around the world. Featuring snow play areas, vendor booths, children's activities and strolling entertainment, Lighting of the Doves culminates with a special appearance by Santa Claus arriving by sleigh down The Woodlands Waterway and a dazzling fireworks display. For more information call 281-210-3800.