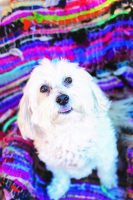 Is it me or did someone forget to open the blinds this morning because it sure is dark enough to make me feel as though I should still be in bed! Texas is a funny state – one day the sun is shining and the next I can't feel my paws because they are so cold, but I guess variety is what makes us love this place called home so much.
We have a very exciting issue this month and as usual, we are very happy to present it to you for your reading pleasure. I also want you to keep your faces glued to Docklinemagazine.com and our social media pages as we have some very big news coming up. We have spent quite of lot of time and energy to get to this point and there will be many things happening over the next few months that should excite you and give you even more reason to read our publication. Each month from this point on you will see quite a lot of changes. Some big, some small, but changes are coming. You will be seeing more articles and more ways of reading Dock Line articles and meeting and shopping with our advertisers. That's all I can say at the moment but we are sure you will be pleased.
Well, that's my big announcement for now! I will be seeing you next month, or who knows, maybe next week!!!
Have a wonderful turkey day and Happy Thanksgiving!