Convenient showroom for all remodeling projects!
---
Showrooms are meant to be a place to touch and see products before you buy. Coburn's Kitchen and Bath Showroom has all the latest innovations and designs in one place for your entire home or business remodel project. Julie Pitts is the showroom coordinator at the Coburn's Kitchen and Bath Showroom located at 930 S. Frazier in Conroe.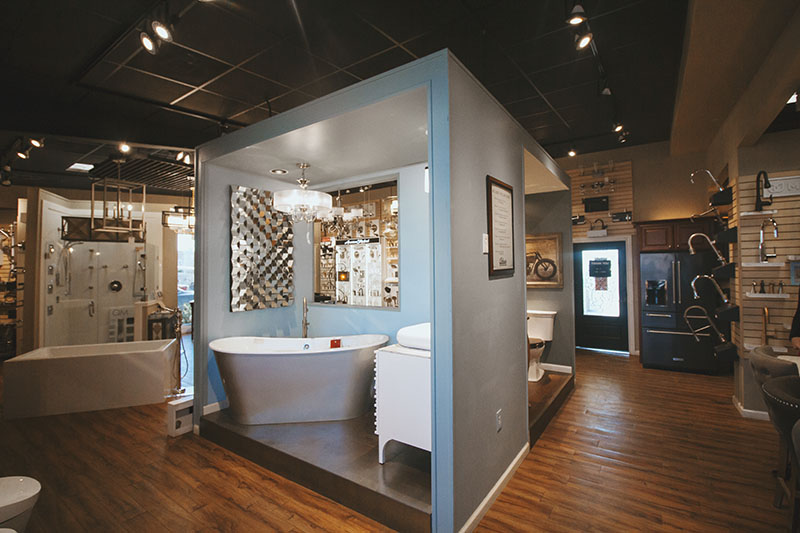 Julie has run the showroom for the last 2 years. "I enjoy remodeling and have remodeled 5 of my own homes and built a home from the ground up with my husband. My hands-on experience coupled with my strong relationships with manufacturers provides the education I share with all my customers and contractors that visit the store. We have hundreds of vendors for kitchen and bath fixtures, sinks, lighting, tubs, cabinetry, appliances, hardware, and plumbing."
"It is exciting to share my knowledge with customers explaining the difference between picking up an American Standard faucet from Home Dept or Lowe's that is plastic inside and purchasing an American Standard faucet from Coburn's that is brass. Brass is the better quality for durability and longevity."
Coburn's has products you will not see in larger stores like Home Depot or Lowe's. Coburn's Supply Company has 53 branches serving customers in Texas, Louisiana, Mississippi, Alabama, and Tennessee for over 85 years as a family owned distributor of commercial and residential plumbing, electrical, waterworks, and HVAC products. The Showroom in Conroe has been serving the area for 7 years.
"Bring any ideas from Pinterest or pictures you see into the showroom and 98% of the time I will find it for you right away", said Julie. "We have books of every kind of product you would need for your home or business and often I can call the manufacturer while the customer is in the store."
Every customer is given customized care and personal service the moment they walk in the showroom. Since Julie is the only person in the shop customers are encouraged to call ahead and make an appointment to guarantee additional time to share their specific project needs. The showroom is open Monday through Friday 7:30am until 4:30pm and appointments can be made at (936) 760-9300.
A frequent contractor to Coburn's Kitchen and Bath was eager to share his thoughts on why he frequents the showroom.
"It is important for me to be able to get the best quality products for remodeling projects. My customers want custom showers, baths, and remodels for kitchens. Julie is knowledgeable and her relationships with manufacturers is a real asset to expedite the process. I trust her to with my business!"
Knowledge and educating the customer is key to repeat business at Coburn's in Conroe. Even toilets are all different. An average toilet has 2-inch flapper and a trap. A Champion Pro toilet has a 4-inch flapper, with a larger trap way, fully glazed and an antibacterial finish to prevent molding ring.
Occasionally Julie gets the customer that wants a unique product.
"I had a customer who came in wanting a toilet he saw at an elite hotel. It opened automatically with a heated seat, night light, a front and back wash bidet, a deodorizer, and is self-cleaning. I got it for him. but it was at a premium price. He loved it".
Another customer raved on Coburn's: "Very friendly and helpful staff with everything I need. I won't go anywhere else now. When I asked if they had the product, she knew right off the top of her head about her inventory."  
Visit Coburn's Kitchen and Bath Showroom Monday through Friday 7:30am-4:30pm at 930 S. Frazier in Conroe. Call for an appointment at (936) 760-3900. Learn more at www.Coburns.com