11-16-19 Outlaw Outdoors Bassmaster College State Qualifier Tournament – Sam Rayburn
This morning Trey and I woke up and went outside and my boat was frozen. Everything was covered in ice crystals. We wiped it all down and defrosted it.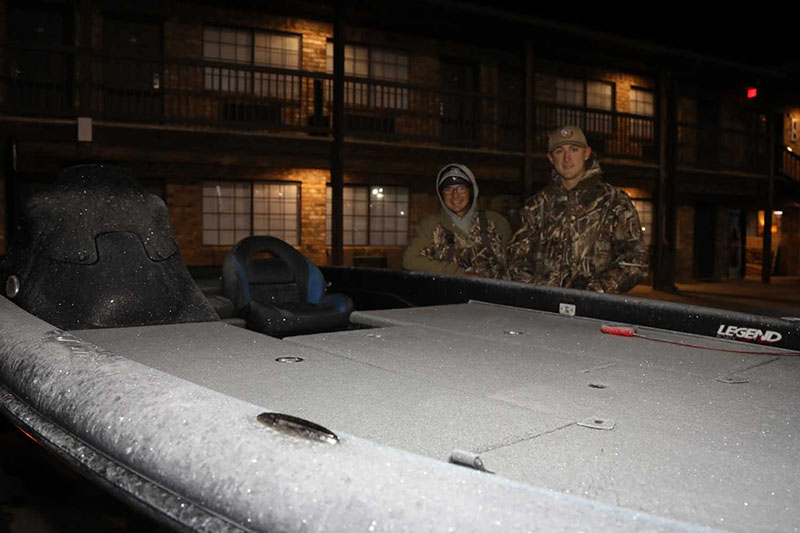 It is a very chilling 34 degrees with a thick fog. I dropped the boat in the water and headed down the ramp to the pier and almost slipped. It was also covered in a thin layer of ice.
As I got in the boat it was very foggy on the water. Guess what that means? FOG DELAY. We were supposed to be on the water and start the tournament by 6:15 a.m. The tournament director said a prayer and they played the national anthem. We took off our caps and held our hands over our heart while the drone flew the United States flag over the water. That is the first time we had ever seen a drone carrying a flag. It was great. Since we were all just hanging out on our boats and waiting for the fog to lift the tournament director decided to have a 15 minute tournament in the cove. Whoever caught the first fish won 2 hoodies. It was so cold that the fish didn't even want to bite. In 15 minutes not one of the anglers caught a fish so they extended it a few more minutes. Finally, we had a winner. Christian from SFA caught a bass, hoping it was a sign of good luck for the day.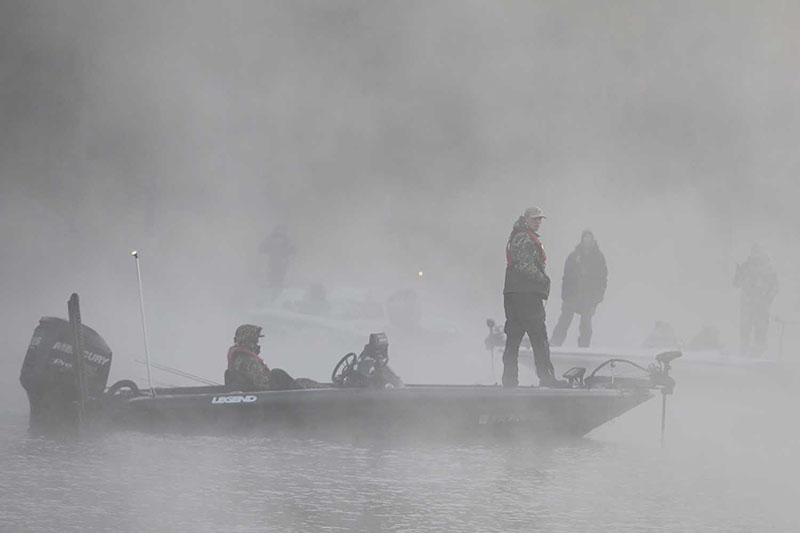 In order for everyone to be safe on the lake, the tournament will not start till the fog lifts and you can see where you are driving. They usually send out a boat to look but this time they went by boat and also sent out a drone to hover over the lake to see where the fog ended. It was getting a little better but still not safe for us to fish. This thick fog is extremely dangerous.
Since we were all waiting for the fog to lift, I was able to visit my friend Parker, he is now attending Baylor and he just started up the fishing team there. He had his coffee in one hand and red bull in the other. It was funny. Great to always see him. Trey and I also talked with Joe and some of the other guys from A&M.
Finally, after trolling around the cove the sun started to rise and the fog lifted. It is now 8:00 am and we are going to start the tournament. Today there are 66 teams competing for the number spot that gets you an entry into the Bassmaster National Championship College series.
In practice Trey and I caught 18 pounds one day and 14 on another. We started our day out fishing grass. That is how we caught them in practice, but this time we didn't catch any. So, we went to a deep spot and caught a limit of 5 by 10 am. We decided we were not going to fish shallow. What we had in our live well was not going to win the tournament. The first place team was the only team that would qualify for the National Championship and we were going to give it all we had to try to get it.
We idled and looked at spots where fish would group up this time of year. This is when I have to think like a fish. I also look up what they do in certain times of the year. I idled the whole rest of the tournament. I followed the river channel and found shad and used my side scan to locate the fish on both sides of the boat. The fish were chasing the bait and that is right where we needed to be. I located a school and ended up fishing about 20 feet deep. At this point we upgraded our fish to approximately 14 pounds. We found 3 more schools and caught fish off every single one. It was so much fun.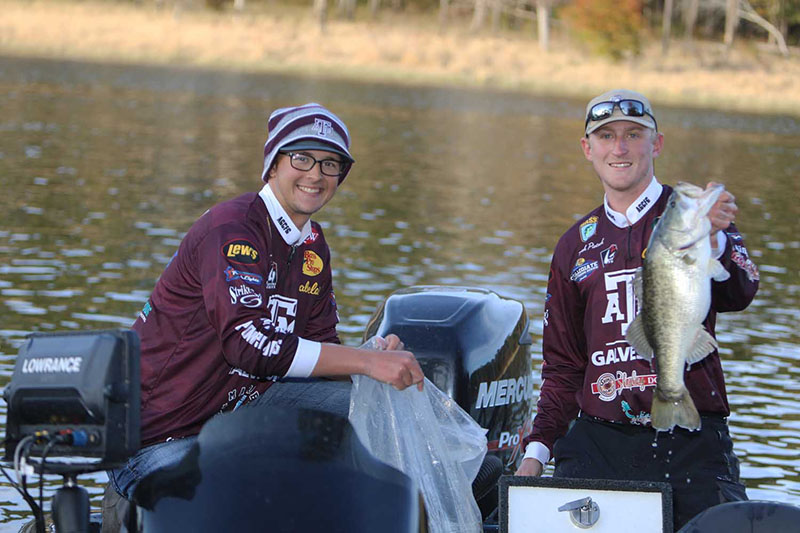 Trey caught the first 3 fish and then I caught a small and then I hooked up a 6 ½ pounder on a deep diving crank bait. It had a 10 inch shad in its mouth. That was a hungry fish. We put the other fish in the live well and they were spitting up the shad. We caught 30-40 fish. In the last hour and a half we culled all of our fish for what we had in our live well. They were all caught on a Strike King 6XD Deep Diving Crank Bait and a ¾ oz Football Jig.
11-23-19 Fishing for Rainbow Trout
Trey and I made a road trip up to San Marcos to visit our friends at Texas State University. The first day Trey and I went fly fishing with Cade Nicholson for rainbow trout in San Marcos on the Guadalupe River. We fished from 10 a.m. till dark and we only caught bluegill. The next day we heard the TPWA was releasing rainbow trout. I decided to set my line up like I did when I went fly fishing in Alaska. I used the same techniques working the line and I caught some rainbow trout. Cade caught an albino rainbow trout. It was yellow. I caught about 20 rainbow trout. Trey and Cade caught about 4 each. It was a great day fishing with my friends on the Guadalupe river. Living the dream, FISHING!
11-27-19 Fishing Lights with my Baseball Friends
All my baseball friends that liked to fish were home for Thanksgiving. Wednesday night Alex Nunn, Jacob Prigmore, Cade Walker and I decided to go out and fish lights on Lake Conroe. Great times with good friends.
Throw It Out, Pop It In, Fish On!