STAGE RIGHT of Texas, resident theatre company at the historic Crighton Theatre in downtown Conroe, is pleased to present the area premiere of The Best Christmas Pageant Ever- The Musical with book and lyrics by Jahnna Beecham, music and lyrics by Malcolm Hillgartner based on the play by Barbara Robinson. The show will be directed by Tina Cafeo.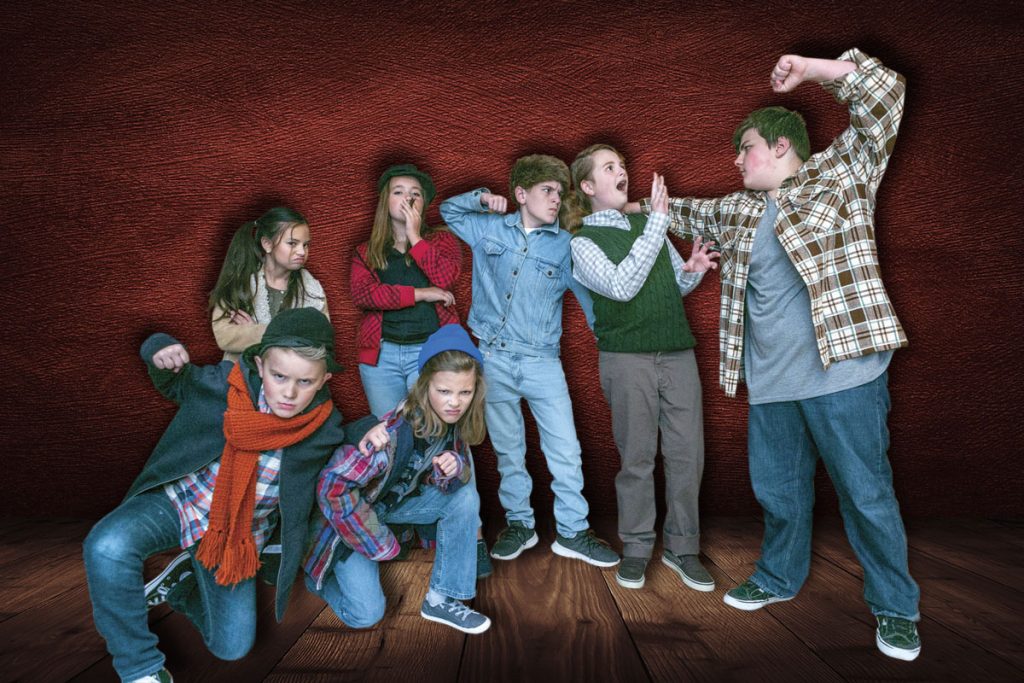 The Herdmans are the worst kids in the history of the world–so when they crash Sunday school and demand parts in the Christmas pageant, the whole town panics. There's not supposed to be biting or cigar-smoking in Bethlehem, and while these kids have never even heard the Christmas story, they definitely have rewrites! Soon everyone is calling for reluctant director Grace Bradley to cancel the whole thing. It's up to Bradley and the Reverend to help their community see the Christmas story and the Herdman kids through new eyes in this buoyant musical adaptation of the funny and touching holiday classic.
Director Tina Cafeo has assembled a delightful cast to bring this funny and heartwarming show to the Crighton stage for the very first time in the area: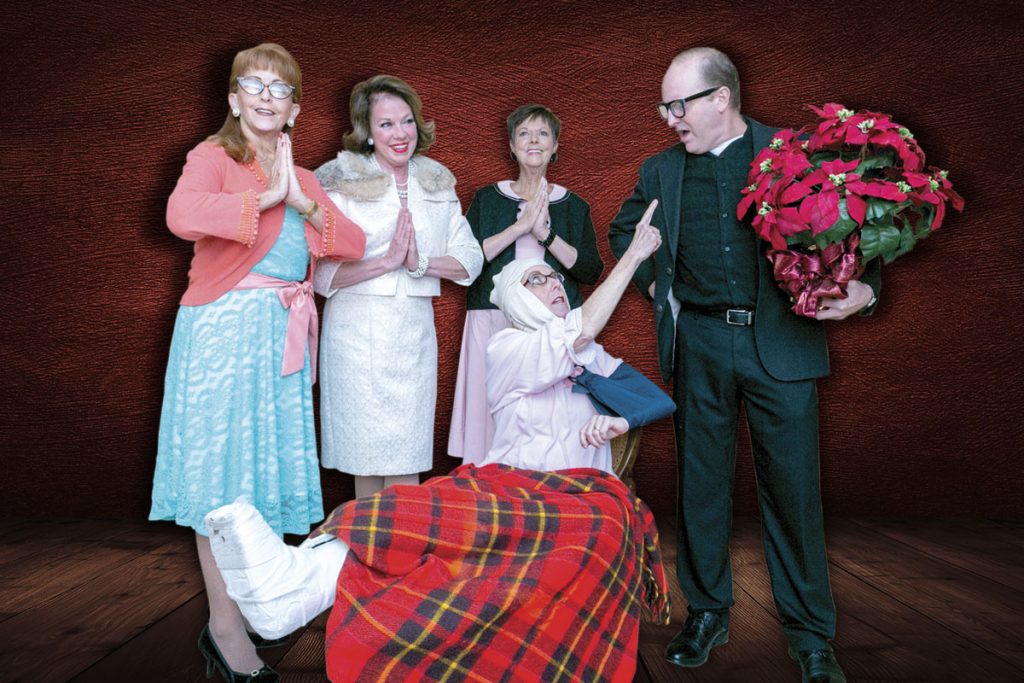 Leading the cast as Grace is Amy Sowers.  Amy is a founding member of STAGE RIGHT and is the executive director of Bravo Company: the children's educational wing of STAGE RIGHT.  Amy has  recently performed as Mistress Page in The Merry Wives of Windsor and Ursula in Much Ado About Nothing. 
Bob Bradley is played by Frank Purcel.  This will mark Frank's Crighton debut.  Frank is a retired IT consultant who has sung with the Houston Symphony chorus, Houston Grand Opera chorus and Indianapolis Opera Chorus.  
Charlie Bradley is played by Sam Siemonsma.  Sam is no stranger to STAGE RIGHT. You may have seen him perform in Mary Poppins, A Charlie Brown Christmas or Annie. He was encouraged by his theatre friends & amazing voice teacher Brenda Storseth to get involved in musical theater and we're very glad he has! 
Charlie's sister Beth Bradley is being played by Kayden Solomon.  This show marks Kayden's Crighton debut.  Kayden has been performing since the age of six making this her 16th show! Some of her favorite roles include James and The Giant Peach (Ladahlord), A Tree Lot Christmas (Karly), 101 Dalmatians (Pepper), and Beauty & The Beast (Chip).  
Jim King is returning to the Crighton stage to play Reverend Hopkins.  Jim was last seen on stage as the Narrator in Into the Woods and was Col. Pickering in My Fair Lady.
Becki Kinch will again grace the Crighton stage as past pageant organizer Helen Armstrong.  Becki has enjoyed performing with STAGE RIGHT in past shows such as Hello Dolly! in the ensemble, the "eager to please" Maxine in the acting role of "show stage manager" for 42nd Street, and a dual role of Granny and her mooooving portrayal of cow Milky White in Into The Woods. 
Also returning from 42nd Street is Debbie LaRue appearing as the hoity-toity Luanne.  In addition to performing on stage Debbie has done some backstage work for STAGE RIGHT including costumes for Savannah Sipping Society.  Prior to that, she was actively involved for 18 years in the Dhahran Theater Group located in Dhahran, Saudi Arabia. 
Melodie Lippold is portraying church lady Betty.  Melodie was in the ensemble of Hello Dolly! and sings with the Woodlands Show Chorus. 
One of STAGE RIGHT's most valued and lauded volunteers is making a rare stage appearance in this show: Denise DeBold is playing Connie.  Denise is also Costumer, Set Designer, and Scenic Artist & Prop Mistress for this show!  She's been a volunteer with STAGE RIGHT since 2013.  Denise received a Pursuit of Excellence award and has accumulated eight Monties for her work on Sing in' in the Rain, Mary Poppins, and Young Frankenstein. 
Appearing as Imogene Herdman is the talented Daire McLeod.  With professional TV credits already to her name, Daire has appeared here most recently as Pepper in Annie, a hyper sugar-addicted beauty queen, Barbie Spangles in Glitz-The Little Miss Christmas Pageant and the iconic Lucy in A Charlie Brown Christmas. 
James Pate is appearing as Ralph Herdman.  James leads the cast of Willy Wonka as Charlie Bucket and was also seen over at the Owen as Flounder in The Little Mermaid. 
New to the Crighton is Tripp Brown who is playing Leroy Herdman. 
Also new to a STAGE RIGHT main stage production is Cooper Ashley playing Claude Herdman.  Cooper is a member of Bravo Company.  He appeared in Rockin' Robin Hood as Robin of Locksley and Midsummer Night's Dream as Mote. 
Appearing as Ollie Herdman is Austin Krueger.  In his 14th show at the tender age of 8yr, Austin's favorite part thus far, has been Woodstock from A Charlie Brown Christmas. He has enjoyed being in several other STAGE RIGHT productions including Willie Wonka (James), Glitz-Little Miss Christmas Pageant (Elf), Annie (Wacky), and most recently Cinderella (Gus Gus). 
Another Cinderella mouse also appears in this show: Amy Massey is playing Gladys.  A member of Bravo Company, Amy first appeared in STAGE RIGHT's Glitz-The Little Miss Christmas Pageant (Rona Chernobyl), Annie (Mabel-orphan ensemble) and Cinderella (Lucy Mouse). 
Splitting the role of Alice Wendleken are Collisa Payne and Emma Melley.  Collisa has appeared in Willy Wonka, Glitz-The Little Miss Christmas Pageant, where she played the sassy Angela Aquafresca, and most recently Annie where she had the opportunity to play an adorable orphan.  This is Emma's 4th production on stage and her 1st with STAGE RIGHT. 
Sharing the role of Ivy Reed are Addison Burleson and Mia Melley.  Addison has been a dancer since she was 5 yr. old, and moved into competition dance by age nine.  Addison also enjoys sports, gymnastics, baseball and soccer.  This is Mia Melley's second production with STAGE RIGHT.  In addition to performing on stage she also enjoys practicing with stage make-up and taking voice lessons. 
Newcomer Josh Fine is playing Elmer Hopkins.  Josh has performed elsewhere and loves meeting new people. 
Returning to the Crighton as Teddy Shoemaker is Wesley Burns.  This is Wesley's third appearance with STAGE RIGHT.  Wesley made his Crighton Theater debut as Rerun in A Charlie Brown Christmas and was also in Glitz-The Little Miss Christmas Pageant Musical. 
Playing the Nurse is Lauren Thompson.  This is Lauren's Crighton debut.  She performed in two previous school plays in California in the two years she lived there. Lauren's roles in school include Lost But Now I Am Found and a lead role in The Born Again Identity. 
The chorus includes Lilly Prescott, Sean Sears and Cheyanne Williams.  Lilly Prescott is very excited to be performing on the Crighton Theatre stage for the second time. Her first performance was with Missoula Children's Theatre in Blackbeard The Pirate (Parrot).  Sean Sears has been on a roll of roles!  He first appeared in 42nd Street then went on to The Diary of Anne Frank, Annie and most recently Cinderella.  Cheyanne Williams has been involved in theater for 3 years. She has been in two plays at the Crighton Theatre:  Twinderella and Rockin' Robinhood.
SPOTLIGHT NON-PROFIT
In keeping with the reason for the season, we are asking our patrons to consider bringing NEW (in the original package) socks, underwear and blankets for donation to the Salvation Army.  Let's help our neighbors in need this holiday season!
SHOW DATES:
December 6-22, 2019, Friday & Saturday nights at 8 pm and Sunday matinees at 2 pm.  There will also be a Saturday matinee 12/21 at 2 pm.  Tickets available at 936-441-7469 or www.stage-right.org.