The Crighton Theatre, named one of the Top 10 Theatres in the state to see live theatre performance by BestThingsTX.com, will present Erma Bombeck: At Wit's End by Allison Engel and Margaret Engel. The show will be produced by TSF, Inc. and presented by arrangement with Samuel French Inc., a Concord Theatricals Company.
The play is a loving comic tribute to one of our country's most beloved voices, who captured the frustrations of her generation by asking, "If life is a bowl of cherries, what am I doing in the pits?"  From her troubled childhood, where she found comfort in the words of Dorothy Parker and Robert Benchley, through her rise to fame as a journalist and public figure, discover the story behind America's beloved humorist who championed women's lives with wit that sprang from the most unexpected place of all – the truth.  Born in 1927 to a 16 year old mother and working class father, Erma struggled against what was expected of her: to work in menial jobs until she found a husband.  Instead, she determinedly pursued her dream of being a writer and had her first writing job at 15 yr- writing obituaries for the local paper.  As a stay-at-home wife and mother Erma continued her career and at the height of her fame her column "A Wit's End" was syndicated in 900 newspapers across the country.  Erma's humorous and brutally honest observations on life in suburbia also spawned best-selling books including: I Lost Everything in the Post-Natal Depression (1973); The Grass Is Always Greener over the Septic Tank (1976), which was adapted (1978) into a television film; and If Life Is a Bowl of Cherries, What Am I Doing in the Pits? (1978).  Erma continued her career as a writer, public speaker and champion of women's rights till shortly before her death in 1996 due to complications from a kidney transplant.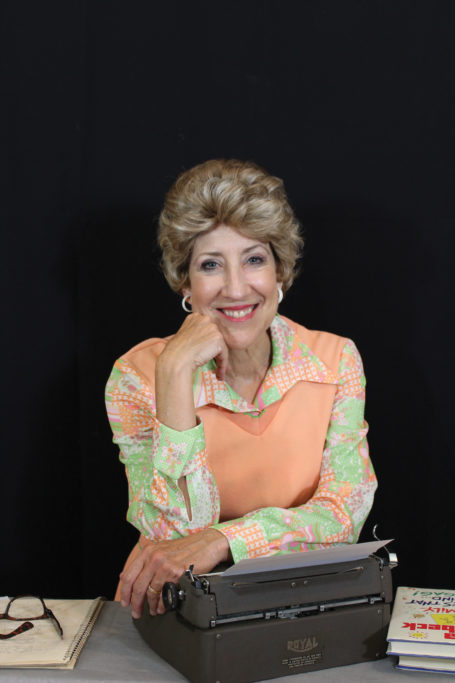 "All of us have moments in our lives that test our courage. Taking children into a house with a white carpet is one of them. "
"I have seen my kid struggle into the kitchen in the morning with outfits that need only one accessory: an empty gin bottle."
This one-woman show stars award winning actress and Crighton favorite Carolyn Corsano Wong.  Carolyn, Founder, Artistic Director and Executive Producer for STAGE RIGHT of Texas (resident theatre company at the Crighton), has appeared in many productions at the Crighton Theatre including Hello Dolly (Dolly Levi), The Wild Women of Winedale (Willa Wild), Young Frankenstein (Frau Blucher), The Wizard of Oz (Wicked Witch) and Always, Patsy Cline (Louise Seger).  In addition to starring in the show, Carolyn is also producing and co-directing with her husband Steve Wong.  As an added treat, the Wongs have obtained permission from the Bombeck Family to incorporate pictures of Erma Bombeck into the production.  So while Erma's story is unfolding on the stage, the audience will be able to see Erma's life in pictures projected on a large screen that will be incorporated into the set design.
"My second favorite household chore is ironing.  My first being hitting my head on the top bunk bed until I faint."
"I have seen my kid struggle into the kitchen in the morning with outfits that need only one accessory: an empty gin bottle."
As with all STAGE RIGHT shows, a need in the community is highlighted and then a spotlight is thrown on an organization that is trying to help fill that need. For this show, the need is quite personal: Polycystic Kidney Disease (PKD). Like Erma Bombeck, Carolyn was diagnosed with this incurable disease in her 20s. And, like the Bombeck family, Carolyn's family has struggled with kidney failure, dialysis, and the agonizing wait for a transplant. PKD is a chronic, genetic disease causing uncontrolled growth of fluid-filled cysts in the kidneys, often leading to kidney failure. It affects all racial and ethnic groups equally. PKD affects an estimated 600,000 people in America and 2.4 million worldwide. More than 50% of people with Autosomal Dominant PKD will develop kidney failure by age 50. Once a person has kidney failure, dialysis or kidney transplant are the only treatment options. Parents have a 50% chance of passing the disease to their children, so it often affects many people in one family. A talk-back session will be held after each performance where information about PKD will be presented and how patrons can help by funding research efforts and learn about kidney donation. Profits from ticket sales and concession sales will be donated to the Polycystic Kidney Disease Foundation (www.pkdcure.org) which is dedicated to finding a cure. We hope you can visit Carolyn's fundraising page: Carolyn "At Wit's End" in Conroe and make a donation.
Show dates are June 12 – 21, 2020 with Friday & Saturday performances at 8 pm and Sunday matinees at 2 pm. There will also be a Saturday matinee on June 20 at 2 pm. Performances will be held at the historic Crighton Theatre at 234 N. Main in downtown Conroe. Tickets for Erma Bombeck: At Wit's End are $26 for adults, $24 for seniors 62 yr and older and $17 for youth 16 yr and under. Tickets for STAGE RIGHT season subscribers are only $20. Group discounts are available for groups of 10 or more by calling the box office. Tickets can obtained by calling the Crighton Theatre box office at 936-441-SHOW (7469) or online at www.crightontheatre.org.
This show is sure to appeal to anyone that has had a mother or a kidney.
P.S.: As I send this information in early April to the Dockline for publication in their May editions, I honestly don't know if we will be able to present the show due to the Covid-19 restrictions on gathering. If unable to present the show this June, I have booked one weekend at the Crighton in June of 2021 (just think, they'll be more bathrooms downstairs by then!). Please check with the Crighton website to see any updates to show dates. I hope to see you soon. Until then remember the words of Erma Bombeck: "If you can't make it better you had better laugh at it, and if you can laugh at it, you can live with it."