Darlene Hajduk is a twenty-year veteran of the promotional products profession and is the Founder and President of ProLine Supply Company, Inc.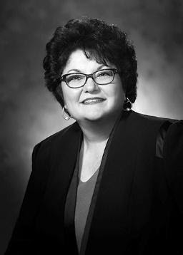 She is a past winner of the Small Business of the Year for the Cy-Fair Houston Chamber of Commerce, and a finalist for the Lone Star College Small Business of the Year.  Other recognitions include, Cy-Fair Express Network's Woman of the Year and Woman of Excellence and is a national 2015 ABWA Top Ten Business winner of the American Business Women's Association. Hajduk is a Master Advertising Specialist, a Safety Ambassador, a trained Advocate for her industry, and has been recently been named a PPAI Fellow by the Promotional Products Association International for her dedication and engagement in the industry. 
Darlene graduated Magna Cum Laude with a B.S. degree in Media-Communications from Medaille College, in Buffalo, New York.  In 2015, she received a Continuing Education Certificate from Park University in Overland Park, Kansas, in Women as 21st Century Leaders, and Kansas University MBA Essentials finance program at Kansas University.
Hajduk is a member of the Houston Promotional Products Association, The Promotional Products Association International, is a Trustee for the Cy-Fair Educational Foundation, Leadership North Houston alumna, a Cy-Fair Chamber of Commerce Past Ambassador and Committee Chair, and the Federation of Houston Professional Women's Education Foundation Past Scholarship Chair.  She was the Formation Chair and Past President of Women Empowering Women Express Network of ABWA in Houston, Texas. Additionally, she has held numerous leadership and business development positions in local networking and professional organizations. As a mentor, she assists several businesswomen and college students, in the Houston and surrounding area.
Darlene has been married to Kenneth Hajduk for 41 years and has 2 children, Jason, a Civil Engineer and Vice President with IDS Engineering in Houston, and Kristen, Director of Operations at National Security Innovation Network (NSIN). Now she is Grandma of Ellie and Evie, 7 years old and Jack, 5 months old!!!!
3 TAKE AWAYS FROM THIS PRESENTATION
How to make a plan
How to recruit people to make the plan work
How to execute the plan
About Cy-Fair Express Network (CYFEN)
Now over 40 members strong, Cy-Fair Express Network's vision is to be a community and national leader for the support of professional women by providing a nurturing environment for business development, networking, education and mentoring. Our members have opportunities to pursue excellence and achieve both local and national recognition.  CYFEN is part of the national organization of American Business Women's Association (ABWA), for more information go to www.CYFEN.org.
About American Business Women's Association (ABWA)
Founded in 1949, ABWA provides business training and networking opportunities for women of diverse occupations and backgrounds. ABWA has dedicated 60 years to women's education, workplace skills and career development training. For more information, visit, www.abwa.org. 
Luncheon Details
Thursday, January 28, 2021
Networking 11a.m.; 
Luncheon begins at 11:30 a.m.
Longwood Golf Club
13300 Longwood Trace
Cypress, TX 77429
Costs $30 with advanced reservations; $35 at the door