The Players Theatre Company is thrilled to bring Matilda the Musical to life this September 3-19, at The Owen Theatre in Conroe!
Based on Roald Dahl's children's book of the same name, Matilda is the story of a precocious young girl who makes friends easily, and who loves learning and reading, even though her family and school headmistress do not approve.
Director Adam Isbell chose to cast two fresh faces, Mollie Diaz (9) and Sophia Von Koschembahr (11), in the title role, with each girl trading off performances, in order to keep both actresses healthy during the show's three-weekend, ten-performance run.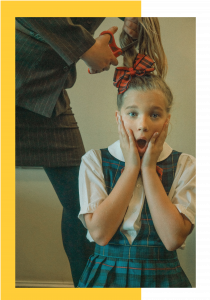 Diaz, a competitive diver when not performing on stage, is thrilled that Matilda Wormwood is her first lead role.  Relatively new to theatre, this marks Mollie's first performance with The Players and we hope to watch her grow up with our company!
Von Koschembahr is making her second appearance on the Owen stage.  You might have seen her shining in our Christmas musical showcase, An Evening in December, in 2020.  While this is Sophia's first lead with The Players, she has been a part of the audience since she was six years old.  We know Sophia is going to be one to watch on the Conroe theatre scene!
Austin Krueger, fresh off his role as Young Turk in Tarzan the Musical, portrays Bruce Bogtrotter, Matilda's sweet, somewhat fainthearted schoolmate, who may or may not have stolen some chocolate cake.
Camille Rockwall, Kade Johnson, Keegan Pepper, Isabel Alexander, Olivia Blackmore, Wesley Burns, and Chelsea Sato are the incredibly talented young actors rounding out the children's ensemble of Matilda.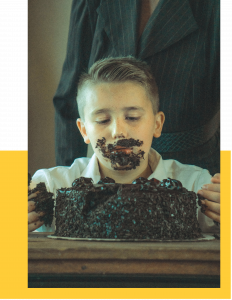 Chelsea's real life mom, Christina Sato, plays several roles in the show, including the doctor and a member of the Big Kid ensemble, and Keegan's aunt, Cricket Pepper, portrays the dreaded Trunchbull.  Family members getting to appear together on stage is a big part of what makes community theatre so special.
Bringing the lovable, quirky librarian, Mrs. Phelps, to life is accomplished thespian and long-time Player, Cindy Siple.  Siple's stage history includes the Pittsburgh Ballet & Civic Light Opera, Flat Rock Playhouse, Asolo State Theatre, and Southeastern Theatrical Productions.  She is also a former Artist-in-Residence for the South Carolina Dept. of Education & Columbia College.  Mrs. Phelps is one of the few adult characters who actually appreciate Matilda and her special gifts, and Siple's portrayal is spot-on.
Kyle Clevenger, previously seen on the Owen stage as Willard in 2021's Footloose, also directed by Isbell, and Cahlyn Velasco, a cast member of The Players' 2018 production of Godspell, portray Matilda's kind of horrible parents. The Wormwoods are greedy, arrogant, self-involved, terrible people.  Audiences might find it hard to believe that these two affable actors are able to convincingly play such sketchy characters, but Clevenger and Velasco are completely committed and will make you cringe and laugh all at once.
The kind-hearted, caring schoolmarm, Miss Honey, who had a terrible upbringing of her own, is portrayed by Courtney Berry.  
Berry has been in numerous productions with both The Players and Stage Right, and she does an admirable job bringing Miss Honey's downtrodden but hopeful heart to life.  
Playing opposite Courtney's beloved Miss Honey is Cricket Pepper as the terrifying bully Miss Trunchbull.  While Berry is a bit of a "straight man", Pepper lays on the comedy and hilarity pretty thick.  Watching these two together is enthralling, and audiences are going to have a hard time holding in their laughter when these ladies share the stage.  Trunchbull is Cricket's first leading role after appearing in shows at both the Owen and the Crighton, and choreographing/assistant directing shows for Stage Right as well. 
Members of the adult ensemble and supporting characters include Kathleen Baker, John Paul Manluctao, Carson Dean, Karis Boothe, Monae Lott, and Ryan Anthony.  Each of these actors has been seen before at one or both theatres, and they all bring special elements to Matilda.  They dazzle in individual roles, but keep an eye on them in the large group numbers when they each play a "big kid" at Crunchem Hall Primary School!
Matilda is Adam Isbell's third production to direct with The Players, and his special touches are evident throughout the show.  
Isbell always has a distinct vision for his shows and he makes sure he surrounds himself with people who are able to help bring his vision to life.  Meredith Fisk (music director), Alexandra Casey (choreographer), Kailey Johnson (stage manager), and Rebecca McDowell (assistant director) are all part of Isbell's "dream team", making sure the actors sing and dance beautifully, that rehearsals run on time, and that everything comes together in a spectacle audiences will love.
While Isbell has specific ideas for each production's sets, lighting, costuming, and more, his technical team brings his ideas to fruition.  Roger Ormiston and Mark Wilson are the lead set builders, with Jamie Glass being the main designer. Kristi Durant and her costume assistant, Shari Wojta, costume all 25 actors, most in at least two costumes per performance, some in up to ten!  Jennifer Clevenger has the task of creating literal magic for the abundance of props in this show.  With tipping glasses, moving chalk, a girl being thrown stories into the air and more, the audience is truly going to wonder how she did it!
Matilda the Musical is literature-come-to-life in a dazzling spectacle adults and children alike will love, so don't miss The Players Theatre Company's production September 3-19, at the Owen Theatre in Conroe!  Tickets on sale now at owentheatre.com or by calling the box office at 936.539.4090.