Pier 105: A Marina That Does More
Boating brings a sense of adventure, an escape into nature, and a feeling of community built around a love of the water. It's the favored activity that brings people together in the Lake Conroe area. From bass fishing to wakeboarding, boat owners flock to the community to spend time doing what they love.
As a boat owner, you should get to spend more time enjoying the water and less time worrying. Imagine it. The convenience of a marina that does more for you and the peace of mind that comes with knowing your boat is in the best hands.
That's what Pier 105 Marina has been doing for its boatowners for over four decades. Although the name may have changed over the years, Pier 105 Marina just keeps getting better.
How It All Began
For over 40 years, Pier 105 Marina has been a tried and true staple to the Lake Conroe community. With the creation of the lake in 1973 came a wave of new enterprise and opportunity. The founder of Pier 105 Marina saw a need and built something that made a difference.
Not only was it the first marina on Lake Conroe, but some might also be surprised to find that its inception was centered around more than just boats; it also docked and serviced floatplanes. This experience is just one of the many things that makes Pier 105 Marina so unique, according to General Manager, Anthony Olivieri.
"What sets us apart is the history of the marina. You don't have that anywhere else. Most of the places on Lake Conroe are newer, and they don't have the long history of seeing the lake grow like this place has."
Over the years, the focus has shifted from a standard dock into a full-service marina that offers a new experience to boat owners in the area. When owner, Juan Martinez, took possession of the marina, he knew that he wanted to make some changes for the better. With love for off-shore fishing and the water, Pier 105 paved a way to combine his interests with the exceptional service he wanted to see in the boating industry.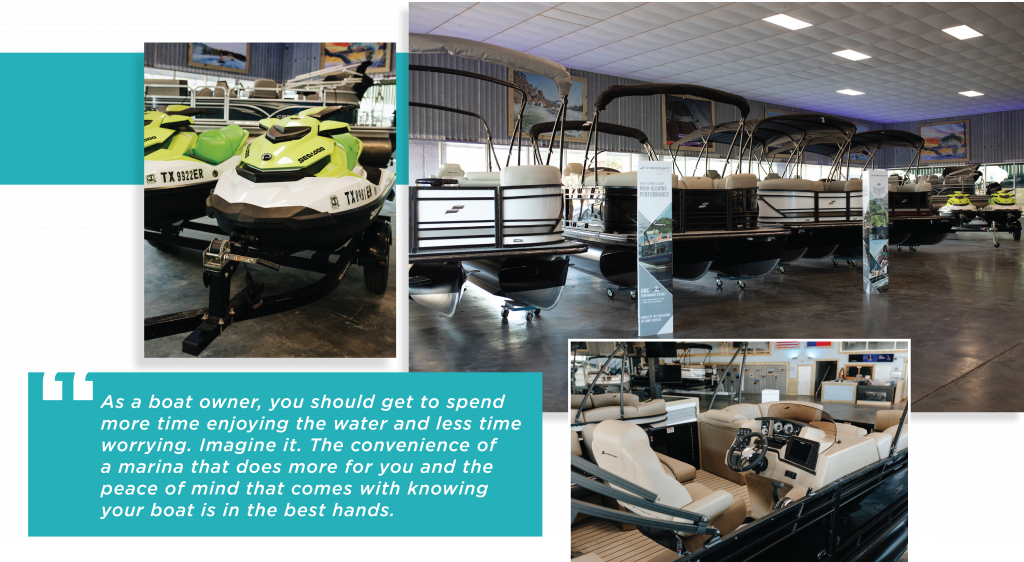 Experience the Difference
Whether you're a first-time boat owner or one with years of experience, you need a marina that understands the needs of a boating family. At Pier 105 Marina, their goal is simple; to make your boating experience the best it can be.
"At Pier 105 Marina, we value the opportunity to create a long-term relationship with our customers, and we do that by giving you the best customer service available."
You can expect nothing less than exceptional customer service, a full-service marina, and the extra touch of a family-owned business.
What sets Pier 105 Marina apart?
Owning and maintaining a boat is a big responsibility. But, with Pier 105 Marina, you can rest easy knowing that decades of experience are on staff to help you every step of the way. They are also the only full-service marina on Lake Conroe.
Whether you need an upgrade to your boat or need to haul out of the lake, the team at Pier 105 Marina has the skills and knowledge to serve you best. Olivieri shares that:
"It's a neat marina because it offers everything. You have storage and wet-slips, it's in a great location by April Sound and central on 105, and it's a deep water marina. We have a nice facility for dry storage. And it's a private experience. You don't have to fight all the trailers and everything for loading and unloading; we have valet service. And our customers really like that."
Valet service and location are not the only draws for boat owners. Convenience plays a significant role in why more customers are looking to dock at Pier 105 Marina. Olivieri explains that:
"What's unique about our piece of property is that for a boat owner, everything is there. 
We have a fiberglass repair facility on our property that repairs when you do something wrong to your boat. We have an upholstery business. We have a full-service mechanical shop with two full-time certified mechanics so we can repair your motors. We can do a little bit of everything and restore your boat. We have the full package for boat owners. There's not another marina on the lake that offers this all in one spot."
Pier 105 offers inclusive services such as:
• Boat Repair
• Boat Maintenance
• Boat Detailing and Cleaning
• Boat and Trailer Sales
• Boat and Trailer Storage
• Valet Boat Service
Pier 105 Marina is also an authorized Starcraft Marine, Yamaha Marine, and Mercury Marine® dealership serving the Montgomery area.
"We are the only full-service marina on the lake. At our facility, you can buy a boat, sell a boat, service your boat, repair your boat, store your boat, etc. Everything under one roof. No one else on the lake offers all of these services at one location."
In with the New, Cherishing the Old
Since the start of 2020, Pier 105 Marina has taken steps to improve the quality of service and the experience it offers to the community. With exciting upcoming renovations, bringing on a new boat line, and new elements added to their facilities as they grow, Olivieri reflects on what he values about the area itself.
"Conroe has always been a unique community. I've seen Conroe grow up and populate, but it still feels like a small-town community. The people around the lake are great. You have a lot of retirees that come from all over, and they're always willing to share some of their knowledge. Everybody helps out. It's just a fun community!"
Life After the Pandemic
Following the restrictions during the Covid-19 pandemic, the aftermath of the stay-at-home and social distancing orders has led to the highest demand for outdoor reactionary activities in years. Olivieri equates the surge to one thing.
"Everyone is spending more time outside because of Covid-19. We've seen record boat sales in the past year and a half across the country. Marinas are at the highest capacities that they have been in a number of years. We're reflecting that too. We're at 97% occupancy, so if you're thinking about buying a new boat, plan ahead."
With the consistent increase in demand, longer wait times for both boats and supplies should be expected. Therefore, Olivieri advises customers to plan, do their homework, and act quickly to purchase a boat they like and book their marina space.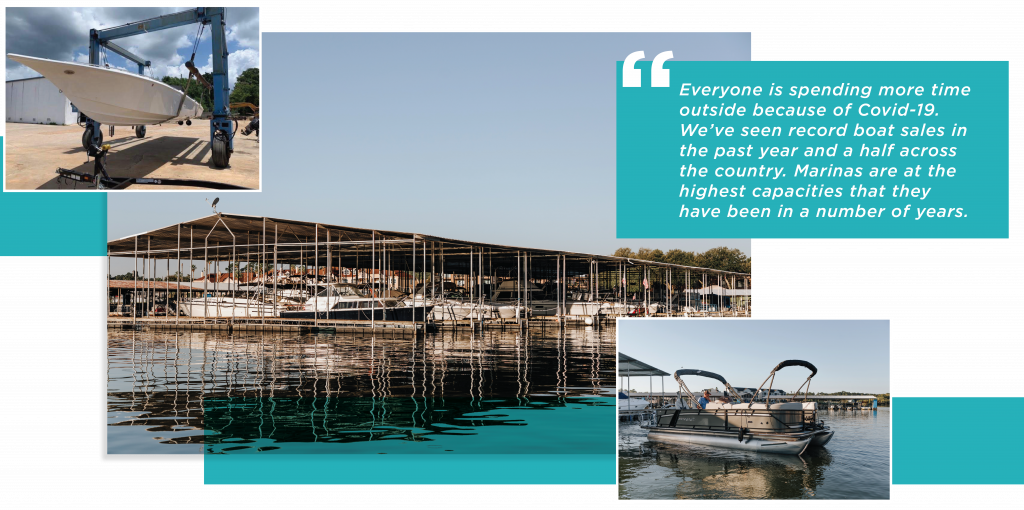 Time to Get Started
Have you considered becoming a boat owner? Now is the time to do it. When you are ready to invest in a new boat, Pier 105 Marina's friendly and knowledgeable sales, financing, service, and parts departments are here to make sure your experience is outstanding. From assisting while you're making your decision to ongoing maintenance and customization, they will be there to help you every step of the way.
Pier 105 Marina is a full-service marina that offers various services, from the latest Starcraft Vessels to valet boat services. They are located at 15525 Marina Drive, Montgomery, Texas 77356. Their hours are Tuesday through Sunday: 8:00 am-5:00 pm; they are closed on Monday. 
You can contact them at (936) 588-1126 or (855) 241-9919,
or visit their website at Pier105.com for more information.