What Makes
 

Rustic Rarehouse…Rare?

"Home is where the heart is," as they say. And because your heart loves to create, your home is also your canvass and should be a unique expression of your personality and tastes! However, with more people working from home and families spending more time in the home in general, your home decor might be starting to seem a little…blah. 

However, you don't need a massive budget to make your home design feel like new. Sometimes all you need is a new, unique piece of furniture (or maybe a few!) to change the predictable landscape of your stale surroundings for an updated look.
Why Rustic Furniture?
If you are looking for some unique pieces to add to your home, without a doubt the mix-and-match star of all furniture styles is Rustic. Whether you are looking to give your home a total lodge makeover or not, there are so many reasons you should have rustic furniture in your home. Even if you have more of a modern approach to decorating, rustic furniture can help balance any look with a little character, warmth, and natural feel. And it never goes out of style.
Whether you're fully furnishing a home for the first time or just sourcing a few pieces to update the look of your home, purchasing furniture can be a major investment. It might seem economical at the time to cut corners and spend as little as possible. But when it comes to furniture, you truly get what you pay for. You want to make sure you're buying high-quality furniture so your investment will last longer than just a few years. Conveniently, rustic furniture is not only versatile, but long-lasting as well.
If you're looking for high-quality rustic furniture at competitive prices and a five-star customer service and shopping experience, there's only one furniture store you need: Rustic Rarehouse.
Rare Beginnings and Passion for Furniture

 
Rustic Rarehouse has a unique history that makes them a little different from other furniture stores, as they actually originated as Mister Robert's Antiques. 
Mr. Roberts began his journey with furniture 27 years ago with a simple garage sale that rapidly turned into a small used furniture store. As his knowledge grew from the hands-on experience of working with every piece, he naturally transitioned to the field of antiques, mostly marketing his pieces as quality used furniture. His passion for high-quality solid wood pieces was conceived from the passion he put into restoring antiques and the knowledge of how furniture can last through generations when you use these quality solid woods. 
By 2012, he was dealing mostly with high-end antiques. After discovering that he could offer the same high-quality solid woods through new retail furniture, he decided to make the transition to retail. A lot of this new retail furniture brings reclaimed hardwoods to new life and gives customers the opportunity to have unique, one-of-a-kind pieces of their own in their homes. 
In July 2012 Rustic Rarehouse as we know it today was born, and has continued to be the place homeowners in the area love and depend on for quality, unique solid wood home furnishings at competitive prices.
Rare Customer Experience

 
As they are about to celebrate their 10th year in business in this current capacity, Rustic Rarehouse is so excited and grateful for the continued support from the community.
Rustic Rarehouse is BIG on friendliness, and considers themselves lucky and blessed to have the best customers and community around. In fact, over the years many customers have become dear friends of the team and often stop by just to say hello!
This isn't surprising, as Rustic Rarehouse has curated a welcoming, easy-going atmosphere in their gorgeous showroom and in their approach to the way they do business. Unlike many other furniture stores where shoppers often feel pressure to buy, the sales representatives at Rustic Rarehouse are not commissioned and are therefore free to be driven only to provide an enjoyable and informative experience for shoppers when they come to visit.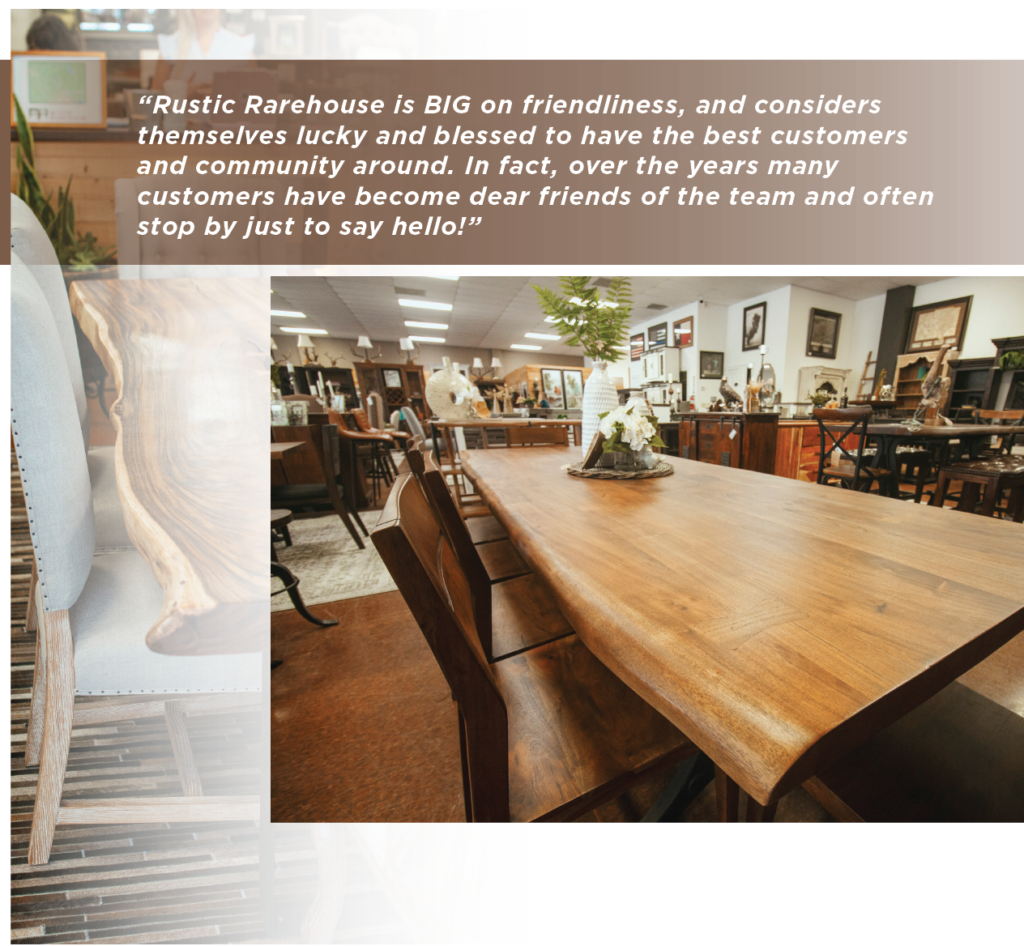 Rare Quality and Uniqueness
Over and over again, people keep coming back to Rustic Rarehouse and new customers become dedicated patrons. While the friendly, easy-going staff and informative, pleasant shopping experience is a large part of that, customers also keep coming back for the high quality of the furniture and services they offer, all at competitive prices.
Rustic Rarehouse is, and always has been, the premiere solid wood furniture store in the area. This dedication to curating high-quality furnishings is another essential quality that truly sets them apart from other furniture stores. The best way to understand this difference is to come to the showroom and see for yourself! Once you see the real quality of solid wood furniture, you won't want to risk buying anywhere else.
Not only are all the pieces at Rustic Rarehouse high-quality and heirloom-grade, but they are also refreshingly unique and one-of-a-kind! When you step into the showroom, you will see furnishings from around the world that are crafted from reclaimed woods that you won't find anywhere else. 
In fact, the origins of some pieces in their inventory often surprise people! There are pieces made of reclaimed wood that spent 100+ years as boats or buildings before they became the furniture that you can have in your home. So, if you're looking for pieces that will truly stand out and have a story all their own, look no further than Rustic Rarehouse!
Rare Above-and-Beyond Service

 
While online shopping has become popular and convenient for many of the products we need and use today, this has not turned out to be the case for furniture. Many people find the failed experience of shopping for furniture online extremely frustrating, with important information lacking in descriptions, inaccurate or deceptive visual representations, unexpected delivery times, poor communication, and poor quality of the products overall. 
Rustic Rarehouse solves all of those problems and more from your first phone call or visit to the showroom all the way through to the delivery of your items to your home. Apart from the five-star customer service and high-quality unique inventory, Rustic Rarehouse goes above and beyond in the services they offer to provide the best furniture shopping experience you'll find anywhere.
If you're sourcing unique items to add to an existing collection or starting from scratch and could use some advice, Rustic Rarehouse has a designer on staff to offer expertise and direct you to the perfect items for your home. Rustic furniture can add warmth, personality, and charm to just about any room, and it's so convenient to have a designer right there to help you not only choose the right pieces but also give advice for styling them with what you already have.
Rustic Rarehouse has solid wood pieces with a price range that caters to all their customers, allowing families to find quality furniture pieces within their budgets. However, because all pieces are solid wood, they can be heavy! But no worries, the team at Rustic Rarehouse have you covered here, too! They offer FREE delivery to all their local customers. This is a huge service that really takes the 'weight' off the shopping experience (and your wallet)!
Rare-in' To See You!

 
As their 10-year mark rolls around it's an exciting time at Rustic Rarehouse, as they are working on expanding and offering an even larger selection of high-quality pieces that will be available soon!
So, what are you waiting for!? Go check out Rustic Rarehouse, say hello to the team, and browse their incredible showroom and inventory to find the perfect rustic furnishings to breathe new life into your home today!
Rustic Rarehouse is open Tuesday through Saturday, from 10am to 6pm. Stop by for a visit at their beautiful showroom located at 13080 TX-105 W, Conroe, TX 77304. The team is also available by phone at 936-242-1245 or by email at [email protected]. For more information, visit their website at rusticrarehouse.com.