A Different Niche! Celebrate the fall season with a unique, local-shopping experience!
From Glass to Home Décor
A Different Niche! has its own history that all started with glass. If you've lived in the Conroe or The Woodlands areas for any amount of time, you're probably familiar with the Milstead name. Whether it's Milstead Glass, Milstead Automotive, Milstead Collision—thriving businesses run in the family! Ken and Faye Milstead owned and managed Milstead Glass in Magnolia for over 30 years. After years of working in glass and making life-long connections with her community, Faye decided in 2012 to follow her true passion and expand Milstead Glass to include Milstead Home Décor. With the décor and gift shop existing in the same space, Faye's shop grew in popularity as glass customers began to explore her unique selections. 
One day a gentleman wandered into her store, and impressed by her selection of unique items, he exclaimed, "This is a different niche!" Hooked by the phrase, Faye put it in her pocket for later with hopes to grow and expand her business. In 2019, the Milsteads decided to sell their glass shop. It was the end of an era, but the beginning of Faye's new chapter. "I didn't want to retire. That's just not for me," says Faye. "I was ready to start living my dream full-time." And that is exactly what she did. Faye upgraded from a 1,500 square foot allotment to a 4,000 square foot showroom for A Different Niche! located at 2114 McCaleb Rd., Montgomery. 
With a new space, a new name, and new products—Faye kicked off the launch of A Different Niche! in March 2020. Despite the odds of COVID 19 stacked against her, the shop stayed busy as customers came in to escape boredom and redecorate their homes. Since then, Faye's shop has thrived and taken on new products and new customers from all over the Montgomery, Conroe, Magnolia, and The Woodlands areas. 

A Different Shopping Experience!
Unlike your typical retail stores, A Different Niche! is more than a store, it's an experience. "I wanted my customers to come in and take the time to browse, touch, feel the products and smell the wonderful candles and lotions," Faye explains. "I have lots of fun with this business, and I want to provide people with a fun shopping experience." Twice a year Faye takes a mini-vacation to the Dallas market, where she searches for new, unique products with her customers in mind. After about three days, she has a plethora of small novelties, gift and home décor items, wines and artwork to fill her rustic, traditional-style shop.
Faye operates a one-woman shop. Not only does she own A Different Niche!, but when you walk into her store she will be there to greet you. Although it's a challenge, she enjoys every part of the process from ownership to chatting with customers one-on-one. While the Milsteads are a well-known name in the area, Faye has enjoyed getting to know new people who stop in as her shop continues to grow in popularity. 
Of the many friendships formed in her store, one sticks out to Faye as truly special. A woman named Tina came into the shop looking for something fun to do in her spare time, and started working with Faye. After all the much needed help and hard work, Tina recently announced that she will be moving away. "I will be very sad and I'm going to miss her," says Faye. "Tina really caught on quickly and it made things easier for me during busy seasons and holidays." Faye is very thankful to have had a friend and dedicated colleague during the busiest times and when she was at market. 
Shop Local this Fall
Nowadays, we can have anything delivered to our doorstep with the click of a button. If the shoe doesn't fit, just ship it back! Although it seems convenient, after a while this can take a toll on local businesses who work hard to make things available to the public. Small businesses really appreciate people who shop local. To give back to the community and keep the economy going, shopping local is one of the best ways to do it. Faye starts with buying local as well. She partners with local artists to sell paintings, pictures, hand-made wreaths and even local wine venues. 
Is it even fall if you don't have plenty of pumpkins and fall-scented candles? Some candle brands you can find at A Different Niche! are Tyler, Orleans, and Circle E—all of which are made in America. "I try to buy all locally or USA made products." states Faye. In addition to candles, some of the fall-themed brands you can find at A Different Niche! are Mudpie® décor and children's clothing, nora fleming®, Happy Everything™, The Royal Standard Pajamas and more. She also carries summer and fall hats and Yellow Box® shoes. 
Faye always makes sure to keep her prices reasonable—and more than making money—she wants to see people take her items home with them. Faye cheerfully adds, "I want to make room for new things." Some other great brands you'll find at A Different Niche! are Consuela® bags, Yellow Box® shoes, Ruffle Butts® children's clothing, and more. Apart from her fast selling baby clothes, candles and other gift items, she also carries small décor items like lamps, table stands, cow hides and chandeliers.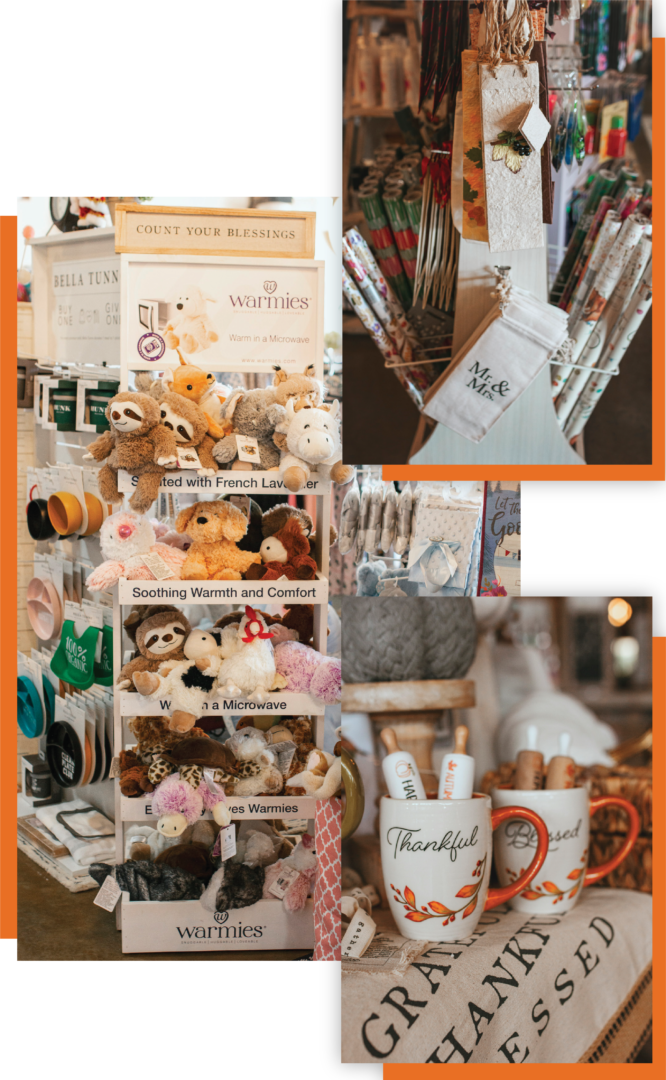 Stop in and Experience A Different Niche!
Customers often ask Faye what kind of gifts to purchase for their loved ones. If you're unsure, give the gift of a shopping experience! Her advice is to buy something small and get a gift card to A Different Niche! to go with it. 
If you come in looking for something specific and don't see it in the store, Faye takes product requests and will do her best to find it for you. At A Different Niche! you can find something unique for every season—and after the fall months—be sure to check out her holiday and Christmas collection! If you like to purchase items on sale, January is a great time to visit A Different Niche! and stock up on holiday décor. Not only that, celebrate her "Christmas in July" event with even more sales on Christmas décor!
In the future, Faye hopes to host small events at A Different Niche!, where customers can sip on local wines and shop after hours. To learn more about these events and get a first-look at the latest products in her store, check out A Different Niche! on Instagram and Facebook. 
A Different Niche! is open Tuesday to Friday from 10:00 AM to 5:30 PM, Saturdays from 10:00 AM to 3:00 PM, and is closed on Sundays and Mondays. Come shop and enjoy a glass of wine at the store located at
2114 McCaleb Road, Ste. 100, Montgomery, TX 77316. 
You can also give them a call at
936-286-8073 or visit online at
www.adifferentniche.com