Stage Right Presents: In The Heights
In the Heights illuminates a slice of life for the inhabitants of Washington Heights, a primarily Dominican American neighborhood in Upper Manhattan. Over a three-day span, these characters experience romance, disappointment, grief, love and triumph complicated by a heat wave and a blackout. The musical was first conceived by Lin-Manuel Miranda in his sophomore year in college.   He continued to develop the concept and it was suggested that Miranda expand the play so that it would be appropriate for Broadway. The book was written by Quiara Alegría Hudes with music and lyrics by Lin-Manuel Miranda. This new version of In the Heights was presented at the Eugene O'Neill Theater Center in Waterford, Connecticut in July, 2005. The musical premiered on Broadway at the Richard Rodgers Theatre on March 9, 2008. In the Heights was awarded Tonys for Best Musical and Best Original Score as well as a Grammy Award for Best Musical Show Album.
In the original Broadway production, Miranda portrayed Usnavi del la Vega, a major character, the owner of a small bodega in Washington Heights. Other characters include Usnavi's Abuela Claudia, the neighborhood matriarch, who raised him when his parents died. His dream is to move to the Dominican Republic. Usnavi loves Vanessa Morales who dreams of leaving the barrio and moving downtown as soon as she can afford it. She is an aspiring fashion designer. Sonny de la Vega is Usnavi's seemingly lazy, yet ambitious younger cousin who works with Usnavi in the bodega. Although he is a jokester, he has an intelligent and thoughtful side that yearns for social justice.  
Kevin Rosario, owner of the local taxi cab service has a beautiful, intelligent daughter, Nina, who is the first in the family to attend college. She has returned home because she has dropped out of school.
She begins a romantic relationship with Benny, who her father refuses to accept.  Benny works for Nina's father, but dreams of opening his own business. 
Stage Right's production of In the Heights is directed by Cricket Pepper. Robben Montez is cast as Usnavi, Abuela Claudia is portrayed by Angelie de los Santos. Lauren Copeland is Vanessa, Nelson Perez is Sonny, Melissa Arguello portrays Nina, Korin East is Benny and Kevin is Fernando Fernandez.  Other actors cast in this production include Maria Schenk, Nohelia Cantu, Christina Sato, Jacob Bautista, Roger Ramirez, Carlos Soto, Christabella Lanier, Ian Montez, Raquel Oliveira and Riley Johnson.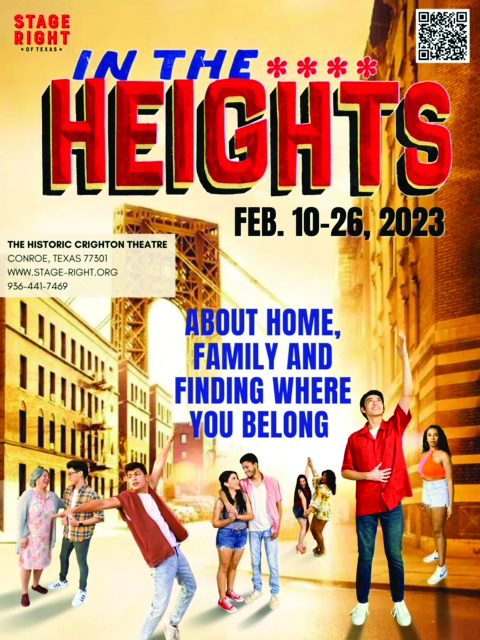 Show dates for In the Heights are February 10-26, 2023, at the historic Crighton Theatre in downtown Conroe. Tickets are $26 for adults, $22 for seniors and $17 for students.  Tickets may be purchased by calling the Crighton Theatre box office (936)441-7469 or online at stage-right.org or crightontheatre.org