The Offices at WhiteOak: an Extraordinary Business Community
Discover the perfect solution for your business at the Offices at WhiteOak. Ideally located on Longmire Road in Conroe, this 16-acre development provides professional office buildings for sale and office spaces for lease. Choose from fully customizable one-story floor plans, ideal for businesses in need of flexible spaces for single or multi-tenant arrangements.
You'll be sure to impress clients with a captivating space that exudes professionalism and leaves a lasting impression. Whether you seek long-term stability and customization through ownership, or flexibility and affordability through leasing—the Offices at WhiteOak offer a range of options to suit your business needs.
Offices at WhiteOak
The City of Conroe is growing more than ever before, with a 15% population growth since 2020 and 5% growth annually (United States Census Bureau.) While times are changing for the City of Conroe, so is the economy, as new businesses and neighborhoods are popping up all over town! Now that the working population is coming out of their homes and back into offices, there is a growing need for high-end, professional facilities.
Most floor plans for Offices at WhiteOak include:
Single or multi-tenant buildings

Offices

Reception area

Breakroom

Private restrooms

Private patio entrance

Features & Amenities

Utilities & Detention
Rest easy knowing that all utilities and detention systems are already in place. The Offices at WhiteOak have been strategically equipped with the necessary infrastructure to ensure seamless operations. From power and water supply to drainage and stormwater management, every aspect has been planned to provide a reliable and efficient support system for your business.
Fiber Optics Availability
Stay connected and technologically advanced with fiber optics readily available. The Offices at WhiteOak were built knowing the importance of robust and high-speed internet connectivity. With fiber optics infrastructure in place, you can effortlessly access and utilize advanced digital technologies, ensuring your business remains at the forefront of innovation and efficiency.
Plenty of Parking
The Offices at WhiteOak provide generous parking facilities, ensuring that parking availability is never a concern. With a high parking ratio, you can welcome clients, customers, and employees without the hassle of limited parking spaces.
Location, Location, Location!
The Offices at WhiteOak are perfectly situated along the scenic Longmire Road, surrounded by charming tree-lined streets near the heart of Conroe. The office community is strategically located in a prime spot with excellent transportation access. It is positioned 1 mile west of I-45 and just under 40 minutes to Bush Intercontinental Airport. Close to the office community is a collection of elementary schools, elaborate neighborhoods, and plenty of fine-dining restaurants. 
Here are a few local establishments and amenities conveniently located near the Offices at WhiteOak: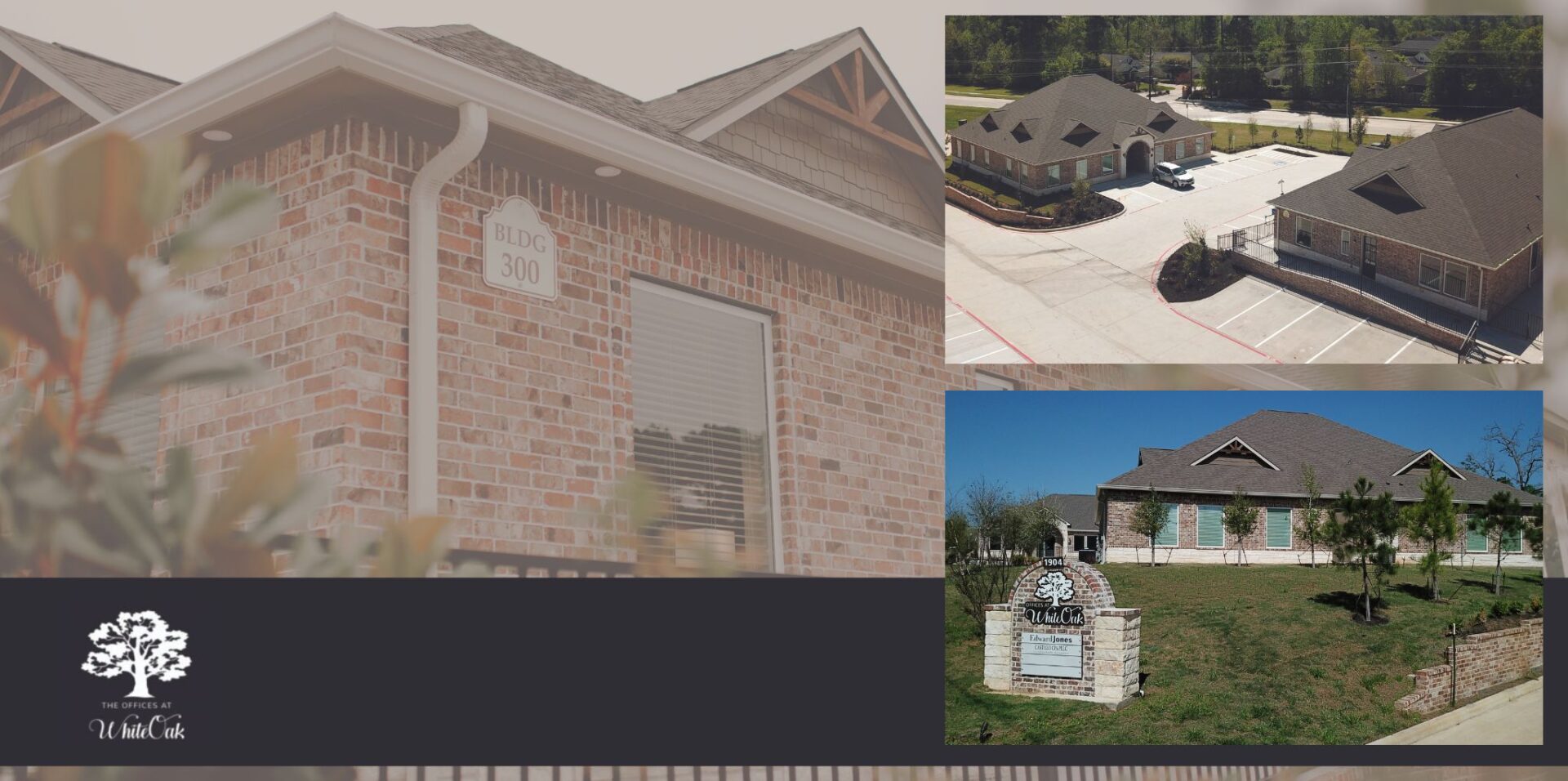 Neighborhoods:
Graystone Hills

Heritage Reserve

WestFork

Teaswood

Canyon Creek
Schools:
Peet Jr. High

Giesinger Elementary School
Restaurants:
Monarca Bar & Grill

Cheddar's Scratch Kitchen

Texas Roadhouse

Saltgrass Steak House

Olive Garden

McKenzie's Barbecue
Nearby Roads & Thoroughfares:
Interstate 45

Highway 105

FM 3083

League Line Road

Loop 336 West
In addition to these establishments, the Conroe area surrounding this office community is expected to gain a pizza shop and other restaurants soon.
Customize a Floor Plan in 6 to 9 Months
When considering an office floor plan, the layout and arrangement of individual office spaces and other rooms can greatly impact productivity and efficiency. The Offices at WhiteOak provide plots, available for customization according to your needs. This customization process through the Offices at WhiteOak allows you the freedom to transform the space within the boundaries of a set area.
All designs begin with the basics (offices, reception, breakroom, restrooms, private patio entrance) and can be divided into smaller spaces or enlarged to include more space. While the overall square footage remains the same, you have the flexibility to reconfigure the layout, create collaborative areas, allocate specific zones for different departments, and design meeting rooms that best suit your organization's unique needs. These offices can be ready for occupancy within 6 to 9 months, from start to finish!
Unlock Revenue through Leasing
Unlock additional revenue streams by taking advantage of the option to lease out a portion of your office space to other companies. This flexible approach allows you to maximize the utilization of your premises while generating a steady income. This not only creates a sense of community, but also opens doors to networking opportunities, potential partnerships, and synergistic relationships that can fuel growth and.   innovation. Harness the power of.   leasing to not only optimize your workspace but also enhance your financial prospects, ensuring your company thrives in a dynamic and evolving business landscape.
Make the Smart Business Move
Choose the Offices at WhiteOak and elevate your business, with a professional and customizable office space that suits your needs. Whether you decide to own or lease, these thoughtfully designed office condos cater to the diverse needs of businesses across various industries. With captivating aesthetics and a range of amenities, you can create an impressive environment that leaves a lasting impression on clients and fosters productivity among your team.
To view available lots and office spaces by appointment only, visit officesatwhiteoak.com, call (832) 457-9442 or email [email protected]
The Offices at WhiteOak
1904 Longmire Rd, Conroe, TX 77304
(832) 457-9442
[email protected]