Turn Dreams into Reality with DWR Exteriors
In the vast landscape of the construction industry, finding a company that stands out for its integrity, unwavering commitment to quality, and exceptional customer service can be a daunting task. However, nestled among the competition, there is a shining gem that continues to impress clients and set new standards in the realm of home exterior remodeling—DWR Exteriors.
With a robust track record of over 20 years, this premier company has earned a reputation as a trustworthy and reliable contractor, turning clients' dreams into reality. In this in-depth interview with Grant Schilhab, President and Owner of DWR Exteriors, we delve into what sets DWR apart from their competitors, and why DWR is the preferred choice.
A Solid Foundation of Trust and Expertise
Speak for a few minutes with Grant and it becomes apparent that DWR Exteriors is not just another construction company. Grant takes pride in being intricately involved in the company's day-to-day operations. With over 30 years of experience in the construction industry, including work in nearly every trade since a young age, his wealth of knowledge and passion for the field shine through. "I'm the President and Owner," Grant explained, "but I also run the production department. I'm very hands-on." This level of leadership ensures that DWR Exteriors maintains its commitment to delivering top-notch service and unmatched quality.
From Vision to Reality
If you are interested in DWR Exteriors' services, you can expect a streamlined and thorough process that begins with a site visit from a skilled salesperson and designer. Once you've reached out to the team about your desired exterior project, the team takes meticulous measurements and photographs, ensuring a comprehensive understanding of your vision. Back at the office, DWR Exteriors works diligently to create 3D renderings using state of the art software and estimates that allow you to visualize your dream space fully. Once complete, you are invited to the company's impressive 4,500-square-foot showroom, where you are presented with a detailed proposal and have the opportunity to discuss and make any necessary changes. DWR Exteriors leaves no stone unturned in their effort to ensure the project aligns perfectly with your desires and budget.
Some of DWR Exterior's Services Include:
• Patios
• Room Additions
• Garages / RV Garages
• Outdoor Kitchens
• Decks and Pergolas
• Fire Features
What Sets DWR Exteriors Apart?
At the core of DWR Exteriors' success lies their unwavering dedication to integrity and doing things the right way. After all, DWR stands for "Doing What's Right". While some contractors may take shortcuts to save time and money, DWR Exteriors prioritizes a complete experience for their clients. "We deliver a turnkey experience. We handle the whole process, from design to permitting and everything else." By meticulously handling every detail, DWR ensures a seamless process that eliminates stress for you.
Transforming Space
Turn what was once considered unusable space into stunning and functional outdoor havens with DWR Exteriors. Whether it's a patio cover, an outdoor kitchen, or a room addition, the company's team of experts tackles your challenging areas with different rooflines and transforms them into harmonious extensions of the existing home. This remarkable ability to blend new constructions with the original architecture is a testament to DWR Exteriors' commitment to maintaining the aesthetic and value of the property. "We want all of our work to fit in with the original property and the neighborhood," Grant said. "When we're done, we don't want anyone to know the remodel or addition isn't an original part of the property."
Exceptional Customer Service: Going the Extra Mile
In an industry where customer service is often overlooked, DWR Exteriors stands out as a paragon of excellence. From the moment you contact them, you are treated to a level of service that is second to none. Each project is assigned a dedicated project manager and a production assistant, ensuring that your concerns are addressed promptly and professionally.
The company also goes the extra mile to provide a 24-hour answering service, giving you peace of mind, knowing that assistance is just a phone call away, even during off-hours. You'll get a quick solution to any questions or challenges that may arise. 
Building Long-Term Relationships
One of the hallmarks of DWR Exteriors' success is their ability to cultivate lasting relationships with clients. Their commitment to delivering quality work and exceptional service results in numerous referrals and repeat customers. "We become a lifelong choice for a majority of our customers," Grant said. Notably, the company boasts a remarkably low employee turnover rate, with many team members having worked together for over a decade. This unity and extensive experience blend together into a well-coordinated and efficient team that consistently delivers high-quality results.
Staying Relevant in and Ever-Changing Market
As the construction industry continues to evolve, DWR Exteriors remains steadfast in its pursuit of excellence. With a steadfast commitment to integrity, unmatched customer service, and a team of dedicated experts, the company stands tall as a shining example of what can be achieved when passion and expertise combine. By transforming once unusable spaces into magnificent outdoor living areas, DWR Exteriors leaves an indelible mark on the lives of its clients. If you are seeking a remodeling experience that exceeds expectations and delivers a space to cherish for a lifetime, DWR Exteriors is undoubtedly the name to remember.
DWR Exteriors continues to impress by offering a limited-time "Beat the Heat Summer Sale." With a generous 20% discount on all projects, and a free 50" TV on all patio cover purchases—the dream of a perfect outdoor living space is attainable for everyone. Whether it's a modest renovation or a grand transformation, DWR Exteriors has solutions to suit every budget and financial situation.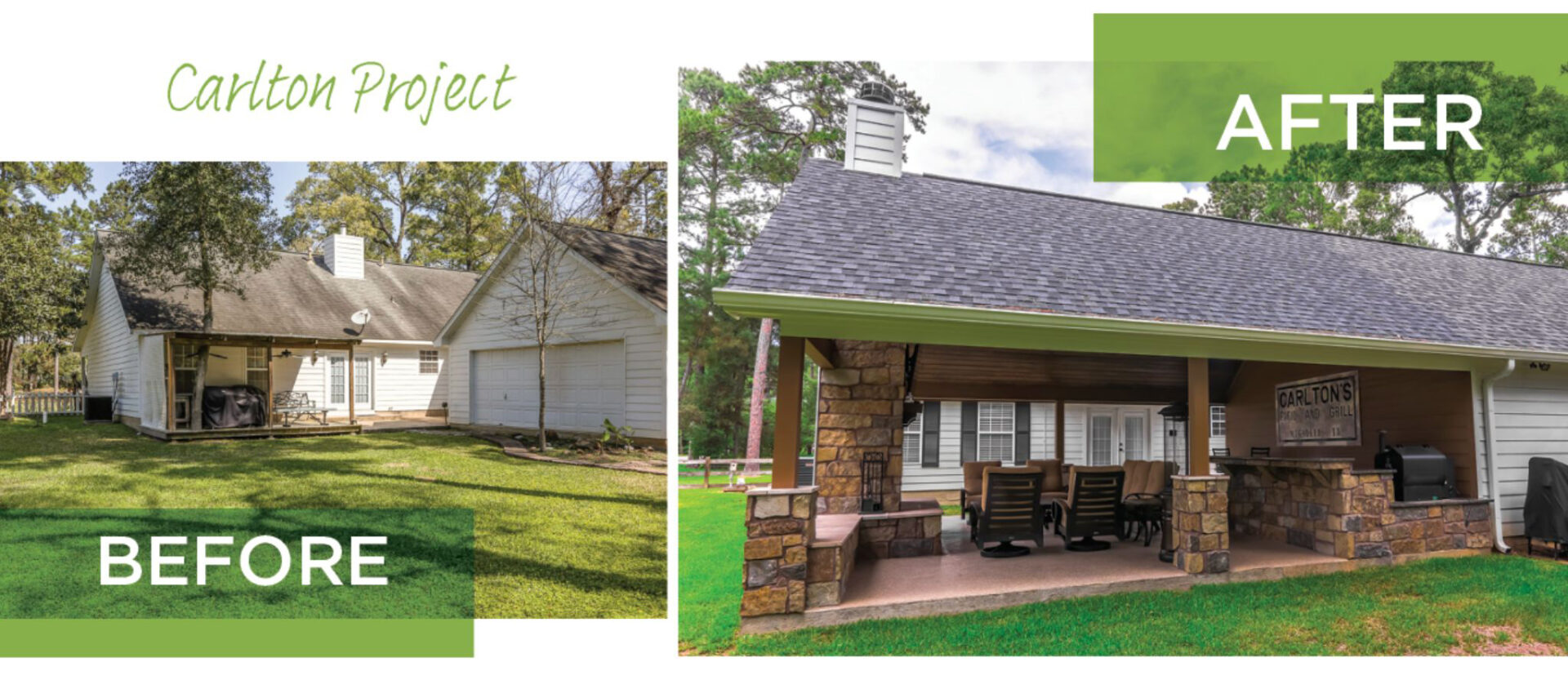 For all your project needs, you can visit dwrexteriors.com or call them at 281-419-4144. You can also find them on Facebook or Instagram to see their latest project updates.
For all your project needs,
call today!
445 Spring Hill Drive, Suite 101 Spring, TX, 77386
281-419-4144  |  www.dwrexteriors.com