The most relaxing time to me is when I am on water.  Recently, I have been doing a few other sports on the water.  I have started surfing and also duck hunting.  I have done these two sports before but just now have really practiced to really get better and enjoy them even more.  Hope you enjoy the images from my journey on the water as much as I did.   
12-18-19 Lake Tawakoni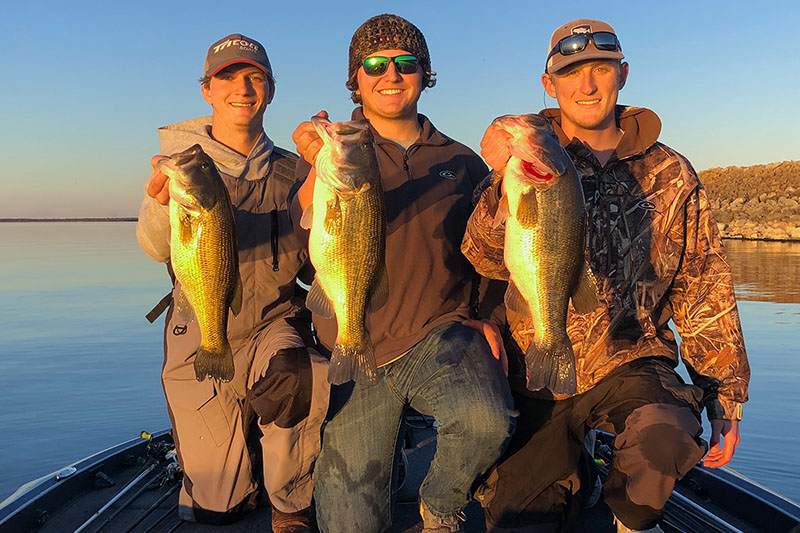 I went to meet my friend, Parker at Lake Tawakoni, which is close to Lake Fork.  We fished with Garrett, one of his friends from college and Lee Lavesay, he is a pro on the Elite Bassmaster team.
We fished shallow water and I used green pumpkin chatter bait.  Lee and the other guys used an Alabama rig, Jerk bait and rattle trap.  I ended up catching the biggest fish, which was a 6 pounder.  Parker caught 2 fish, Garrett caught one, I caught 5 and Lee caught 5.  It was a great day with my friends.
12-22-19 Duck Hunt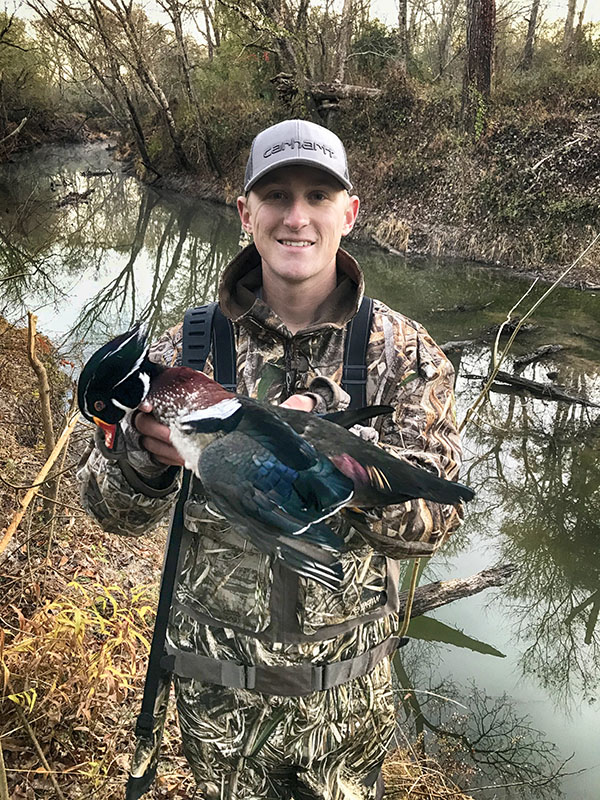 I just recently started to learn about duck hunting.  Trey has always been an avid duck hunter and now I know why he loves it so much.  Before the hunting season started, I helped Taylor build duck blinds.  I really enjoyed learning to build them with my friends.  We got them all ready and then it was time to hunt.  Being out in nature is so fulfilling to me.  You are always there at the best times when you duck hunt.  It's right when nature wakes up and right before the sun goes down and most creatures settle down for the evening.  I watched videos on how to call a duck and I actually got pretty good at it.  I sat in the blind and called them for my friends.  I learned how they talk on the ground, in flight and when they are ready to fly away when they are in danger.  That same day I shot one of the prettiest ducks ever.  It was a wood duck, it had so many beautiful colors.  Those are hard to find.  I shot it down in the creek.
12-29-19 Surfing at Surfside
One of the things that I love to do when I am not fishing is to surf.  I got a surfboard for Christmas.  My dad used to surf when he was in high school, he was always going to surfside every chance he could.  Grant and I went down to Surfside to catch a few waves.  I enjoy the peace I have with the water and nature. This also helps build my endurance and my arms for fishing.  As you all know when I fish on the beach for the bull reds I swim out to the 3rd sandbar and cast my line and swim back.  This is a good way to keep your arms in shape for fishing.  It's good for the heart, the soul and helps strengthen my arms.  When Trey and I are out fishing at the tournaments we fish till the last second.  I know it's very tiring and if you fish hard like we do you cast well over a 1,000 casts a day.  Now that will wear your arms out if you are not used to it.
1-4-20 Time to Fish
Trey and I have not had much time to fish over the holidays.  We decided to go to Fayette for the day and go fishing.  We caught a few nice ones and also 2 on one lure.  We always enjoy going there.
1-2-20 Surfing on a Rainy Day
This time I took my mom with me.  I know she loves being at the beach so I took her along for the ride.  On the way there we stopped at a store to get gas and a man named Chester, a disabled veteran approached me and wanted to talk about fishing with veterans.  He told me that he wrote the poem that was in the 911 museum and was raising money by selling decals and t-shirts to buy land with a pond for veterans and their families to come fish.  If anyone is interested in supporting the veterans here is the website to order your t-shirt.  Custompatriottees.com.  He also had a coin from the Chris Kyle Frog Foundation that he received from Chris's wife for supporting the veterans.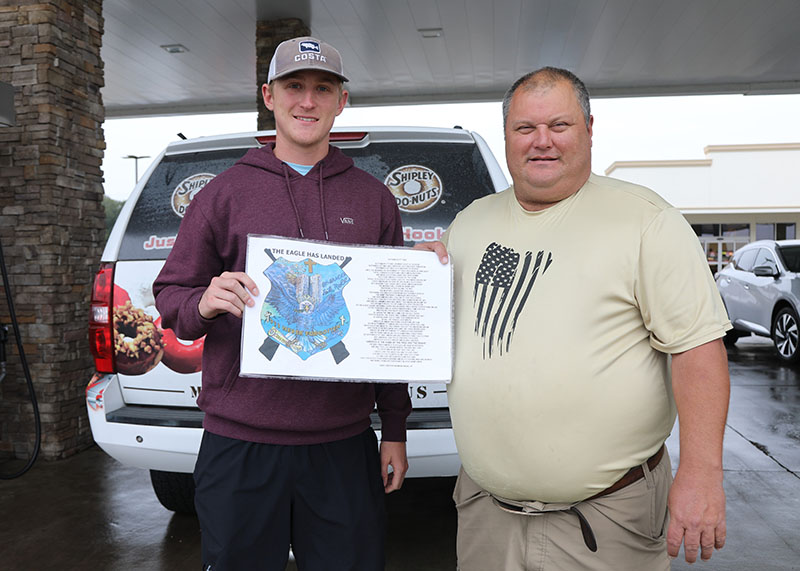 When we arrived at the beach it was a dreary day.  It was fine because I was going to be in the water anyway.  My friend, Collin from school came and met me at the Octagon.  This is the same place my dad and his friends would go to surf.  It stayed dreary most of the day but we caught a few waves and were happy.  The sun peaked through the clouds briefly, only to disappear a few minutes later.  The surf was not that big, but big enough to catch several good rides.  It started to rain more in the afternoon and I was getting tired so we packed up and went home.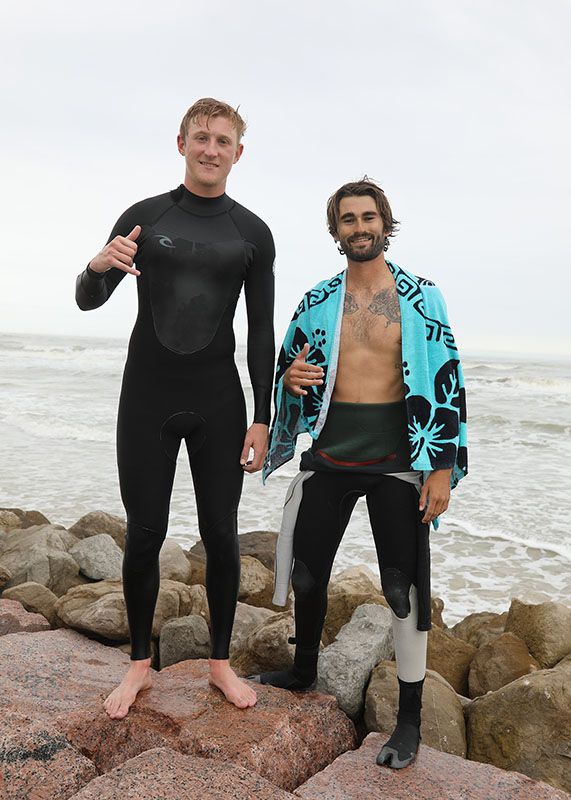 THROW IT OUT, POP IT IN, SURF ON!
1-11-20 Hunting Ducks in Matagorda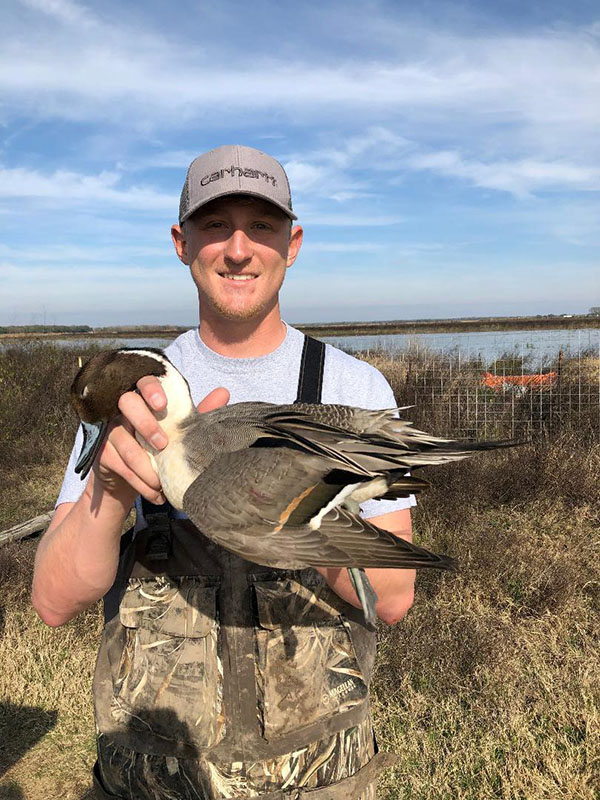 Trey and I were invited to go to Matagorda to hunt.  We had a great time hunting pintail ducks.