January 2020 – Pre-Fishing Toledo Bend
Trey and I arrived at Toledo Bend on Sunday to start pre-fishing. It was really windy and we just caught a few. We practiced again on Monday I caught a few and Trey did not catch any. Grant is fishing with Hayes this year. He fished on the Woodlands High School team. Grant caught a nice 4 ½ pounder while he was practicing, but his partner Hayes did not catch any either. It is really tough and the weather is not cooperating either. It's Wednesday and we have been trying hard to find fish but it's tough, I mean really tough. Today Trey and I started fishing at 9 a.m. because it was raining very hard. We wanted to wait till it slowed down a bit. I caught 1 keeper. Trey and I took turns fishing. It was so cold we warmed our hands with hand warmers and put them in our pockets when the other one was fishing. It was in the 30's and miserable with a constant rain. We fished for 3 hours and decided to go in. It was still raining at 12 and everything was soaked. Our gloves were wet. This was no fun at all. No fish. Wet and Cold. All we could think about was a warm place. Grant also told us he was freezing and his hands were numb.
1-23-20 BASSMASTER COLLEGE SERIES – Toledo Bend
Today is the day I have been waiting for and I just don't know what to think.  I came into this saying we could win and qualify, but with the bad practice days and all the terrible weather it doesn't seem attainable.  The line to get to the ramp was so long.  It took about an hour just to get to the ramp.  Colleges are here from all over the United States to compete.  There are 250 teams fishing today.  That is the limit.  The top 25 teams will qualify for the National Championship in the summer.  It is still sprinkling rain, but should stop soon.  Wow we are finally getting a break.  Hopefully we can concentrate on fishing instead of freezing and accomplish our goal to catch 5 BIG keepers.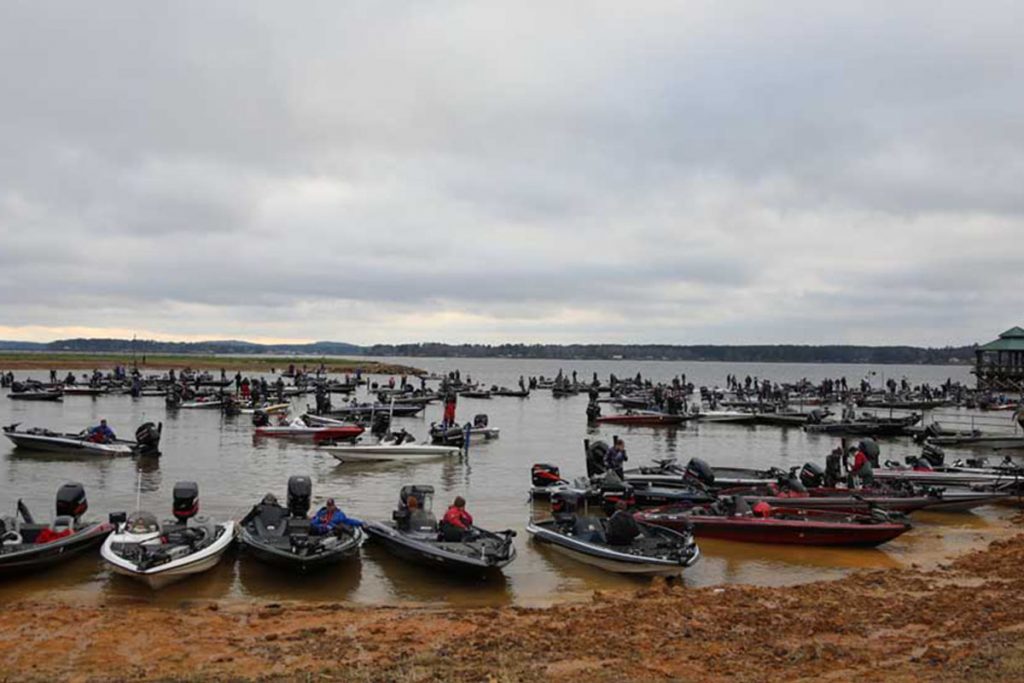 You can definitely tell there are 250 boats in this tournament. The lines are at least an hour long just to get to the boat ramp to launch. Several lanes are closed due to the drought.
We found a group of fish on the main lake next to the standing timber and brush piles. There were a lot of fish on the graph. Some in the brush and some scattered in the area. I was up front looking at the graph and dropped down to the fish with a drop shot. I caught 1 keeper and lost one. It broke the line in the timber. Trey caught 3 at the first spot.
We left there and went to Housing, a creek arm. We fished shallow for 1 ½ to 2 hours with no luck. I caught 1 tiny fish, that was it.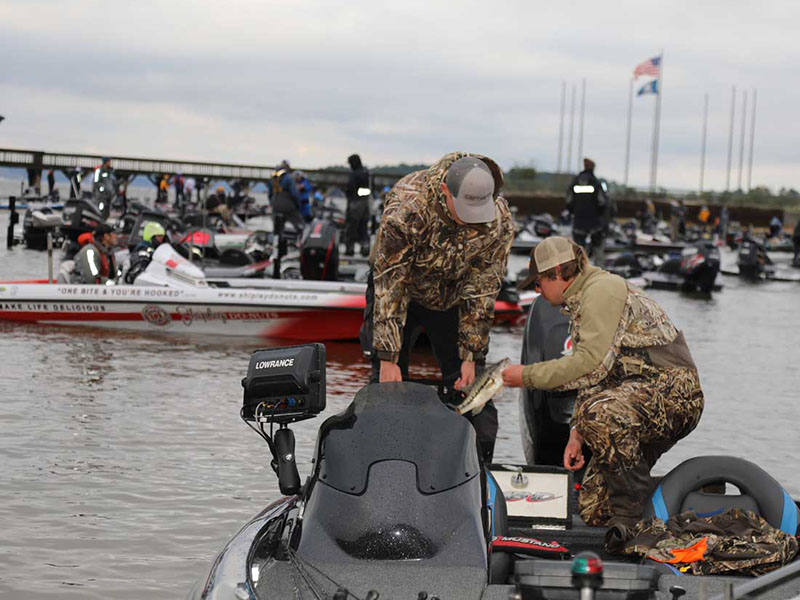 I decided to go back to the first sport to get one more keeper, with no luck again. Making a long run to the last spot to see if we could catch something big. The ones we had were all small. Trey had one fish on, only for a second, then it pulled off the hook. I caught a little spotted bass which was the last keeper.
Grant and Hayes fished shallow the first day. They caught 3 keepers weighing in at 8.8 lbs. Trey and I had 5 fish also weighing 8.8 lbs. What are the chances of that? My brother and I are tied on the first day. Yes, I said, "Tied with a sack of little fish".
1-24-20 – Day 2 Toledo Bend
The rain has finally stopped, but it is still extremely cold. There was ice on the boat this morning. It is going to be sunny, but still cold.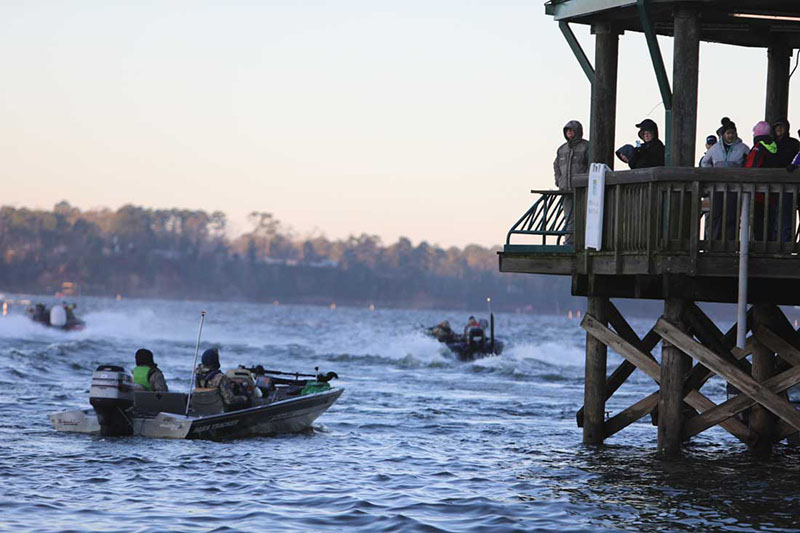 We started the day fishing the main lake points. We fished 2-3 with no luck close to the launch. We went back down south to try a few new places. Found a few fish that looked like a school and I caught 1 fish. We decided to go back to the place we fished the day before where we caught all our fish and we caught 2-3 small keepers. Knowing it was going to take a big sack to catch up, we decided to fish new water hoping to catch some big fish.
We headed over to Indian Mounds.  We saw Grant in a distance and idled up to him to chat.  He had 1 keeper at that time.  We found a group of fish and Trey caught 1 spotted bass.  It was a hard day of fishing for us.  We just couldn't get any good bites.  There was a lot of spotted bass between 1 ¾ – 2 pounders.  Just not enough to make the cut.   Grant and Hayes fished deep using drop shot and caught 4 keepers. Trey and I are planning on fishing the FLW College series the rest of the school year.  Our next tournament is in March at Fort Gibson, Oklahoma. 
THROW IT OUT, POP IT IN, FISH ON !!!