How Dr. Gerald W. Brzozowski, Jr. makes pet care more than just treating sickness.
Dr. Brzozowski started Forest Crossing Animal Hospital in 2003 and has prided his business on helping others. The success of his business is the personal relationships he has built with families over the years and the one on one care, "I treat my patients as if they are family members." It is this style of treatment that has given Forest Crossing Animal Hospital a foothold in The Woodlands community and surrounding area.
Stretching back to his childhood, Dr. Brzozowski has always wanted to work with animals. "I've always loved animals," Dr. Brzozowski says, and his love for helping animals came after one of his kittens died at an early age. From then on, Dr. Brzozowski developed a love and passion for caring for animals. Now, his practice and business stand out and his success can be attributed to the special care and attention his patients and their families experience. Let's take a look at some of the ways Dr. Brzozowski has made an impact on both his patients and families.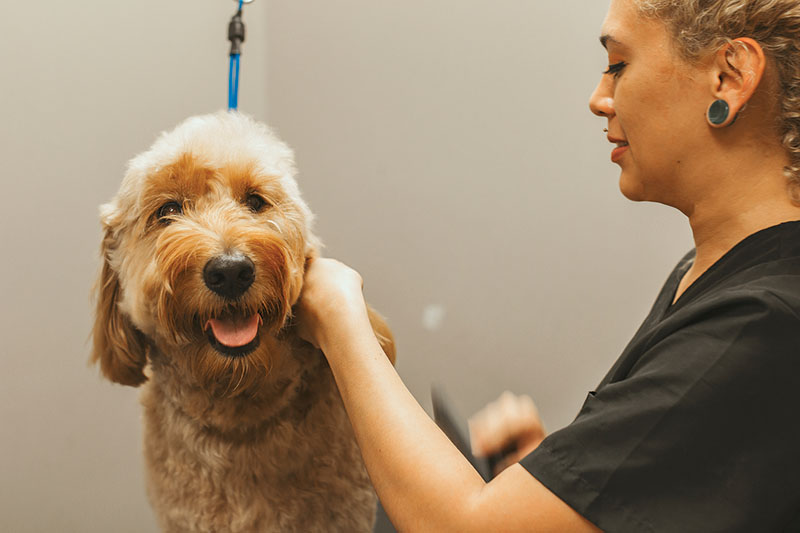 Preventative Care & Holistic Care
When it comes to treating your pets, Dr. Brzozowski doesn't just treat them as just another animal. That means he wants to get an idea of the environment that they are surrounded in and understand your pet fundamentally. Because he views your pets as family members, it isn't just as simple as a diagnosis for him. "I will sit multiple hours if I have to just try and figure out what is best for Fido or Fluffy to not be so anxious." At Forest Crossing Animal Hospital, it's not just about how the animal is doing physically, but mentally. His practice has hired doctors that seek to bridge the gap between owner and pet. As Dr. Brzozowski puts it, "I look at it holistically. If you bring a pet in for a skin infection, I'm not just going to treat that skin infection; I'm going to treat the whole process. What are you feeding him? What is your lifestyle?, What are they exposed to, so we can prevent them from having to come back in".
Miranda West, a customer of Forest Crossing Animal Hospital points out how a veterinarian on staff helped save her dog:
"After dealing with a sick, elderly pet for months, I started seeing Dr. Stone. She quickly diagnosed my dog who had been previously misdiagnosed. Dr. Stone has been amazing to work with and is extremely easy to communicate any issues/questions/concerns. My dog made a quick turnaround being on the correct medications and while she may be 12, is acting 2 again. Thank you Dr. Stone and all the staff at Forest Crossing that have helped Darla and I!!"
This holistic approach to medicine has given Dr. Brzozowski and his team an upper hand on diagnosis and preventative treatment. Forest Crossing Animal Hospital stresses the importance of preventative care in a pet's life, especially to a new owner. "My goal – and this may not be a good business model – is I don't want to see you every six months with a rash. I don't want to see you coming in three to four times a year with a skin infection or ear infection." It's important that new pet owners talk to their veterinarian about diet, exercise, and the environment the pet is in. It's important that you take action as a pet owner and take charge over the health of your pet, especially if you think something is wrong, "Don't wait…I'd rather you come in and pay the exam fee and I tell you that you are overeacting, versus coming in three or four days and I've got to do blood work, hospitalize them and keep them on fluids."
The Woodlands and Services Offered
"It was the perfect place to be," says Dr. Brzozowski when talking about The Woodlands area. He feels a sense of pride in the families he works with and how he can serve his community. The Woodlands is home to him even if he isn't a native. For him, it's "not only making the pet happy but knowing the family is happy as well."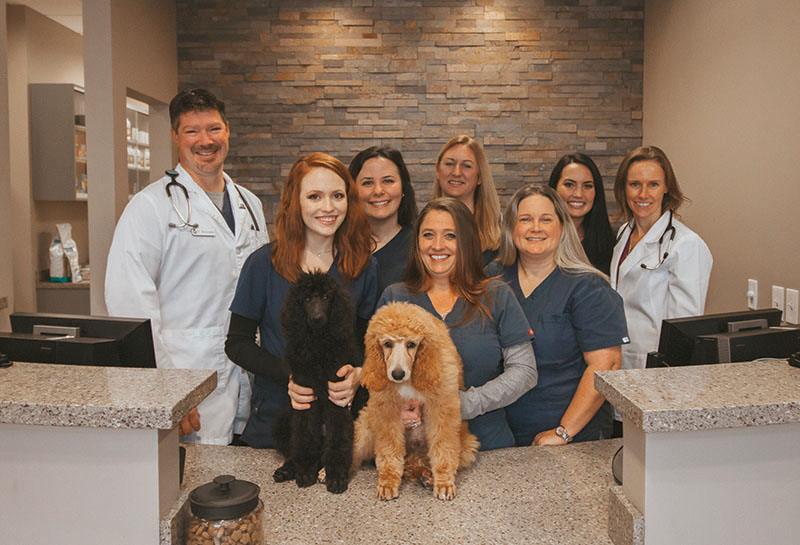 As a care provider, they are committed to the wellness of your furry friend! That means they can walk you through the process of selecting a diet, workout regimen, grooming, and even regular checkups! You can easily keep track of vaccinations, heartworms, microchips and other needs. Forest Crossing Animal Hospital can also help you with behavioral needs. As Forest Crossing points out, "Annual wellness exams are your pet's first line of defense. Forest Crossing Animal Hospital's comprehensive annual exams include checking their overall health from nose to tail and looking for any changes that may have occurred."
Routine checkups will allow you to collaborate on a plan to keep your companion happy and healthy for a long time. For new owners, it's about "practicing prevention as best as possible."
Forest Crossing Animal Hospital's hours of operation are Mon, Tues, Thus, Fri: 7 am-6 pm, Wed: 7 am-9 pm, Sat: 8 am-1 pm, Sun: closed. You can call an appointment at 936-271-9300. They are located at 2330 F.M. 1488 Suite 100, The Woodlands, TX 77384. Remember to ask questions and get to know your veterinarian. Forest Crossing Animal Hospital is ready to give your furry family member the best care it deserves!