The Players Theatre Company is pleased to bring the dark-comedy, sci-fi musical, Little Shop of Horrors to the Owen Theatre stage this month. Opening March 6th and running through the 22nd, this production is sure to thrill audiences. The music, composed by Alan Menken, is in the style of 1960s rock and roll, doo-wop and early Motown, and includes several well-known tunes such as the title song, "Skid Row (Downtown)", "Somewhere That's Green", and "Suddenly, Seymour". With a book by Howard Ashman, the musical is based on the low-budget 1960 black comedy film The Little Shop of Horrors by Roger Corman. This film has a cult following of its own as well as the 1986 movie musical starring Rick Moranis, Steve Martin and Ellen Green, the latter taking the success of the off-broadway musical and turning it into a feature film, directed by Frank Oz. The Players' production is directed by Adam Isbell. Adam is determined to wow a variety of audiences with his directorial debut. His attention to every single detail makes this a dazzling spectacle for theatre-goers and an experience they won't soon forget.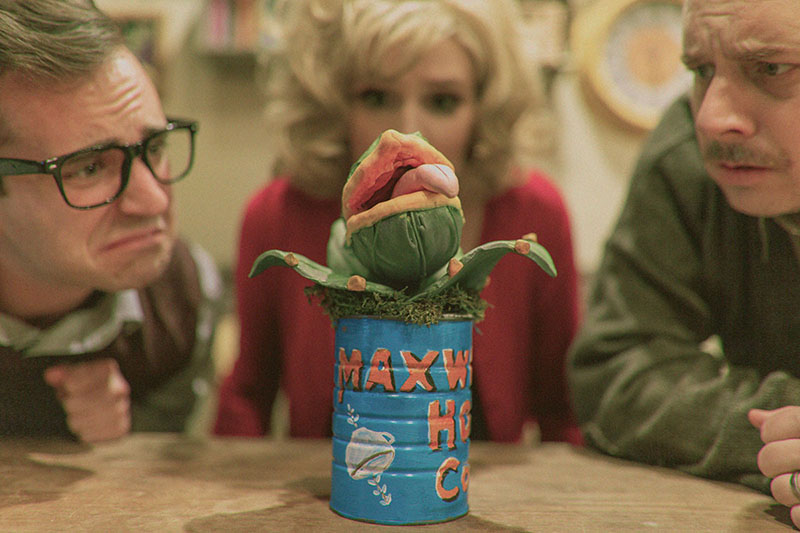 The story follows a hapless flower shop worker, Seymour Krelborn, who comes across a strange and unidentifiable plant. Over time, this foul-mouthed, R&B-singing carnivore, which Seymour names Audrey 2 (after his co-worker and the object of his affections), promises unending fame and fortune to the down-and-out Krelborn, as long as he keeps feeding it BLOOD. The manipulative plant preys on Seymour's love for Audrey one and his desperate need for approval from his uptight, self-serving boss, Mr. Mushnik, to get Seymour to do whatever he wants. With Audrey's abusive and sadistic dentist boyfriend, Orin Scrivello, D.D.S., audiences will have a hard time deciding who the real villain is. Rounding out the principles is a trio of street urchins- Crystal, Ronnette and Chiffon, who also act as the Greek chorus. They help carry the story along and appear with catchy songs and glitzy costumes throughout the shows entirety.
Leading the cast as Seymour is Jacob Massoletti. This is Jacob's first show since playing demented dentist, Orin, in his high school production ten years ago. With a fresh perspective as the starring role this time around, Jacob really brings Seymour to life with his nervous foibles and unending dorkiness. He came in and set the bar high for his castmates and that's where the bar stayed.
His love interest, Audrey, is played by Courtney Berry. Audiences may recognize Courtney from shows at both the Owen and Crighton theatres. Previously playing Elizabeth in Stage Right's highly successful Young Frankenstein and Doralee in The Players' production of 9 to 5, Courtney is excited to showcase even more of her talent as the lovable and vulnerable heroine of this story. She will earn numerous merits for her unique interpretation of this iconic character. It will be a refreshing take for cult followers and a standout performance for first time Little Shoppers.
Voicing the show's antagonist is Trevor Hall. Trevor will be voicing Audrey 2's lines off stage while a puppeteer is doing all the mouth-moving on stage. Trevor was last seen as Gaston in The Players' Beauty & the Beast. Even though you may not see him, you will be highly entertained by his boisterous voice and collection of foul-humored jokes. He's also extended his talents beyond the stage and took all headshots and publicity photos for this production.
Gavin McKinnon is playing gruff-exteriored Mr. Mushnik. Gavin made his stage debut in Stage Right's Into the Woods as the Baker a little over a year ago. He brings a sense of likability to Mushnik while still maintaining that old curmudgeon demeanor.
Allan McFarlane has taken The Players' stage by storm these past couple of years. With roles in Seven Brides for Seven Brothers, Seussical the Musical, and Happy Days, he's showing a whole new side of himself as abusive narcissist, Orin Scrivello.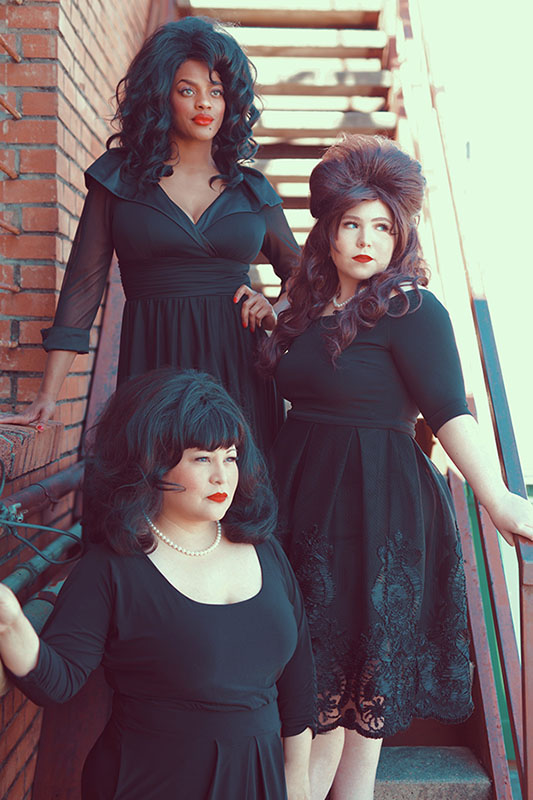 The street urchins (often referred to as The Dreamgirls by the director) are made up of Angelie de los Santos, Shananda Poulos, and Meredith Fisk. Angelie was last seen at the Owen in Godspell. Aside from that, she has a slew of credits at both theatres for years past and is an entertaining attraction at the Texas Renaissance Festival. Angelie really steps it up in this role and wows as Crystal. Shananda recently got her feet wet in Stage Right's version of Cinderella this past October after a seven-year hiatus from the stage. She was a show-stopper in that and is sure to bring that same energy and entertainment value into the role of Ronnette. After years of various credits at both theatres, Meredith Fisk is getting her chance to shine as Chiffon. With a voice so astonishing and an attitude to match, she is somebody to definitely watch out for!
Making up the ensemble (each with a worthy featured part) are Kathleen Baker, Briana Steptoe, Lindsay Elgin, Kyle Clevenger and Dallas Hiett. Kathleen was last seen as the title role at the Crighton in Cinderella. Briana did her first show with the Owen over a year ago with the eye-catching, fun-filled Seussical the Musical. Lindsay and Kyle have both been in shows at the Owen before while this is Dallas's first time to be in a theatre show; however, he has done shows or sung in choirs at his church. Each ensemble member brings a unique flair to Little Shop and along with fun characterizations, their enchanting voices captivate in the big musical numbers. 
The puppeteers, Michael and Jamie Glass, are deserving of a paragraph of their own. Not only are they puppeteering, they are responsible for the puppets' existence. They've been working the whole of last year on perfecting all four stages of the Audrey 2 puppets. These puppets alone will be worth the ticket. As if that's not enough, they are also in charge of the elaborate and exciting set. Their credits go beyond both theatres whether it be behind the scenes or on the stage. Keep an eye out for them because they may pop up here and there throughout the production as well.
It is necessary to give special mention to the artistic team, each bringing so much to this show and each with numerous accolades in this theatre community. Award winning actress, Layne Roberts took on the role of music director and ensures a clear, rich and beautiful sound. Sarah Wilkins acts as Stage Manager. You will be shocked to know this is her first time in this role because of how effortlessly everything is run. Jodie Schrier will have audiences wanting to join in on these fun and familiar dances that elevate this already stellar show. Rebecca McDowell acts as the assistant director and voice of reason,  with Amber Babcock posing as vocal coach and mentor.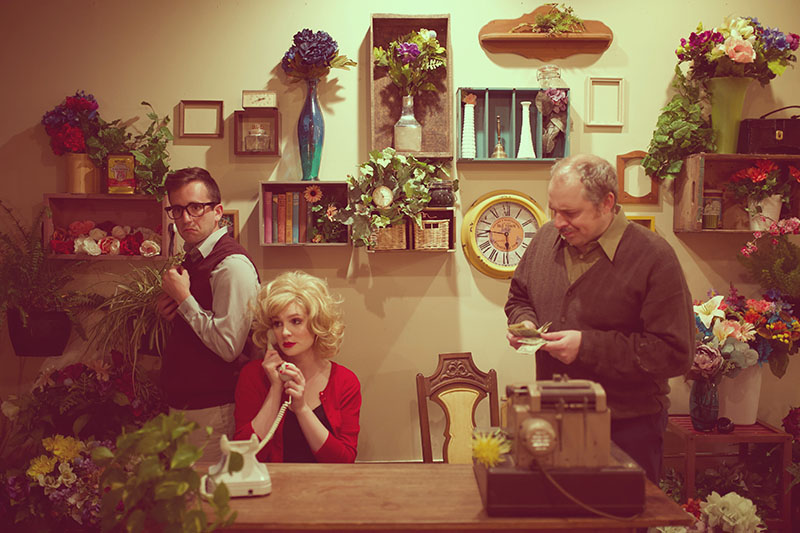 Little Shop of Horrors runs March 6-22, 2020, Fridays and Saturdays at 8PM,  Sundays at 2PM. There is also an additional show on Thursday, March 19th at 8PM.
For tickets visit www.owentheatre.com or call (935) 539-4090. View the full poster here.