Most people do not think about water on a daily basis–how the wastewater from their home makes its way to a treatment facility or how clean drinking water magically comes out of the faucet when turned on.  We turn on the tap or flush our toilet and water does the rest.  The recent winter storm highlighted a new appreciation for not only having water services available, but for those on the front lines who work on behalf of water.  These activities are essential to our everyday life, and the San Jacinto River Authority (SJRA) is proud to be responsible for providing water services to our community.  
Over the last few years SJRA has incorporated different or unique ways to educate the public on the services we provide.  In fact, SJRA's internal Geographic Information Systems (GIS) Department has developed several technology-driven water education campaigns.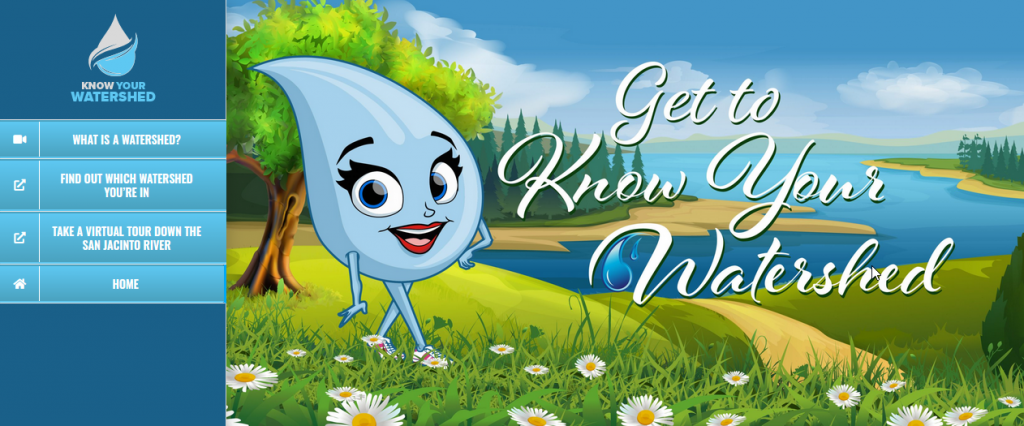 What is GIS?
GIS utilizes the location, or geography, of objects/features and the information associated with those objects/features for mapping and analysis.  Just about everyone is familiar with mapping apps on mobile phones.  In fact, most of us probably use one on a weekly, if not daily, basis.  These mobile applications are a type of GIS.  The roads, imagery, restaurants, gas stations, and other information available are all different GIS datasets.  These datasets make it possible to zoom in to The Woodlands or Conroe, search for 'restaurants,' and then populate various restaurant locations on a map.  Most people don't realize they have been using GIS for years.
In 2019, SJRA launched the GIS-based Know Your Watershed campaign.  Know Your Watershed (www.KnowYourWatershed.com) is an interactive website designed to educate San Jacinto River Basin residents by engaging them in 1) identifying their watershed 2) recognizing flow patterns 3) observing how water naturally drains throughout the basin, and 4) learning important water-related facts in a creative and entertaining way.  Viewers can access information by clicking on an "Address Viewer" link and searching for their location, or take a virtual tour with perky water drop SJ Watershed and her friends by clicking on the "StoryMap" which features fact sheets, animation, and videos. 
Using the same GIS technology, SJRA has also put together two StoryMaps for its Woodlands Division.  Located in southern Montgomery County, The Woodlands Division provides wholesale water supply and wastewater treatment services to The Woodlands through three regional wastewater treatment plants, a wastewater conveyance system with more than 30 lift stations, five water plants, 38 water wells, six elevated and eight ground storage tanks, and miles of wastewater collection and potable water distribution lines. Since 1975 The Woodlands Division has served as the wholesaler to the 11 municipal utility districts (MUDs) that provide retail services within The Woodlands.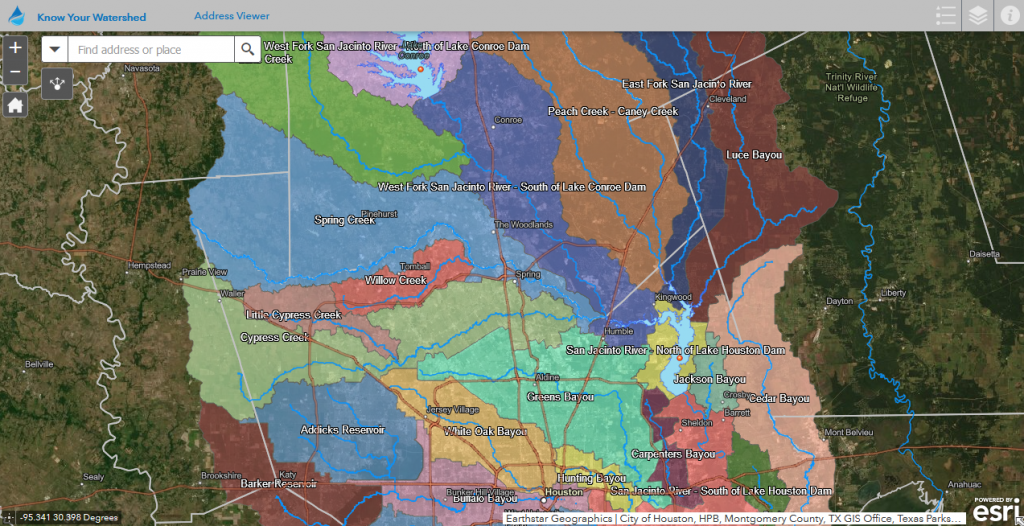 The Woodlands Division StoryMaps introduce us to Wells and Woody.  Wells and Woody are energetic twin water drops dedicated to helping everyone better understand water supply and wastewater treatment.  Wells takes viewers through the water supply system, starting with the source and ending with an open faucet.  He focuses on where our drinking water comes from and how it gets to into our cup in a manner that meets and/or exceeds drinking water standards.  While his brother, Woody, draws your attention to what happens next by heading down the drain.  This water drop takes us through the sewer pipes and over to the wastewater treatment plant to show us how dirty water gets a much needed bath so that it can be sent back down into the local stream.   
Both StoryMaps include amazing facts, interesting historical information, and much more.  Wells and Woody take viewers on a journey to emphasize the importance of: (1) protecting the world's most precious natural resource; (2) pointing out behaviors that cause issues with both processes such as flushing wipes or wasting water; (3) explaining what goes into providing safe drinking water and getting rid of wastewater; and (4) highlighting those that provide these essential services for our community.  
These vivacious and educational water drops help communicate confusing and complicated processes in a way that is easy to understand.  An experience where you are learning but you don't realize it.  Having fun instead of cracking open the old textbook.  Be on the lookout for Wells and Woody on our website www.sjra.net.