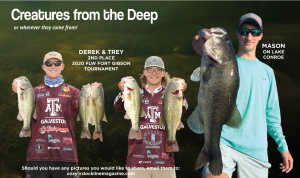 Black Bass: The pattern for locating and catching bass at this time of year is by using your depth finder and idling around over submerged road beds, pond dams and main lake points looking for brush.  I like to drag a Carolina worm rig over this type of cover in search of some action.  Worm colors from black to watermelon seed are good choices in 8' – 15' depending on the time of day.  Any rock structure such as marine breakwaters and bridges can hold some good bass.
Crappie: Crappie action can be a little slow at this time of year, but some can be caught on minnows and jigs fished around brush and bridge pilings in 12' – 20' depths.
White Bass & Hybrid Striped Bass:  At the time of year I like to troll pet spoons behind deep diving crank baits near main lake humps or points in 15' – 25' depths.  I will move from one area to another to locate these fish as they do moved around a bit.  At this time of year I find it best to fish during the early morning hours since the water temperature can reach to 90 degrees later in the day.
Catfish: At this time of year, the catfish bite is also best during the early morning hours under the 1097 Bridge and along creek and river channels, which are prime fishing locations.  Dip baits on sponge hooks and night crawlers are good baits to catch these good eating fish.  By baiting the areas, this will increase the action.