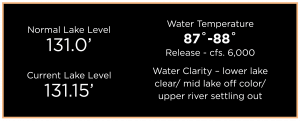 FISHING FORECAST:  Summer heat is on and White Bass like it hot. Look for schooling Whites now lower lake, White Rock Creek, Palmetto Basin and more.  Don't forget the river channel near Riverside in August.  Look for birds working the bait and they will take you to the fish.  Schooling Whites will take a variety of baits. I like to throw a bone colored pop r with a pet spoon trailer and catch them two at a time.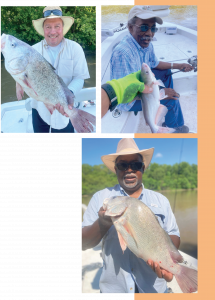 SPECIES REPORT:
Black Bass – (largemouth) look for Blacks now on lower lake boathouses taking craw jigs and crank baits. Concentrate on the deeper boat houses.  Fish rocky points with the crank baits.
Catfish – Good jug line fishing the bays with fresh cut shad. Best days are with a south or southwest wind moving the jugs.  Also, fish the mid lake bridges on the old 190 road bed with fresh shad or chicken liver.  
Crappie – Slow fishing mid lake creeks in the cut banks around brush.
White Bass – Fish the humps lower and mid lake 17' to 21' with slab baits.  Look for birds and follow schooling action.
Alligator Gar – Good fishing for trophy Gar now in the river.  Fish large shad on the bottom.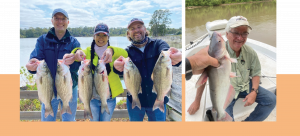 David Scott Cox
Palmetto Guide Service
H3AUTO GROUP
Charlie's Worms
Bimini Bay Outfitters
Tsunami Airwave Rods
Red Ninja Outdoors
Bethy Creek Resort
Like us on Facebook
(Lake Livingston Fishing Guide Palmetto Guide Service)
www.palmettoguideservice.com