Robert Frost called them…"flowers that fly and all but sing"….   For many people butterflies symbolize the free spirits of loved ones who have passed on.  To others they represent second chances because they transform from crawling caterpillars into colorful flying "flowers". 
Resurrection, change, beauty, joy and hope.  Butterflies represent many things, but some are becoming endangered.  Across the US, organizations, individuals and parks are installing butterfly staging gardens in the hopes of protecting them and securing their future.   
Everyone can use a little more beauty and joy in their lives.  To help with enjoy a few of our most dazzling local East Texas butterflies.  
Learn more about the incredible nature in our area by joining a chapter of the Texas Master Naturalist organization.  To find a chapter near you, or to read about the state program, go online to 
txmn.tamu.edu.  Volunteer and get involved!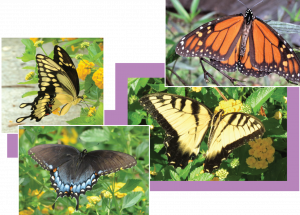 A stunning Giant Swallowtail.  A butterfly uses his long tongue to reach in and gather his daily supply of nectar.   
Monarch butterflies require milkweed feeding stops along their migration pathway, and many parks and people are creating butterfly gardens to help increase their numbers. 
A black Tiger Swallowtail, probably female.  Bees pollinate more flowers and plants than butterflies, but butterflies do their fair share as well. 
A yellow Tiger Swallowtail, probably male.  One way to tell butterflies from moths is to look at their antennae.  Butterflies have long smooth antennae with club-like ends.  Moths have feathery or saw-edged antennae.  
The Common Buckeye. The eye pattern is believed to be a natural selection response to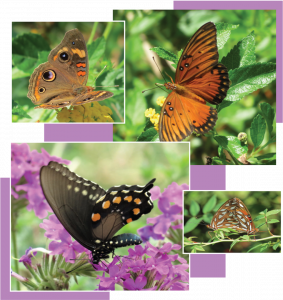 predators.  With "large eyes" on your back you might be mistaken for a creature too dangerous to eat!
The Gulf Fritillary.  Their topside wing colors are orange, black and a few white dots, which are very different colors than what is seen on their underside.
The handsome Spicebush Swallowtail got its name from a common host plant, the spicebush, which is a native plant in Texas and many other states.  But they will take nectar from other sources a well.
Hide your eyes!  Two Gulf Fritillaries are mating!  Their underside wing colors are quite different from their topsides.
Below are some excellent resources to help you start up your own butterfly garden.  Monarchs in particular are more endangered and need our help.
Lady Bird Johnson Wildflower Center
https://www.wildflower.org/learn/how-to/make-a-butterfly-garden   
Texas A&M Agrilife Extension
https://agrilifeextension.tamu.edu/solutions/butterfly-gardening
Texas Parks and Wildlife https://tpwd.texas.gov/publications/pwdpubs/media/pwd_br_w7000_1174.pdf