A Christmas Story, The Musical!
The Players Theatre Company is thrilled to bring A Christmas Story the Musical to Conroe and Montgomery County for the first time ever!  
Based on the 1983 film and the stage play of the same name, the musical adaptation of the story of Ralphie Parker and his dream present of a Red Ryder Carbine-Action BB Gun is charming, sweet, and hilarious.  Audiences will be enraptured by this new retelling of an old holiday classic, and will leave full of the joy and spirit of the Christmas season!
Portraying the bespectacled Ralphie is Wesley Burns, fresh off his role as Nigel in The Players' production of Matilda the Musical.  While this is only his second production with The Players and his first ever as a lead character, Wesley has been acting since he was five years old, playing many Christmas-y roles over the years, including Rerun in Stage Right's A Charlie Brown Christmas in 2017.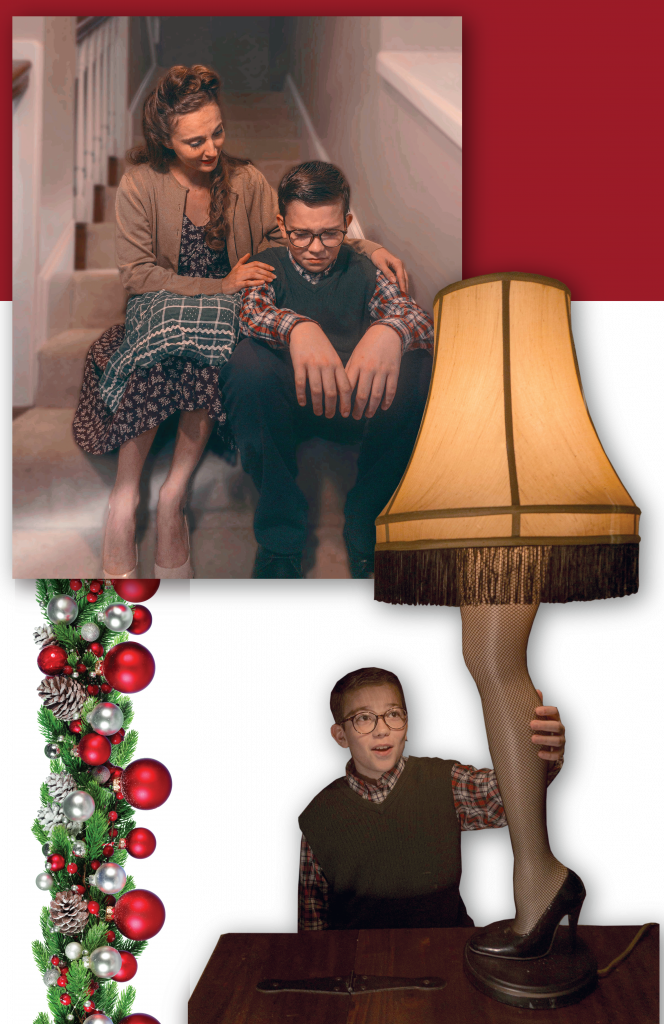 Wesley is perfectly precocious, wry, and adorable as Ralphie, even when he's being pummeled by a bully, reprimanded by his teacher, shot down by Santa Claus, and rejected at every turn as he tries to convince SOMEONE to give him a BB gun for Christmas!
Kathleen Baker and Carson Rapsilver, also both most recently seen on the Owen Stage as several characters apiece in Matilda, are Ralphie's Mother and Old Man.  
Baker has been a staple on the Conroe theatre scene for many years, playing lead characters like Cinderella (Stage Right's Cinderella), as well as a variety of featured roles in shows like Little Shop of Horrors and Sister Act.  In order to bring the Parker matriarch to life, Kathleen plans to pull from her own real-life experience as a mom of four young children, two of which are ten-month old twins!  Where she finds the energy, we'll never know, but we're so grateful Kathleen makes time for her theatre family!
Audiences will remember Carson Rapsilver's stunning premiere on the Owen stage this past March when he dazzled audiences as Ren McCormack in The Players's Footloose.  Rapsilver is no stranger to the stage either, having played Steven in Bring it On the Musical and Tony in West Side Story, as well as juggling multiple crazy costume changes in The Players's Matilda.
While he isn't very "old" and he's not yet a dad himself, Carson is able to completely embody the grumpy, grumbling Parker patriarch.  Off stage, he's an incredibly positive, joyful person so watching him transform into the Old Man is uproarious!  While not on stage, Carson keeps busy with many multimedia projects including professional photography and videography.  It's a thrill to get to work with everything Carson brings to the table, on and off stage.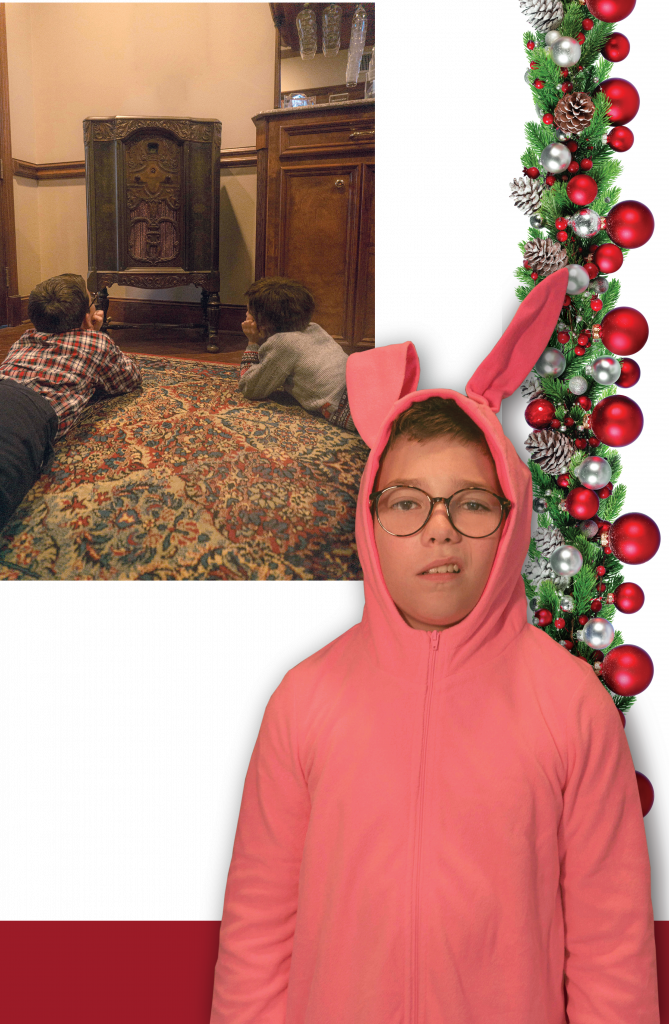 Rounding out the Parker family is little brother Randy, played by Mollie Diaz, fresh off her run as Matilda.  Being Ralphie's whiny little brother comes pretty easily for Diaz, 10; but not because she's whiny in real life. She just happens to be the baby sister to two adult siblings. Mollie simply lights up the stage, even when wrapped in layers and layers and layers of winter clothes, and audiences are going to be enchanted by her antics as little Randy. 
Jean Shepherd, our spirited narrator, is brought to life by Jeff Smith, a husband, dad, grandpa, electrician, and self-proclaimed non-actor. This is Smith's first acting role, proving that it's never too late to find a home in community theatre.  To add to the excitement, Jeff's son, Levi Smith, joins the show as Scut Farkus, the bully and nemesis to every kid in Hohman.  At just nine years old, Levi played Little C in A Bronx Tale on Broadway, then followed that by joining the National Tour of A Christmas Story the Musical.  Levi portrayed Sam in Love Actually Live, and is a lead actor in a brand new series, The Creators, which airs on Right Now Media in January.  We love that this father-son team gets to share the Owen stage this December.
Completing the stellar cast are Jennifer Clevenger, also a first-time Player, Pablo Chapa Espinosa and Austin Krueger as Ralphie's best friends, Schwartz and Flick, Hayden Mlinar, Lanie McLauchlan, and Cheyenne Olson as classmates, and Madison Blaylock as Grover Dill, Farkus's minion.  Skyler Plunk, Allora Thompson, Grace Schexnayder, Caleb Hambrick, Roger Ramirez, Alia McLauchlan, Keali Krueger, and Bonnie Rapsilver (Carson's mom!) complete the adult ensemble.
The highly-skilled artistic team includes assistant director Jeannie Bailey, stage manager Cindy Siple, vocal director Meredith Fisk, and choreographer Savannah Alexander.  Bailey and Alexander are new to The Players and are bringing fresh ideas and talents to the show. Siple is a long-time Player, usually seen on stage, who brings years of professional and community theatre experience, insight, and knowledge to every rehearsal.  Fisk vocally directed Matilda as well as Footloose, in which she also appeared as Rusty, and her brilliant hard work will be evident in every musical number.
A slice of nostalgia, a bit of childhood anticipation, and a whole lot of Pasek & Paul music bring the spirit of the 1983 movie of the same name to life on stage in A Christmas Story the Musical, December 3-19, at the Owen Theatre in Conroe.  Owentheatre.com  936.539.4090 for tickets.