As part of the San Jacinto River Authority (SJRA)'s efforts to communicate with the public and better serve our community, SJRA launched a new website this month.  The website includes SJRA's new logo and color scheme which debuted in Fall 2021.  The goal of the new website design and organization is to simplify the content for users.  By condensing duplicate information and using simpler navigation tools, the site is more user friendly.  SJRA also incorporated new visual content of operations, infrastructure, local nature, and employees.  The new site shows SJRA's pride in being a part of the community and helping steward the precious resource of water.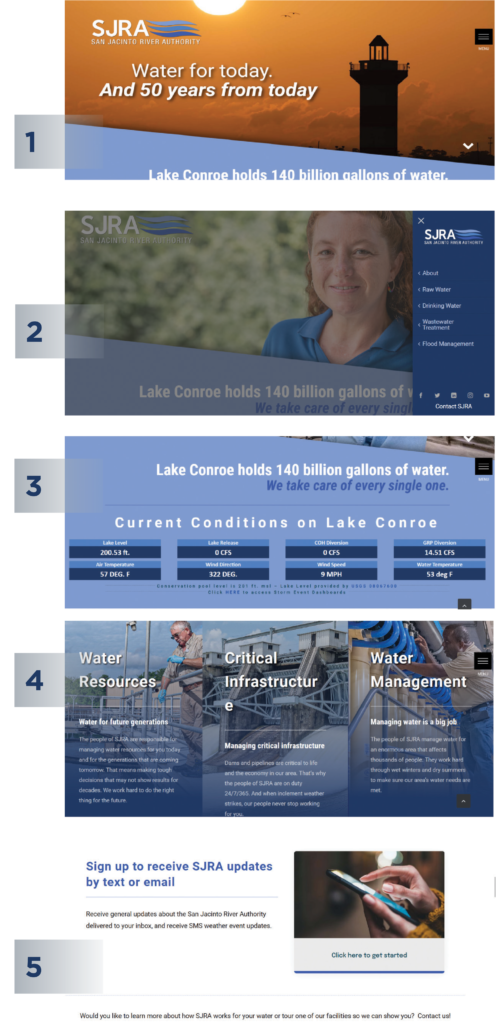 Let's walk through SJRA's new website together!
First, after visiting www.sjra.net, you will arrive at our new home page that has a scrolling header of various photos representing how we work for your water.  Reminder: you can always click the logo in the upper left-hand corner to take you back to the home page from any other page on the website.
 Next, if you click the black square with the lines labeled "MENU" in the upper right-hand corner of the screen, you will notice a blue bar pop out with several different options.  Users can navigate via this menu to find whatever information they are looking for.  The menu covers general "About" information, as well as our various operations such as raw water, drinking water, wastewater treatment, and flood management.  You can also go down to the bottom of the blue side bar and click on any of our social media icons to follow us on social media or contact us by clicking "Contact SJRA."
 After scrolling down past the home page header, you will now see the current conditions on Lake Conroe. This section is a quick overview for conditions such as lake level, lake release, City of Houston (COH) Diversion, GRP Diversion, and more. You can click where it says "Click HERE" to view the storm event dashboards.
  Scroll a little past the Current Conditions Dashboard and you will find a summary of what SJRA means when we say, "We work for your water."  We hope that these summaries can help you better understand how we serve the community!
 The last part of the homepage if you scroll all the way down, is the sign up and request sections.  Here, you can sign up to receive SJRA updates via text or email, as well as request a tour of our facilities or request a speaker.  We are excited to have the community sign up and interact with SJRA more as we strive to engage further with our neighbors.
In addition to all of this, as you navigate through the side bar, within each of our various operations you will find our Divisional pages such as Lake Conroe Division, GRP Division, Woodlands Division, Highlands Division, and Flood Management Division. Please feel free to give any or all these pages a read so that you can understand how we work 24/7 365 days for our community's water!