The Players Theatre Company Presents: NEWSIES
In 1899, a ragtag group of poor and homeless newsboys, or newsies, brought two of the most powerful men in the world to their knees.  By refusing to distribute their papers, the newsies forced William Randolph Hearst and Joseph Pulitzer to the bargaining table. "Just stick together," one of the strike leaders declared, "and we'll win."  This March, the Players Theatre Company at the Owen Theatre is staging the exciting story of that historic strike: Disney's Newsies.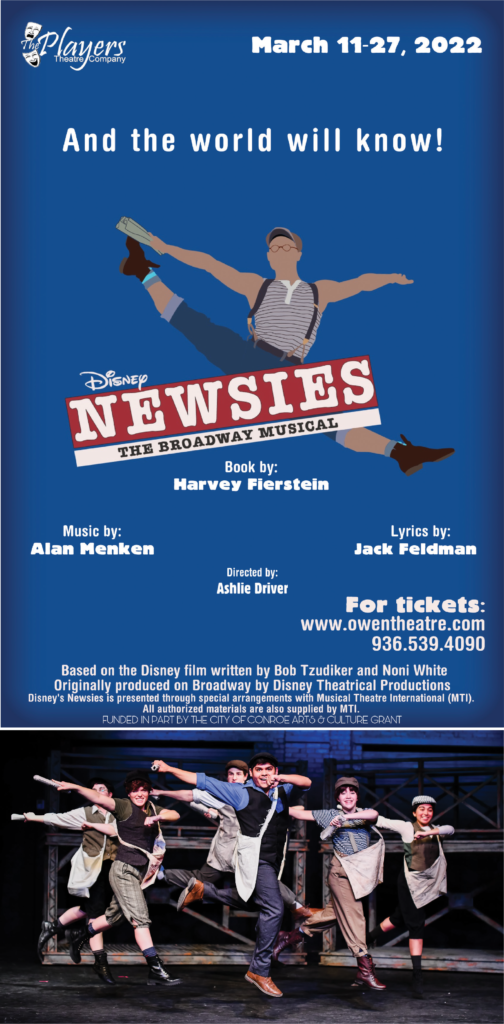 Newsies is a musical for the ages, with a thrilling score by Alan Menken (The Little Mermaid, Beauty and the Beast, among many Disney credits), and hilarious book by Harvey Fierstein (Mrs. Doubtfire, Mulan).  At the center of the story is Jack Kelly, played by Jonah Mendoza, leader of the Manhattan newsies.  When word reaches Jack and his gang that Joseph Pulitzer is raising the price of newspapers, Jack rallies the newsies—with the help of newcomer Davey, played by Wyatt Langehennig—to strike and stop the presses.  Along the way Jack meets reporter Katherine Plumber, played by Jordan Leal, who helps tell their story and give Jack something to believe in.  Rounding out the show's leads are Kailey O'Connor as Davey's precocious little brother Les, Jeremy Desel as newspaper mogul Pulitzer, Kai Desel as Jack's sidekick Crutchie, and Giselle Tijerina as theatre owner Medda Larkin.  The cast is stacked with gifted dancers and singers that will fill the theatre with music and bring the audience to their feet with dance after dance.
The creative team for this beautiful show is equally loaded with talent.  Director Ashlie Driver brings her creative talents back to the Owen stage after directing last season's season opener Sister Act the Musical.  She also brings her keen ear to vocal directing, along with assistant director Brandon Christian.  Rounding out the creative team is choreographer Mieka Phillips, whose choreography will amaze audiences.    
Newsies is a show about grit and perseverance triumphing in the face of impossible odds.  Newsies is for anybody who needs a boost of optimism, and a song to sing when nothing seems right about the world.  Answer the call and don't delay, get your tickets to see Newsies today!