Presents: From Screen to Stage
Stage Right is proud to announce its 15th season of outstanding productions.  This season is inspired by shows that have been outstanding movies as well as amazing and award-winning plays. After you discover our fantastic season, we are sure you will want to take advantage of our season tickets!
Who doesn't love a great mystery, especially one created by the iconic Agatha Christie? The first offering in our season is Christie's Murder on the Orient Express this September 9th-25th, 2022. Just after midnight, a snowdrift stalls the Orient Express in its tracks. By morning, the luxurious train has one passenger fewer.  An American tycoon dead in his compartment, stabbed a dozen times, his door locked from the inside.  Passengers are stranded in a remote location with a murderer in their midst. It's up to detective Hercule Poirot to discover the guilty party before he or she decides to strike again.
October brings Rent, the Tony Award winning, pop culture phenomenon musical October 21st-November 6th, 2022.  Based loosely on Puccini's La Boheme, Jonathan Larsens' Rent follows a year in the life of a group of impoverished young artists and musicians struggling to survive and create in New York's Lower East Side under the shadow of HIV/AIDS.  How these young Bohemians negotiate their dreams, loves and conflicts provides the narrative thread to the groundbreaking musical. This play has strong adult themes
Who can resist the hilarious Monty Python creation Spamalot, the Musical running December 2nd-18th, 2022.  Spamalot recreates the legendary tale of King Arthur and the quest for the Holy Grail in quite a unique manner. Based on the classic film Monty Python and the Holy Grail, it features beautiful dancing girls, flatulent Frenchmen and killer rabbits.  Accompany King Arthur and his knights on their journey and you are guaranteed a hilarious experience.
In the Heights written by Lin-Manuel Miranda who created the musical Hamilton, tells the unusual story of a vibrant community in New York's Washington Heights community. It is a community on the brink of change where the biggest struggle may be deciding what traditions to take with you and which ones are abandoned. This amazing show takes the stage February 10th-26th, 2023.  
Shakespeare's Much Ado About Nothing runs from April 7th-23rd, 2023.  This comedy was believed to have been written in 1598-1599.  Set in Messina as a group of soldiers arrive in town, romance blossoms between Claudio and Hero as well as Benedick and Beatrice. However, the course of true love never runs smooth, especially with the underhanded machinations of the villain, Don John. Witty banter and quirky characters add humor to the plot.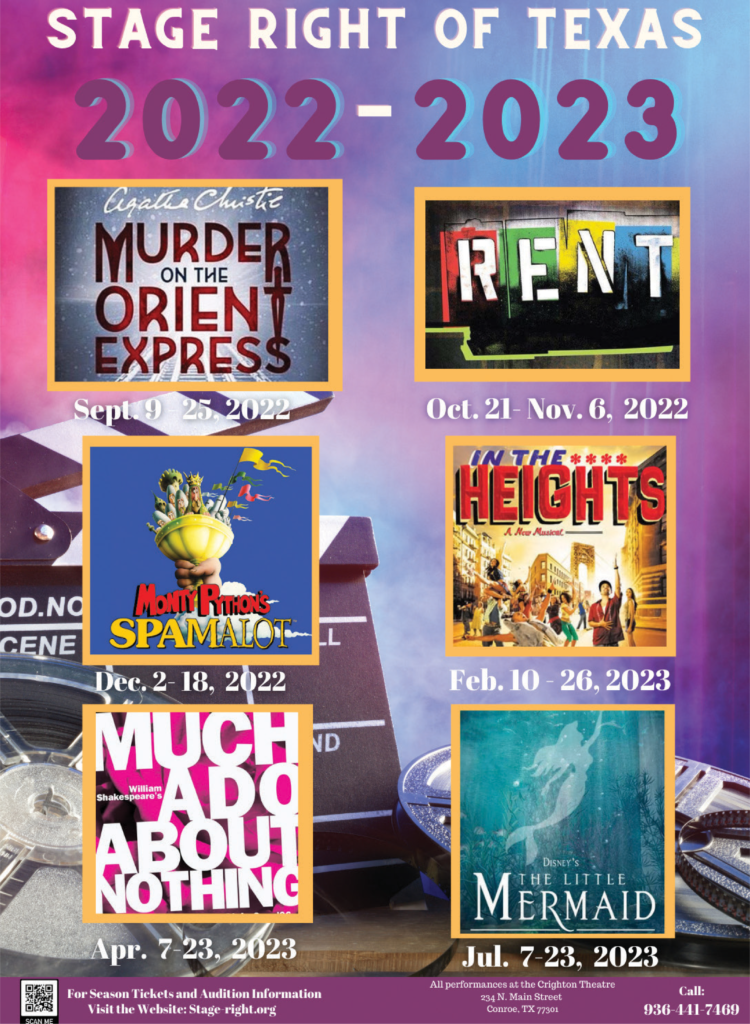 The last offering in this spectacular season is the beloved Disney's The Little Mermaid showing July 7th-23rd, 2023. The family friendly movie is based on one of Han Christian Anderson's most acclaimed stories and Disney's animated film. Don't miss this journey under the sea with Ariel, Flounder, Sebastian the Crab and Scuttle the Seagull.  
Stage Right has changed the time of its evening shows to 7:30. Please make note of this time change.  Matinees begin at 2:00.  To reserve season tickets, visit call the Crighton Theatre Box Office at (936) 441-7469.
This season is partially funded by a grant from the City of Conroe.