Re-Nesting Birds of Prey
In our part of Texas, birds of prey start nesting very early in the year, with the largest birds (bald eagles and great horned owls) having young in the nest usually by January/February.  In the coming months, other owls and hawks indigenous to our area begin nesting; generally the larger the bird, the earlier in the season their offspring hatch.  By April, most of our native hawks and owls will have young in their nests.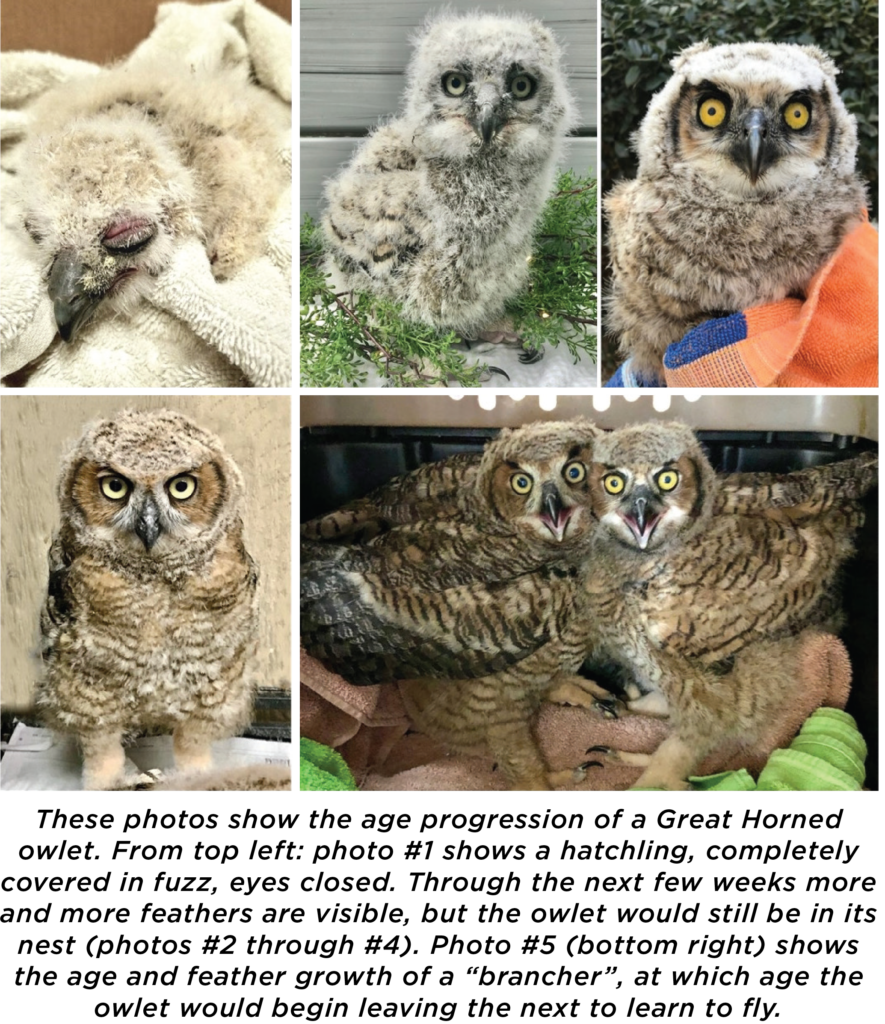 Although one would think nesting time would be a safe time for hatchlings, there are many reasons why a baby might wind up on the ground prematurely.  Storms, tree trimming or removal, predators, or even overzealous siblings can all result in a young hawk or owl being knocked out of its nest before it is old enough.  Most nests are located very high up in trees, or in tree cavities, so placing a baby back in its natural nest may be impossible.   However, placing the baby in a makeshift or artificial nest may still its natural parents to raise it successfully.  
If a young hawk or owl is found on the ground, first take a moment to assess the situation.  Take a close look at the youngster; is the baby covered in down feathers (fluff), or are there any actual feathers?  Can the baby stand, or is it laying down?  Are the eyes open or closed?  A baby that is ready to be out of the nest will be mostly feathered, able to stand and walk, and may even flap its wings (allowing short flight).  If this is the case, the baby is a brancher, or fledgling, and it is ok to leave it alone as long as it is not injured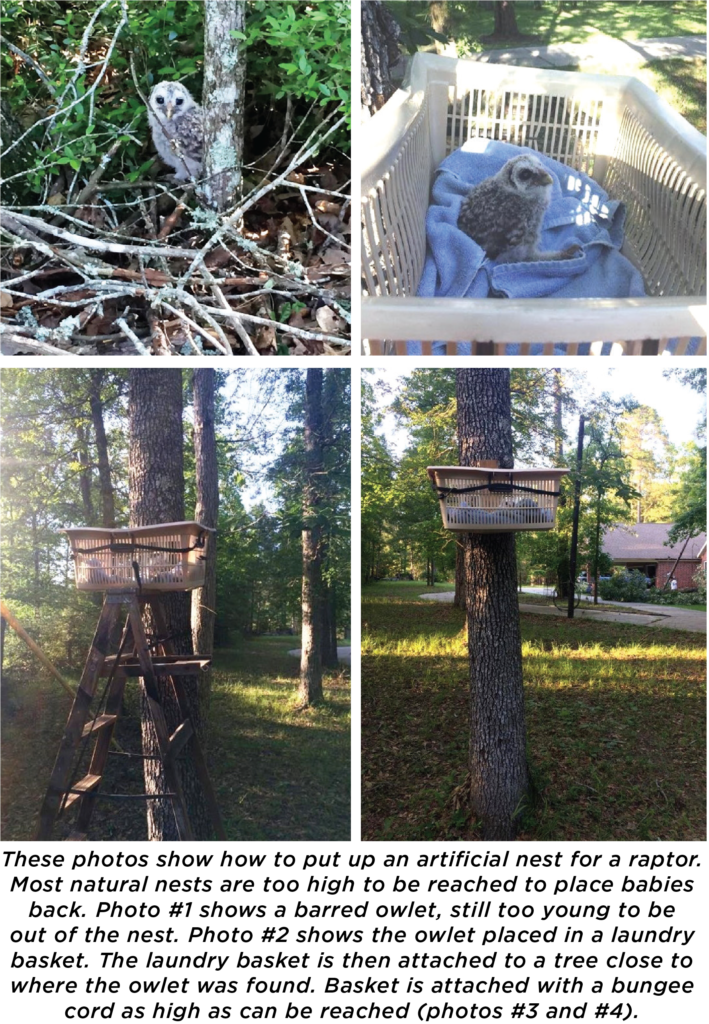 (remember, birds leave the nest TO learn how to fly, not WHEN they can fly).  If the baby is younger, then try fixing up a makeshift nest.  Low-sided laundry baskets work great; simply line the basket with some leaves, pine needles, or even an old t-shirt.  Attach the basket to a tree close to where the baby was found, as high as is safely possible, with rope or bungee cord(s).  Gently pick up the baby with garden gloves and place it in the makeshift nest.  If the parents are around, you might want to wear a hat or helmet just in case they decide to dive bomb you (they may think you are a threat to their youngster and not realize you are trying to help).  Keep an eye on the baby for several hours to check and see if the parents have resumed care.  More often than not, the parents will accept this new nest, even if they still have chicks in the original nest, and they will continue to care for all of their offspring.  While rehabbers are always happy to assist with injured or truly orphaned babies, healthy babies are best left to be raised by their natural parents whenever that is possible, and this process of re-nesting gives them that opportunity.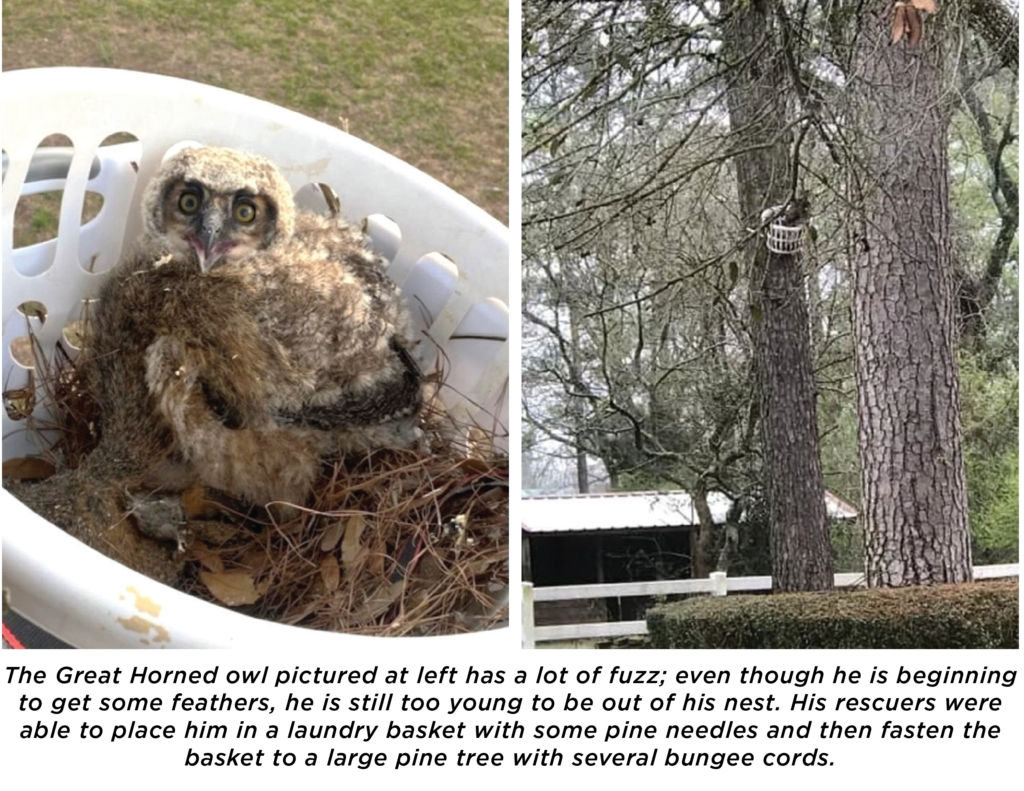 To learn more about what we do and view pictures of many of the animals we assist, please visit our Facebook page at www.facebook.com/SavingTexasWildlife. Details and specifies-specific flowcharts regarding how to help found animals can be viewed on our website at www.ftwl.org (click on "Help and Advice"). These charts are extremely helpful to determine if an animal truly needs rescuing or not.  If you need assistance with a wildlife animal you have found, please call us at 281-259-0039 or email us at [email protected]. We offer many educational programs (including camps, birthday parties, educational presentations, and Second Saturdays). Our educational visitor's center is open the second Saturday of each month from 10 a.m. to 2 p.m., located at 29816 Dobbin Hufsmith Road, Magnolia, Texas.  Second Saturday in April is our big open house; Saturday, April 9 from 10 a.m. to 2 p.m.  This open house is the only time all year when our full facility will be open for tours.  Visit our educational center, intake center, vet room, and animal care facilities; take a peek inside our 100' flight enclosure; visit with all of our educational wildlife animals (hawks, owls, snake, opossum, skunk, turtles); and meet with our guests from other community groups such as Houston Audubon Society, Spring Creek Greenway Visitor's Center, Texas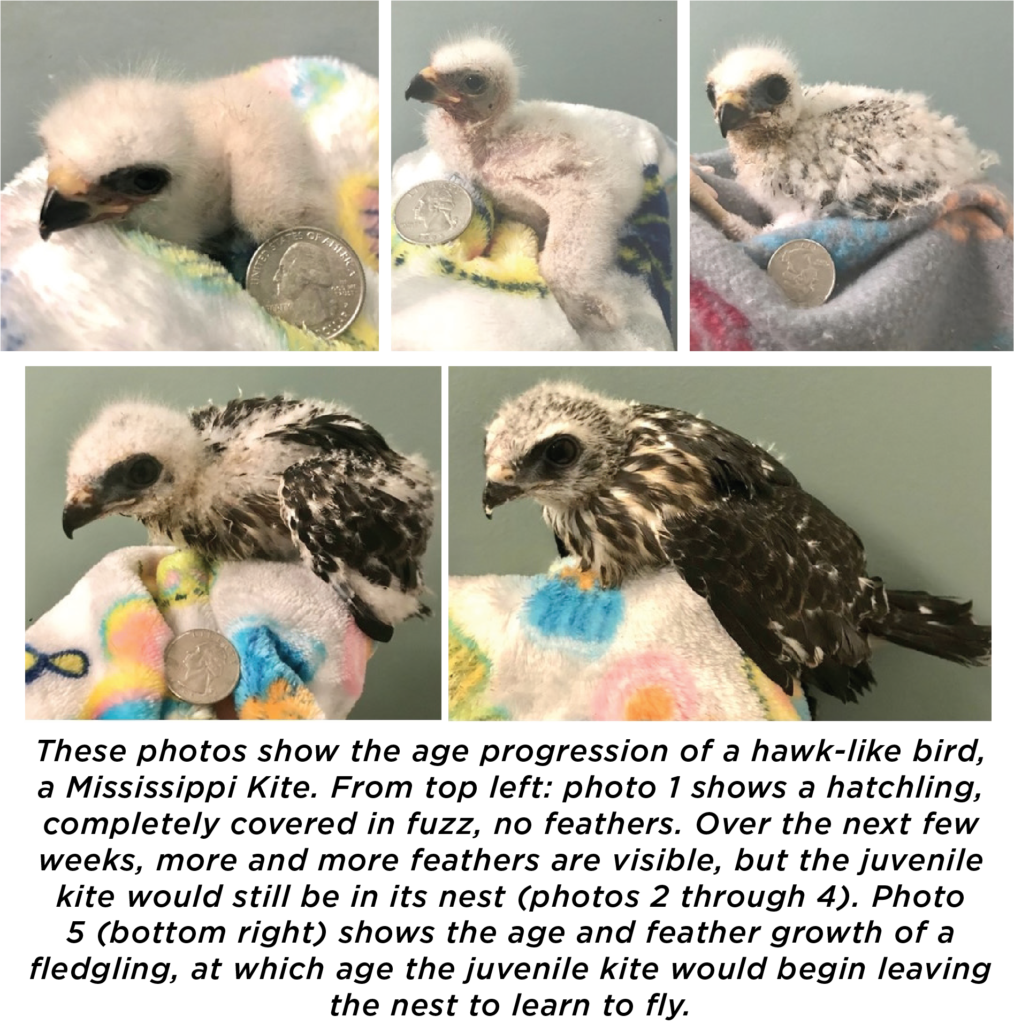 Master Naturalists, Texas Wildlife Association, Caleb Paul (snake wrangler/reptile rescue and removal), Montgomery County Sheriff's Office, and Piney Woods Wildlife Society.  This event will be rain or shine, open to everyone, come and go any time during the open house.  Tickets are $5 per person, children three and under are free!  Parking is by the education center for Open House (29816 Dobbin Hufsmith, Magnolia).  Summer camp dates have also been set, and registration information can be found on our website or on Eventbrite.