A Happy Rookery
A wild bird rookery is a wonderful place because it emanates a strong sense of peace and well-being.  There may be hundreds of birds nesting together, preening and flapping, tending their eggs and nests, and always jabbering.  One important sensation that photos and words cannot convey is the loving sounds of a happy rookery.  All day long these parents are chortling, cooing, babbling and letting out gentle honks.  The nursery of happy expectant parents is filled with delightful sounds!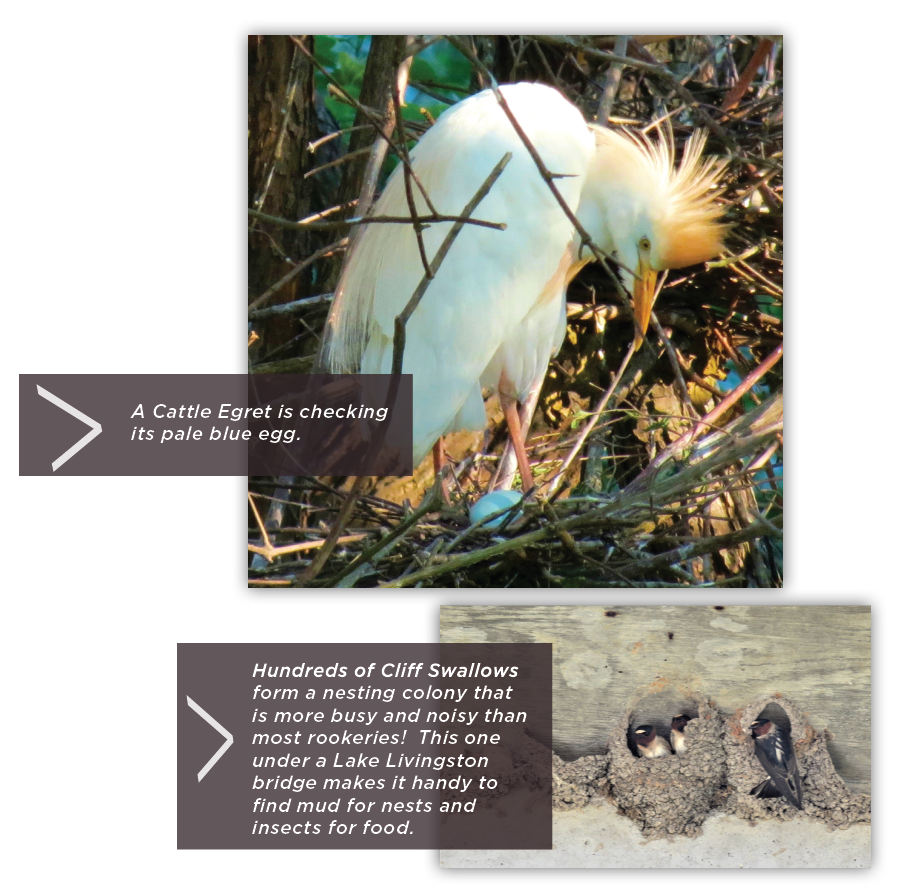 It is surprising to find that different but similar bird species will nest together in a rookery.  Great Blue Herons will nest in the same tall pines with Great Egrets.  A rookery close to the ground might contain Cattle Egrets, Little Blue Herons, Black-Crowned Night-Herons, and Snowy Egrets, all together!  Some of these birds above are water waders and some are land foragers, but they all enjoy eating the same things – frogs, fish, crustaceans, insects, worms.  Since different species hunt during different times of the day and night, they don't compete with each other while feeding.  Therefore, especially when food is plentiful, a multi-species rookery can be the norm.  In addition, a colony becomes a much safer place to lay eggs and raise chicks because together the vigilant parents are always watching for predators.  Raccoons, snakes, hawks, vultures and owls will set off boisterous alarms throughout a rookery, and these predators are not likely to take on a whole village of angry angry birds!  But in the end it is the joyful cooing din of a large rookery that baby chicks hear long before they hatch, and it provides them with a sense of community, protection, and a happy nursery. 

Learn more about the incredible nature in our area by joining a chapter of the Texas Master Naturalist organization.  To find a chapter close to you, or to read about the state program, go online to 
Volunteer and get involved!