"It's Electrifying!" Stage Right's Summer Musical GREASE Sends Shockwaves Through Conroe!
Have you heard the word? Well, the word all around downtown Conroe is Grease! The hit Broadway musical is being presented by Stage Right at The Crighton Theatre this July. 
Written by famed duo Jim Jacobs and Warren Casey, with a hip-shaking rock-and-roll score featuring hits like, "Summer Nights", "Greased Lightnin'", and "We Go Together", Grease celebrates Rydell High's Class of 1959 in all their duck-tailed, bobby-socked, gum-snapping glory. 
After an eight-year run on Broadway and two subsequent revivals, along with countless school and community productions, Grease has become a classic and remains one of the world's most popular musicals. 
Ethan Achee fills the Converse All-Stars of Danny Zuko, a smooth greaser who struggles with his own identity during his senior year. Danny is torn between hanging out with his cool friends and trying to relive his summer fling with a square, Sandy Dombrowski. Achee is the right fit for this role, perfectly displaying both the humor and seriousness inside Danny, and we get to watch him change from a boy to a man right before our eyes. From the moment he walks onstage, the audience is in the palm of his hand. 

Grace Schexnayer, in her first lead role, portrays the innocent and naive Sandy. Sandy experiences quite the culture shock when she discovers Danny is nothing like he was last summer. Also, she has trouble fitting in as the newest member of the Pink Ladies. Having recently been seen across the street in Bright Star, Ms. Schexnayer is a force to be reckoned with, as she goes all out in her Act II solo "Hopelessly Devoted to You". Her powerful voice perfectly conveys the pure emotion of the number, and her strong acting chops don't hurt either. 
Ryan Anthony appears once again on the Crighton stage, this time as Kenickie, a greasy mechanic, the face of the Burger Palace Boys, and Danny's best friend. Kenickie's only goal is to turn his rust bucket of a car into "Greased Lightnin'", a showy hot rod to "pick up all the chicks." 
The rest of the Burger Palace Boys include: Jonah Mendoza as Doody, the youngest member of the gang who fantasizes about becoming a rock-and-roll guitarist; Kyle Clevenger as Sonny, a self-described Casanova (while in reality, most women find him repulsive); and Adam Isbell as "Rump", a sardonic yet very self-confident fast-food lover who is also a proficient mooner. 
Ivanna Martinez brings an air of sensuality and sass to Rizzo, the cynical leader of the Pink Ladies. Rizzo is the definition of an alpha female who refuses to show her feelings to others, but Martinez lowers the mask for a moment as she delivers a hauntingly beautiful rendition of "There Are Worse Things I Could Do" in the second act.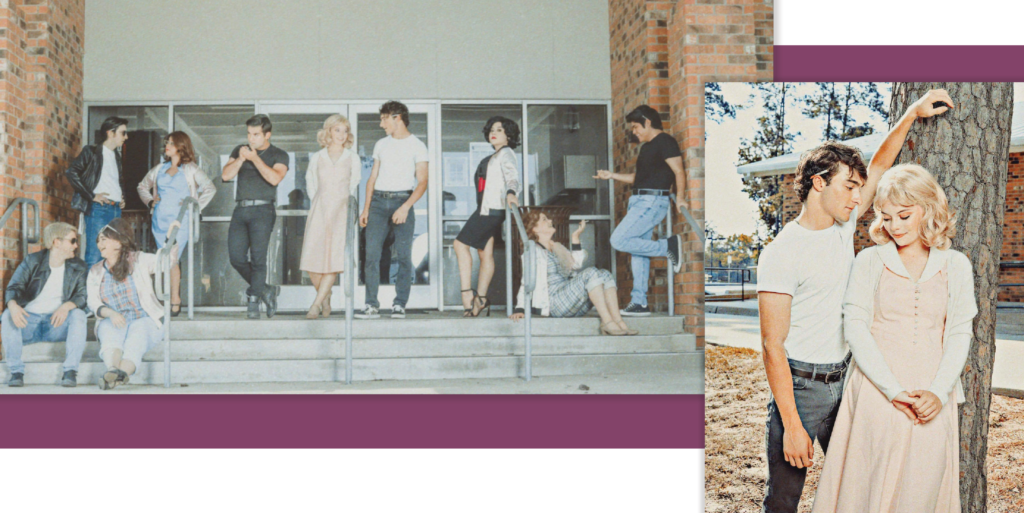 Backing up Rizzo are the rest of her Pink Ladies: Brennan Blankenship as Jan, a quirky Lutheran who has a voracious appetite and hilarious moments of extreme bluntness; Gracie Lara as Marty, the Pink Ladies resident expert in all things wine, men, and cigarettes who becomes engaged to an overseas Marine (mainly for his expensive gifts); and Madison Mapes, who plays Frenchy, a lousy student who aspires to be a beautician, going so far as to dropping out of high school to attend beauty school. 
Rounding out the cast, character actor Bill Shafer returns to The Crighton to play sleazy radio host Vince Fontaine; Velvet McWhirter as Miss Lynch; Robben Montez as Johnny Casino; Ashling DeGraaf as Patty Simcox; Sheldon Humphrey as Eugene; and Riley Johnson as Cha-Cha. 
This show uses an incredible ensemble of dancers and singers including Danielle Stringfellow, Ren MagDaleno, Kristin Conrad, Mali Ryann, Joshua Brookshire, Keali Krueger, Garrett Harvey, Faith Smith, Matt Wehring, Ellie Williams, Parker Manning, Levi Smith, and Paige Manning. 
Taking on this ambitious production is Stage Right's own Artistic Director Sara Preisler. Ms. Preisler is the secret to many of Conroe's most successful productions. As a director, Ms. Preisler knows how to wow Conroe, whether the actors are swinging across the stage on vines, such as in Tarzan in 2021, or performers flying right before our eyes, as in Peter Pan in 2020. It is safe to say there is much anticipation for Grease. With Ms. Preisler at the helm, audiences can expect dazzling costumes, spectacular choreography, and plenty of glitter.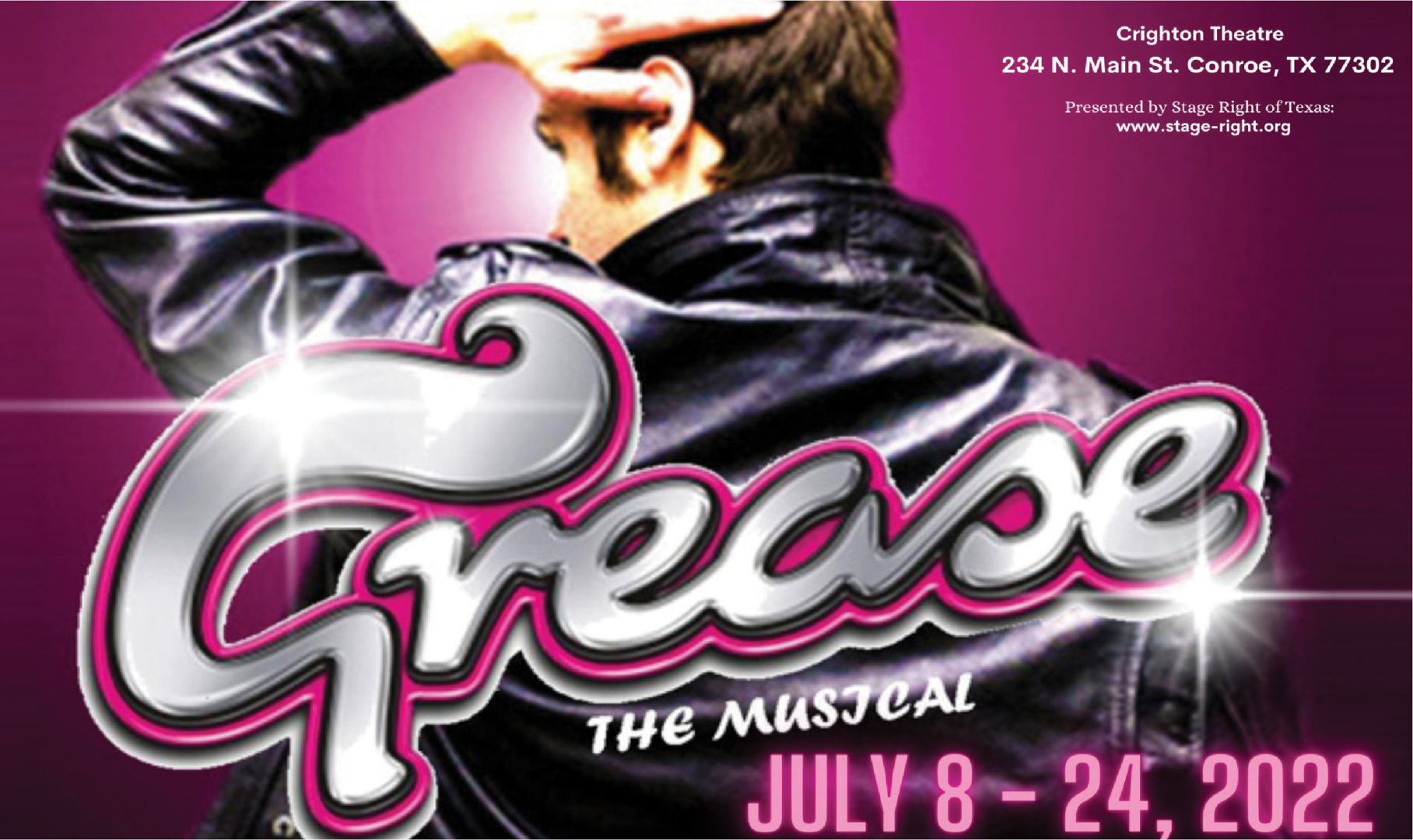 Grease: The Musical will run from July 8 – 24, Fridays and Saturdays at 8:00 p.m., with matinees on Sundays at 2:00 p.m. For reservations,
call 936-441-7469 or visit www.stage-right.org. 
The Crighton Theatre is located at 234 N. Main St., Conroe, TX 77301, with the box office open Tuesday through Friday, from 3:00 p.m. to 6:00 p.m. 
*Please note this is not the movie version. Caution to parents about vulgar themes and mature language. This production is rated PG-13.