Surveying Texas
"One word, two syllables. DEMARCATION." – Dwight K. Schrute.
Whether you're a fan of The Office or not, Dwight wasn't wrong to insist on the importance of boundaries. Boundaries provide order in an office, help us define our lives and the way we interact with others, and protect our families and investments. Boundaries are the fundamentals of surveying. 

Therefore, while there might not seem like there's anything particularly flashy or exciting about getting your land surveyed, choosing a reputable land surveyor is crucial to any project. When approaching this decision as a land-owning Texan, you need your surveyor to be experienced, dedicated to excellence and efficient in their work, loyal to its clients, and dedicated to Texas and its land. 
There is only one surveying company that comes to mind that embodies all of these qualities and more: Texas Professional Surveying.
Rooted in Texas
Texas Professional Surveying (TPS) was founded in 2003 by Jerrod Harrell. After a critical inflection point in his career, Mr. Harrell decided to take his seven years of experience managing a previous surveying company and his deeply rooted love of Texas and start his own surveying business. 
Mr. Harrell's love of Texas is simply in his blood. Born and raised in Cut and Shoot, Texas, and a graduate of Conroe High School, he is a native to the area and calls Conroe home. The Harrell family has lived in the area for over 170 years. In 1845, Mr. Harrell's family arrived and settled in Point Blank, Texas on Lake Livingston. In fact, the log cabin that his great-great-great grandfather built all those years ago still stands today.

This connection to Texas makes surveying its land not just a job for Mr. Harrell, but his passion. This passion fuels the key attributes that are the driving force behind every project and client engagement at TPS. The fundamentals of TPS business practices are simple: quality, service, and efficiency. Their commitment to excellence always strives to achieve complete client satisfaction, as Mr. Harrell and the team at TPS strive to be responsive, responsible, and client-centric. 
Grown With Excellence
This commitment to excellence in all aspects of its operations has allowed TPS to grow into the thriving business it is today. In just under 20 years in business, Texas Professional Surveying has grown into one of the largest and most successful surveying firms in the state. 
The drive for excellence in surveying can be seen in the countless stellar reviews from satisfied customers, and an A+ rating with the Better Business Bureau. TPS reach goes beyond just Montgomery County, they service all counties in Texas and have plans on expanding. With Texas real estate market at an all-time high their goal is to be at the forefront of the development, and to continue to provide quality surveying.  
As TPS nears its 20th anniversary, their exponential growth shows in everything they do, including their range of services. After listening to countless requests from satisfied customers who wanted to work with TPS in further capacities, decisions were made to expand the business. In 2020, with his partners Carey Johnson and Diego Espinosa Texas Professional Engineering (TPE) was launched. Adding civil engineering to the TPS portfolio has allowed existing and new customers to have full turn-key civil services. The outcome of having both surveying and civil engineering needs met under these great companies and leadership is something that proves invaluable to the TPS and TPE clients.
Established With Teamwork
Texas Professional Surveying could not have expanded to over 170 employees while serving this community just by Jerrod Harrell's passion alone. Jerrod credits this success to the amazing team he has built around him including: Carey Johnson; Chief Operating Officer of TPS, Diego Espinosa; Chief Operating Officer of TPE, Candy Curlee; Office Manager, Christian Dias; Vice President of Surveying, Drew McIntyre; Vice President of Surveying Production and Briana Winget; Director of Business Development, and Monica McNiel; Assistant Office Manager. We credit our amazing field team and office staff for making TPS what it is today.
The foundation of TPS truly lies in the dedication and love that all the employees give every day. TPS crews work year-round in extreme conditions to get the job done and offer top notch service.
The Executive Team drives to make TPS the best survey company in the State of Texas. The employees at TPS care, that is the bottom line, they strive to offer the best service and the best product.
The goal of the leadership and all its employees is to provide dedication and excellence in all they do. They provide clients with state-of-the-art, quality, comprehensive services while maintaining a small business feel and approach to their customer service. On their website, satisfied customer Doreen Stryjek of Tipler Design and Build describes her experience:
"From the beginning of a project, whether it is a 1,000 square foot home to one of our commercial projects, Texas Professional Surveying provides for quick, accurate, and reliable service. If we have special requirements, the company works with me to come up with the best way to accomplish what is needed. Texas Professional Surveying provides terrific service at a reasonable cost to Tipler Design and Build."
Grounded in Faith
While all that Texas Professional Surveying has accomplished for its customers is largely due to the dedication of the incredible people who make up the company, Mr. Harrell attributes the overall success to God. 
Mr. Harrell started TPS after dedicating his life to the Lord, following which he felt the peace and direction to start his company. Grounded in faith, Mr. Harrell has always felt the Lord directing his path, creating and opening many doors to help TPS grow the way it has. 
Mr. Harrell has been running a nonprofit organization, Vertical Harvest 21, for nearly a decade now. This charity work has touched the lives of thousands of people around the globe. "I have dedicated a lot into a Non-Profit I started around 9 years ago. We build churches, classrooms for kids, deliver food to the needy, and more in South America," notes Mr. Harrell. "We have fed and clothed people all around the world due to Vertical Harvest 21, our main focus is in South America. We've dedicated our focus to Venezuela, building shelters, giving to the poor, and trying to make a big impact in the community."
For Mr. Harrell, this is about doing something bigger than himself, and being a person who gives back for all the blessings he has received. 
Building for the Future
From the ground up, TPS continues to grow and is getting better, building new facilities, adding better software, growing their team of experts, and always giving back. Mr. Harrell noted, "We're building a new 10,000 sq. ft. facility behind our current storefront. We are remodeling our original building as well, making it more modern and giving customers more value when they step into our facilities." It's truly an exciting time for TPS. 
How is all this possible? God first and foremost, and the incredible environment cultivated by Mr. Harrell and his crew. "We work hand in hand all under one roof…you can expect the same high quality across the board."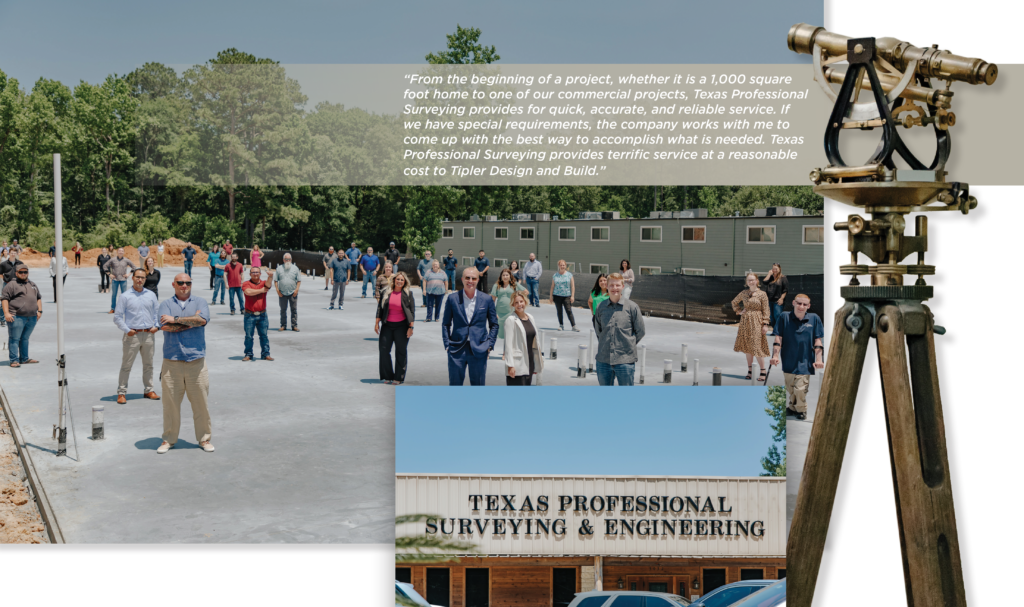 If you're looking for a company that can handle all your surveying and engineering needs with excellence, treats both their employees and customers well, and gives back to communities local and abroad, there's only one place you need to call! If you want to learn more about Texas Professional Surveying or Texas Professional Engineering, you can reach them at their website at www.surveyingtexas.com. You can also reach them by phone at (936) 756-7447. Both companies are located in the same building at 3032 N Frazier St, Conroe, TX 77303. Doors are open Monday through Thursday 8am-5 pm, Friday 8am-12pm.