Whether you are building a new home, remodeling, or updating your kitchen, bathroom(s) or outdoor living space, the process can be quite overwhelming. Oftentimes, homeowners will visit big box stores or online retailers where they might encounter uninformed staff, impersonal service, and generic, lower-quality, do-it-yourself products. Although pricing might be more appealing, the homeowner will not have the support needed to ensure they have all of the material needed to complete their project, nor will the products be of the same wholesale quality.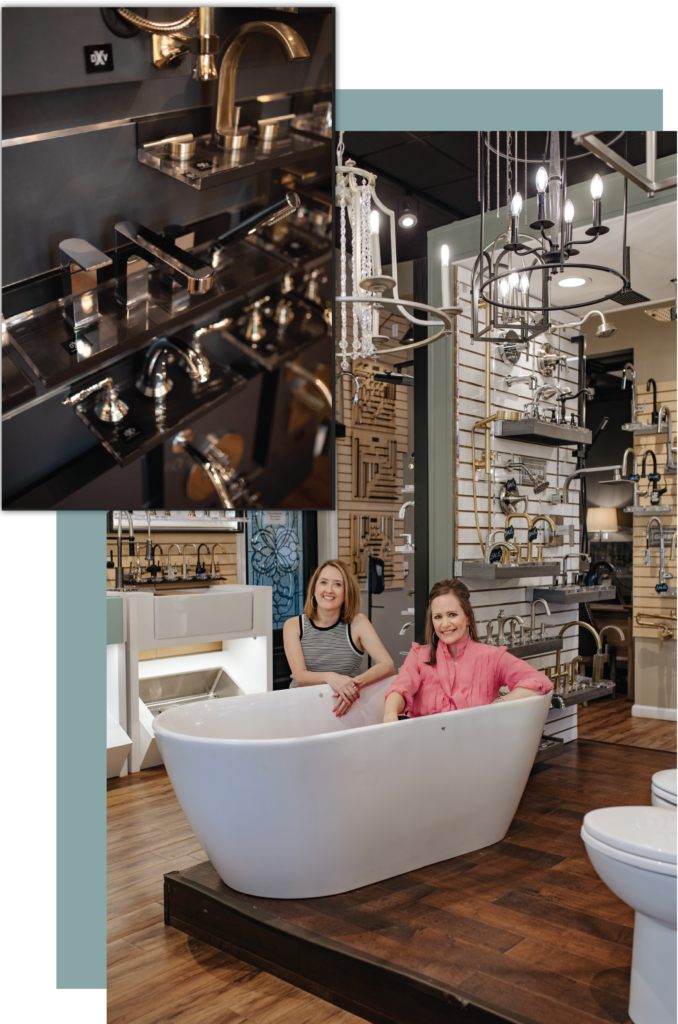 Can you envision a hassle-free solution? A local showroom with a much larger selection of goods, with dedicated and knowledgeable personnel who will provide a personal experience?  Luckily, there's no need to look further than Coburn's Kitchen & Bath in Conroe, TX. When it comes to quality customer service, competitive pricing, decorative plumbing needs, project planning and design, and more, Coburn's services the greater North Houston area and surrounding counties, establishing multi-dimensional services for customers with all plumbing requirements.
Family Founded

 
Coburn Supply Company is a long-time family-owned business that has always been driven by family values. Founder Albert J. Coburn began his career as a plumbing and heating contractor who approached new opportunities with boldness. His strong commitment to hard work, fair business practices, family, and faith influenced his career and continues to impact the lives of employees who work at Coburn's today.
By providing concrete solutions and exceptional customer service, Coburn Supply Company has remained a top distributor of quality products since first opening in 1934 in Beaumont, Texas. While the company has grown to more than 50 locations in multiple states, it is still run by third and fourth generations of Albert Coburn's family, ensuring that this family business shares the same vision it began with and never loses sight of the reason the company exists: its customers.
Coburn's commitment to family values extends to all of their customers. As they explore business opportunities with a well-established and resourced Coburn Supply, customers are often surprised with familial treatment – just like you are part of the family! 
With or without an appointment, everyone is welcomed into a stunning, newly updated showroom at Coburn's Kitchen & Bath. While browsing the showroom or settling in for a personalized consultation, you will be warmly greeted with coffee, refreshments, and a dedicated staff readily eager to assist with any of your household needs.
Superior Selection

 
At Coburn's Kitchen & Bath Showroom of Conroe, they believe their customers deserve the very best in the industry. Their recently updated showroom displays an extensive selection of unique, quality products including the leaders in decorative plumbing, lighting, hardware, appliances, outdoor kitchen essentials, home decor, and more. 
With a carefully curated selection of products, competitively priced and tastefully arranged, Lindsay has organized a comprehensive layout to ensure that homeowners don't feel overwhelmed during the selection process. This beautiful showroom in Conroe is a one-stop-shop and has everything you need to add beauty and function to your home, while breathing new life into your space…all while not breaking your budget.
Not only does the team at Coburn's Kitchen & Bath offer professionalism, resources, and competitive pricing made possible by a sizable company, the warmth and personal attention received by that of a family-owned and operated business doesn't compare with online retailers or big box retailers. Your experience will be like none other!  Why? Because Coburn's offers unmatched expertise and experience in the realm of product knowledge and design.
Dynamic Design
A Conroe native, Showroom Manager and Design Consultant Lindsay Edmiston, brings with her over 14 years of experience in the decorative plumbing industry, including showroom management and design. She identifies with customers' budgetary needs and strives to lessen the frustrations that may arise during the building process, while providing the best, most personalized solutions for their individual needs. With years of multi-faceted product knowledge and training, Lindsay is driven to provide superior customer service before, during and after the sale.  With an emphasis geared towards detail orientation, she works collaboratively with all parties involved in each stage of development- from the homeowner to the plumber, electrician, builder, contractor, designer, architect and beyond.
Working in collaboration with Lindsay is fellow Showroom Consultant Tracy Phillips, who brings with her an impressive 30 years of experience in the countertop industry. Her strong customer service skills, delightful presentation, and extensive product knowledge allow her to get a feel for each customer. Tracy takes pride in making each consultation personal, keeping budget, time frame, and wants vs. needs in mind. Dedicated consultations and a stress-free environment are her specialty! If there is a need for one faucet or an entire home full of fixtures, she's got you covered.  
Creating a visual look and design concept on your own can present its own challenges. Difficulties may arise while trying to create a cohesive design that pairs well with the structure and character of your home – especially if you are uncertain where to begin the first stage of your project. With a combined passion for design, backed by an extensive background in the industry, your showroom design consultants at Coburn's Kitchen & Bath will guide you through the selection process, easily navigating through each stage of your project. Expertly informed on a variety of current design styles, selections range from bold contemporary, industrial, and mid-century modern looks to the more subtle and relaxed tones of modern farmhouse, traditional, and transitional design.  
Stellar Service

 

Along with friendly and attentive branch manager Todd Blavat, his team's commitment to curating a personalized experience for every customer has resulted in a reputation for outstanding service that brings in a majority of business from satisfied customer referrals. Jo Smith, one such satisfied customer, recently left this five-star review on Google highlighting her experience with Lindsay:
"Wow! Lindsay is fantastic! My husband and I are building a new home and we wanted to keep the business in Conroe so we visited Coburn's. From the first meeting we knew that Lindsay was the right person. She asked us about our budget and our style preferences and then got to work! Her knowledge of the products was awesome! She was also very patient with me as we changed our minds frequently! Once we decided the ordering was easy and fast! All our products came in within a 2-3 week period. Thank you Lindsay for caring about your customers!"
While many other similar establishments are sales-driven and often pressure customers into up-sold purchases outside of their intentions and budget, Lindsay prides herself that she and her team at Coburn's Kitchen & Bath Showroom are, in contrast, strictly customer satisfaction-driven. Their goal is to solve customers' problems in a way that relieves them of any stress involving this part of their project, even if that means referring the customer elsewhere if unable to supply what the customer needs themselves. 
Lindsay explains, "If we have a homeowner seeking a certain product or part, and we cannot get what they need, Tracy and I will sit down with them to find a solution, even if we don't get the sale. That's probably not something people would expect. We will help you find the material, although we may not be able to purchase it through our store. We are happy to assist our community, refer our customers to the appropriate place, and make sure they leave happy!"
Now THAT is service with the customer's
needs first in mind that truly goes above and beyond!
See for YourSELF!
As you walk into the gorgeous aesthetic and welcoming atmosphere of the showroom in Conroe, Lindsay and her team will be ready and available to help you with any updates, large or small, and relieve the stress involved in any stage of your project. "We'll take it from here," urges Lindsay. From fixture upgrades and single room remodels to full renovations and new home construction, they will help you find the perfect products and style selections to fulfill your vision. 
As you are met with the truly personal service that combines approachable professionalism and a down-to-earth feel while you execute your next project with Coburn's Kitchen & Bath, you will feel like you're at home. 
Stop by and experience the sensational showroom, superior selection, and stellar service of Coburn's Kitchen & Bath Showroom for yourself and see how Lindsay and her team can help turn your dream project into reality! They are located at 930 S. Frazier Street, Conroe, TX 77301 for a visit, or at (936) 760-3900 by phone within the business hours of 8:00 am to 5:00 pm, Monday through Friday. Although appointments are not required, scheduling a consultation for new construction and remodeling projects will ensure optimal customer service and availability, including a very personal experience.
You can also check out their informative and easy-to-navigate website at showroom.coburns.com/locations/conroe-texas where you can get more info, fill out a contact form, schedule an appointment, and even take a style quiz to help you better understand your design preferences. And don't forget to follow along with them on their Facebook page for announcements about current and upcoming sales and events!
930 S. Frazier Street, Conroe, TX 77301
(936) 760-3900
8:00 am-5:00 pm, Monday-Friday www.coburns.com