Authentic Farmhouse Design Ideas for Your Home
The farmhouse interior design style has been a staple of southern homes for years. People love the farmhouse style for its timelessness and welcoming feel. Its balance of practicality and charm is inspired by the functional furniture of settlers on the American frontier. These days, everyone is jumping on the trend of farmhouse decor, especially after the success of the HGTV show Fixer Upper. But how does someone go about making their home feel authentically farmhouse? Anyone can create their own authentic farmhouse by adding personal touches to classic staples of the style. Here are eight ways to incorporate authentic farmhouse design into your home: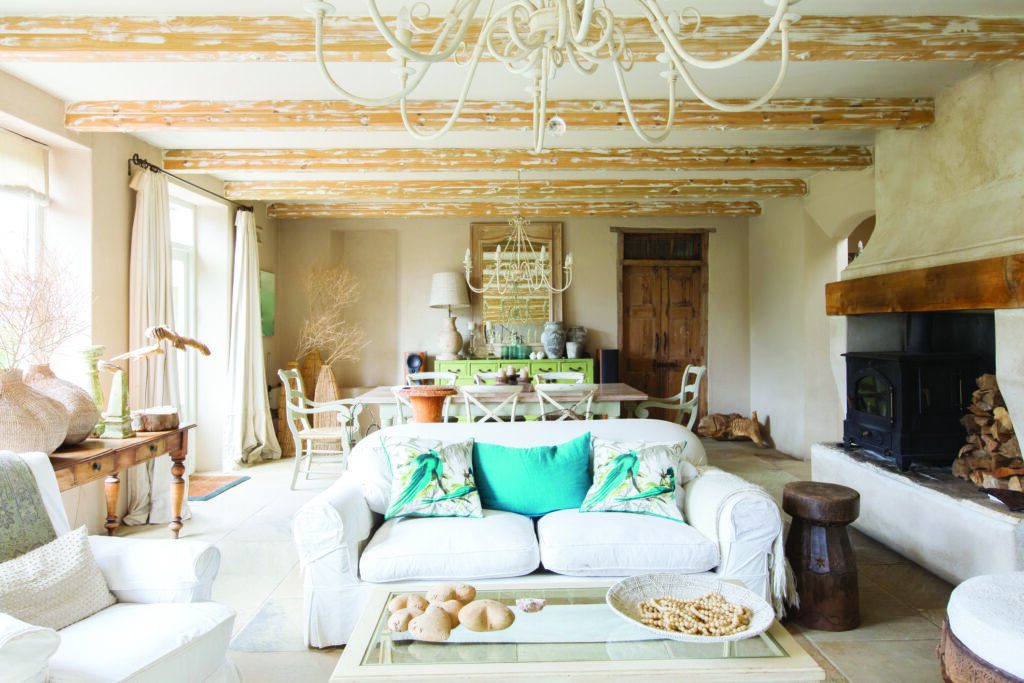 Neutral Pale Color Palettes

 
One of the stand-out features of the farmhouse style is its neutral color palette. 
Painting your walls is an easy DIY project that anyone can do to transform a space. Some popular farmhouse colors include cool-toned whites and greys that have a modern feel. But pale greens and blues add fun to an otherwise monochromatic room when it comes to farmhouse accent walls. Having clean walls gives you the chance to add color to accents and decor. Layering similar neutral colors between walls, furniture, and decor make for a cohesive and sophisticated appearance. 
Distressed Paint Jobs
Part of the authentic farmhouse feeling comes from its imperfections. So, before you donate your furniture that's rough around the edges, see if you can give it a second life in your home. Whether it's intentional or accidental, distressed paint adds character to farmhouse interiors. Signs of wear and tear tell a story and even add to the value of furniture and decor. Exposed wood and weathering metal also add texture and dimension against the neutral color palette. Distressing furniture makes for a simple DIY project that can be accomplished in several ways.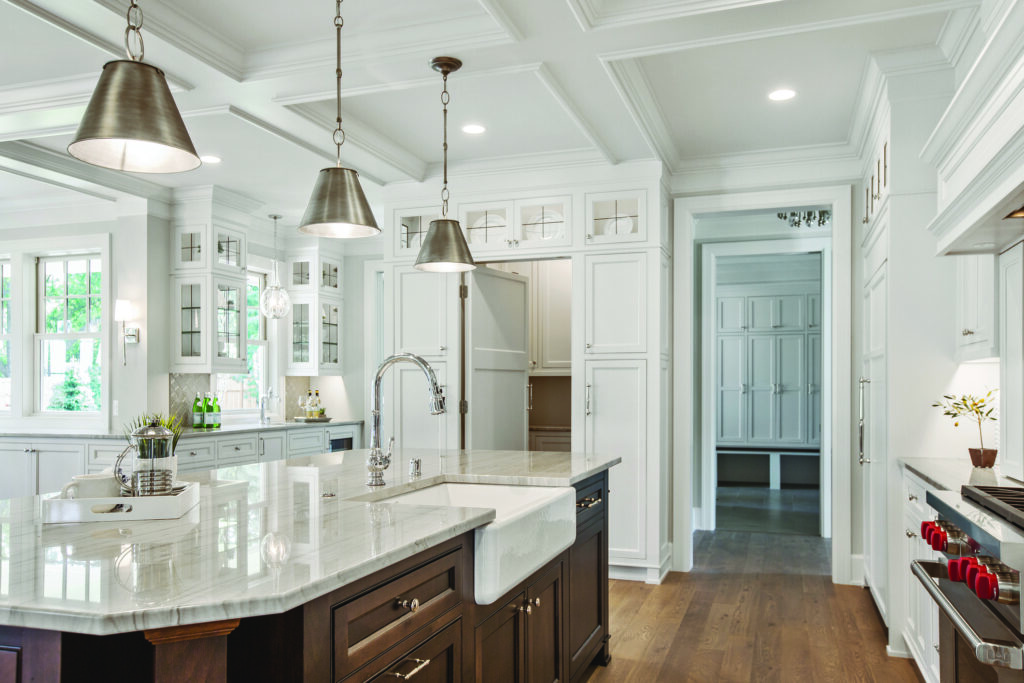 Statement/Industrial Lighting
Large windows to let in natural sunlight are a motif of authentic farmhouse architecture. But regardless of your home's windows, the right light fixtures are essential pairing. Farmhouse chandeliers and pendant light fixtures are often the centerpieces of dining rooms and kitchens alike. The objective of farmhouse appliances is to make it appear that everything could have come from an antique American farmhouse. And the best way to find antique light fixtures is to shop at antique stores. But if authentic antique is out of reach, shop for vintage-inspired lighting that mimics the eclectic design of the time. 
Shiplap Walls
Shiplap gets a bad rap for its association with farmhouse living. Some interior designers agree that there is such thing as too much shiplap. But that shouldn't deter you from appreciating how utilizing shiplap in moderation can transform a room. Shiplap walls and ceilings create clean lines and dimensions pleasing to the eye. It also embraces the original architecture of historic barns just like exposed wood ceiling beams. Before you install shiplap, remove a section of drywall to see if you have authentic shiplap ready to paint and refinish.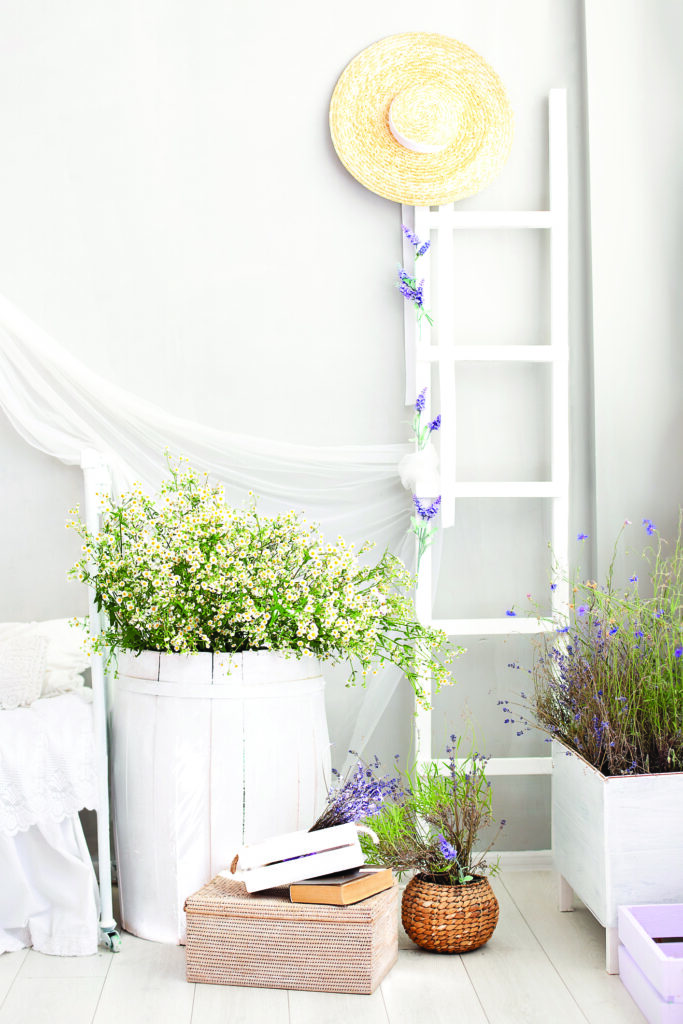 One-of-a-kind Antique Pieces
With the larger DIY projects out of the way, you can direct your focus to decorating and adding personal touches. Besides adding family heirlooms and including what you already own, look out for one-of-a-kind furniture and decor. Rustic furniture brings character to your home with its handcrafted and enduring quality. Part of the authentic farmhouse charm is gathering and possessing individual pieces that make up a larger design. At the end of the day, antique furniture makes your house feel like a home. 
Mixed Textures
Another detail to keep in mind when decorating your authentic farmhouse is to incorporate textured surfaces. Here is a short list of some ideas for textures to include:
Exposed metal decor: Metal is a great contrast to the vast amount of wood farmhouse furniture and decor. Consider decorating with galvanized metal signing and barn equipment. 
Wicker baskets: Woven wicker furniture and storage bins are a truly timeless design feature. They provide a natural, warm feeling that is the heart of farmhouse style.
Glass bottles/mason jars: We can't talk about rustic decor without talking about mason jars. Antique glass jars and bottles make great decoration pieces or can be upcycled for storage. 
Textiles: Fabrics are amazing for adding texture because they can be utilized in every room. Don't underestimate the potential of pillowcases, tablecloths, and throw blankets to elevate your home. 
Upcycled Decor
Instead of shopping or rummaging through personal belongings for decorations, there are many ways to do it yourself! What's more rustic and authentic than crafting something yourself for your home? Completing DIY projects is a sustainable and cost-effective way to make over a room. Upcycled decor also comes with a family history that can be passed down for generations. DIY farmhouse decor projects on a budget include everything from functional storage to unique, personalized fixtures. 
Rustic Finishings
Our last tip for creating an authentic farmhouse feel is all about the details. You may find with antique pieces that something is missing from being perfect. That's why it's important to add finishing touches for a completed look. A characteristic of farmhouse design is to incorporate a mixture of materials and finishes. So don't be afraid to combine mismatched metals like bronze and steel in hardware and decor. Another option is to juxtapose multiple types and finishes of wood throughout. Making stylistic choices to create a perfectly imperfect feeling will be worth it in the end.