Servicing Smiles
 

With a Smile!

It is common knowledge that, apart from the desired aesthetics of having a shining set of pearly whites, maintaining good oral/dental health is important for your overall health. Practicing good dental hygiene and habits can prevent dental issues that might cause other problems in the body later on. And one of the most important dental habits is making regular appointments at your dentist's office for cleanings and to monitor.your oral health. 

But let's face it. Going to the dentist is usually not people's favorite appointment to make. It can be scary for many, things might hurt, and the insurance can be a confusing nightmare. In fact, according to a survey conducted on the market research platform DentaVox, they found that 61 percent of respondents reported that they suffer from dental fear or dental anxiety. Yikes!

However, did you know that in the right hands going to the dentist doesn't have to be so irksome, and can actually be a pleasant experience? This is why, with the importance of maintaining good dental health, it is crucial to find a dentist that makes you actually want to go (or at the very least not dread going) because they treat you with care as they would a member of their own family. And that's exactly what you'll find with the skilled hands and friendly team at Dr. Gary Squyres' office. 
Dr. Gary Squyres DDS
After graduating from Lamar University in 1989 with a Bachelor of Science in Industrial Technology and working several years in the medical/electronics field, Dr. Gary Squyres DDS decided to pursue a career in dentistry. Upon graduating from the University of Texas Dental Branch – Houston located in the medical center, he started his own practice in November 2004.
Since he began practicing dentistry, Dr. Squyres has kept up to date on the latest technology by attending continuing educational classes, ensuring that his patients receive the most comprehensive and advanced dental care. Dr. Squyres is also a member of the American Dental Association, Texas Dental Association, Brazos Valley District Dental Society, and serves on the Board of Directors for the Westwood Magnolia Parkway Improvement District.
At Dr. Squyres' office, you can be confident that you will not only receive excellent dental care from a skilled team of hygienists, dental assistants, and the doctor himself, but also a warm welcome and pleasant experience overall that begins as soon as you walk into their beautiful state-of-the-art facility.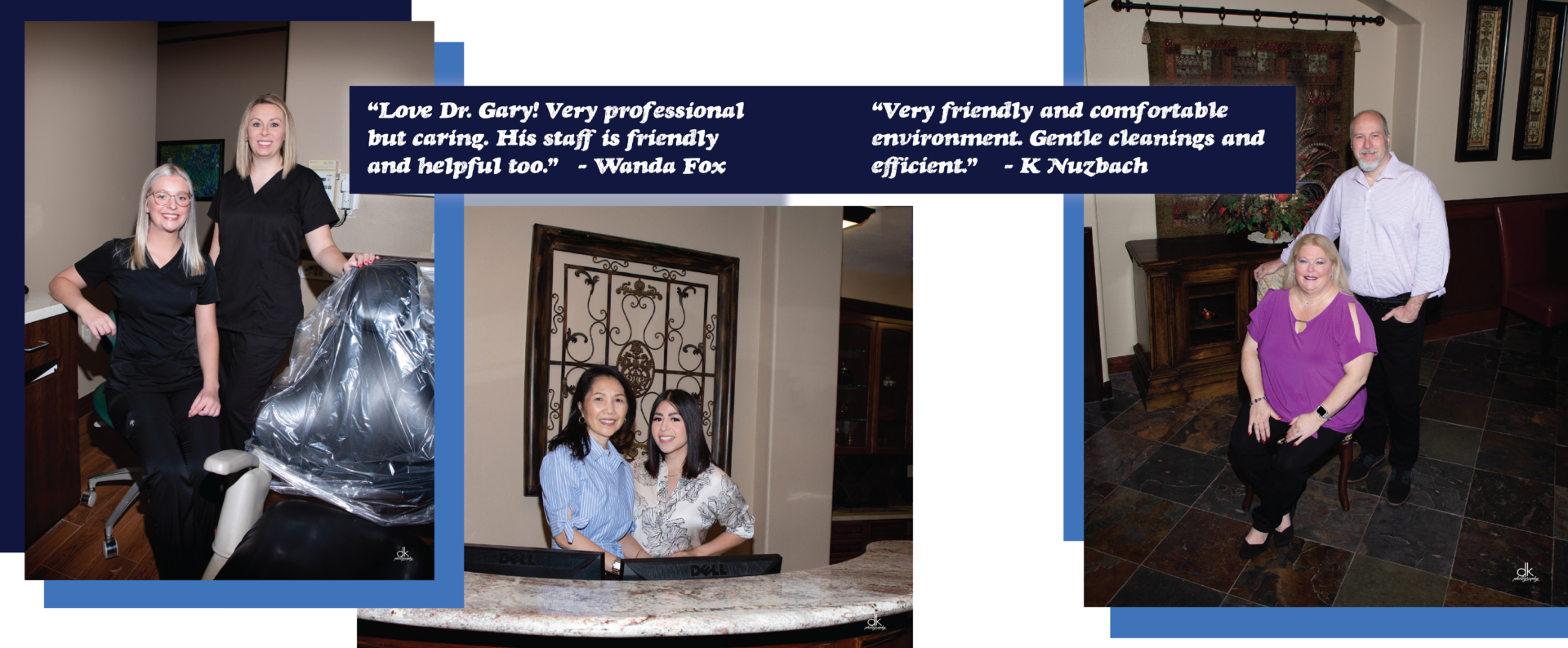 Servicing smiles with a smile!
Patient experience and care as an individual is one of the top priorities for Dr. Squyres and his team. They insist that every person who walks through their door doesn't just feel like a patient, but like a part of their family. Skilled hands and warm hearts put patients at ease and ensure efficient and excellent service with every visit.
The friendly, excellent service received and Dr. Squyres' stellar reputation of being honest and fair fosters loyal and longstanding relationships with his patients, most of whom are gained by word of mouth from other satisfied patients. Here is what some of these satisfied patients had to say about their experiences in their five-star reviews on Google:
"Love Dr. Gary! Very professional but caring. His staff is friendly and helpful too." -Wanda Fox
"Very friendly and comfortable environment. Gentle cleanings and efficient." -K Nuzbach
"Dr. Gary is the best dentist I've ever been to. I highly recommend his work. His staff makes the experience even better. Everyone is friendly, caring and extremely professional." -May Yanez
Not only does the team at Dr. Squyres' office make you feel at-ease about procedures, but they are also passionate about being available to their patients for any questions or concerns they might have before or after procedures. They especially go out of their way to help educate their patients about their insurance by navigating them through various plans and policies that can otherwise be confusing and frustrating when left to figure it out on their own.
Comprehensive services for the whole family
When it comes to your dental needs, you want to find a dentist that offers superior care and treatment in a comfortable, knowledgeable setting. Dr. Squyres and his team provide just that, and take great satisfaction in helping you maintain optimal oral health. Their practice is devoted to comprehensive and preventive patient care. They urge that by seeing your general dentist every six months for routine care, you can promote a healthier smile and save yourself time and money. 
From children to older adults, Dr. Squyres and his team are here to cater to the needs of your whole family. To highlight this, check out these glowing reviews from Google:
"Amazing dentist and staff! Our whole family (ages 6-40+) goes here and we love them!" -Kristen Johnson
"Great experience for both my 6 yr old and myself.  They answer any questions! Always running on time! Clean! Overall great experience all around.  My daughter was seen about a month ago and wants to know when she can go back!" -Roxann Johnson
While the goal is always to prevent conditions from affecting your oral health, Dr. Squyres also specializes in restorative treatments to revive a damaged smile. No problem is too big or too small for Dr. Squyres and his team to tackle, as they believe in providing all patients with the best dental treatments available to enhance your smile and health.
That's why as your general dentist, they don't just specialize in one area of dentistry. Dr. Squyres and his team provide a wide range of comprehensive dental services to the Magnolia, TX area, including:
General dentist

Crowns/Crown lengthening

Bridges

Dental implants

Bonding/White filling

Braces

Dentures

Extractions

Hygiene/Periodontal health

Toothache

Tooth whitening

Inlays/Onlays

Root canal

Veneers

…And so much more!
Stop by for a visit!
So what are you waiting for? Make your appointment and stop by for a routine cleaning, a complicated procedure, or just to say hi to your friends at Dr. Squyres' office! And the sooner the better, as back-to-school season gets busy. The team urges that if you have any work you need done for you or your kids before heading back to the classroom to make your appointments as soon as you can!
Dr. Squyres' office is located at 514 Honea Egypt, Suite 100 Magnolia TX 77354. Feel encouraged to contact the team during office hours Monday through Thursday 8am-12pm and 1pm-5pm by phone at 281-252-8809. Further information can also be found on their website at www.magnoliasmiles.com.
If you have any questions or comments, please feel free to get in touch. Dr. Squyres and his team are always happy to hear from you!