Compassionate Comprehensive Healthcare for the Whole Family
As individuals, we all pursue our own interests and what's important to us, building a unique life around those interests, our values, and our relationships. But as humans, one commonality that equally affects us is the quality of our health. 
No matter where you are in life, your everyday decisions are directly tied to your health. No amount of financial success or growth in any other area matters if you're simply not well. To put it plainly, the value of good health is priceless. That's why it is critically important whom we trust with the care of our health.
But with so many options out there, how do you sift through them all to choose the healthcare provider that's right for you? And what are the qualities that make one healthcare provider better at taking care of your health than another? At Conroe Willis Family Medicine, they believe the answer to these questions involves more than just the importance of excellent credentials and experience, but also having a culture of empathy, honesty, and compassion for every patient and family in their care.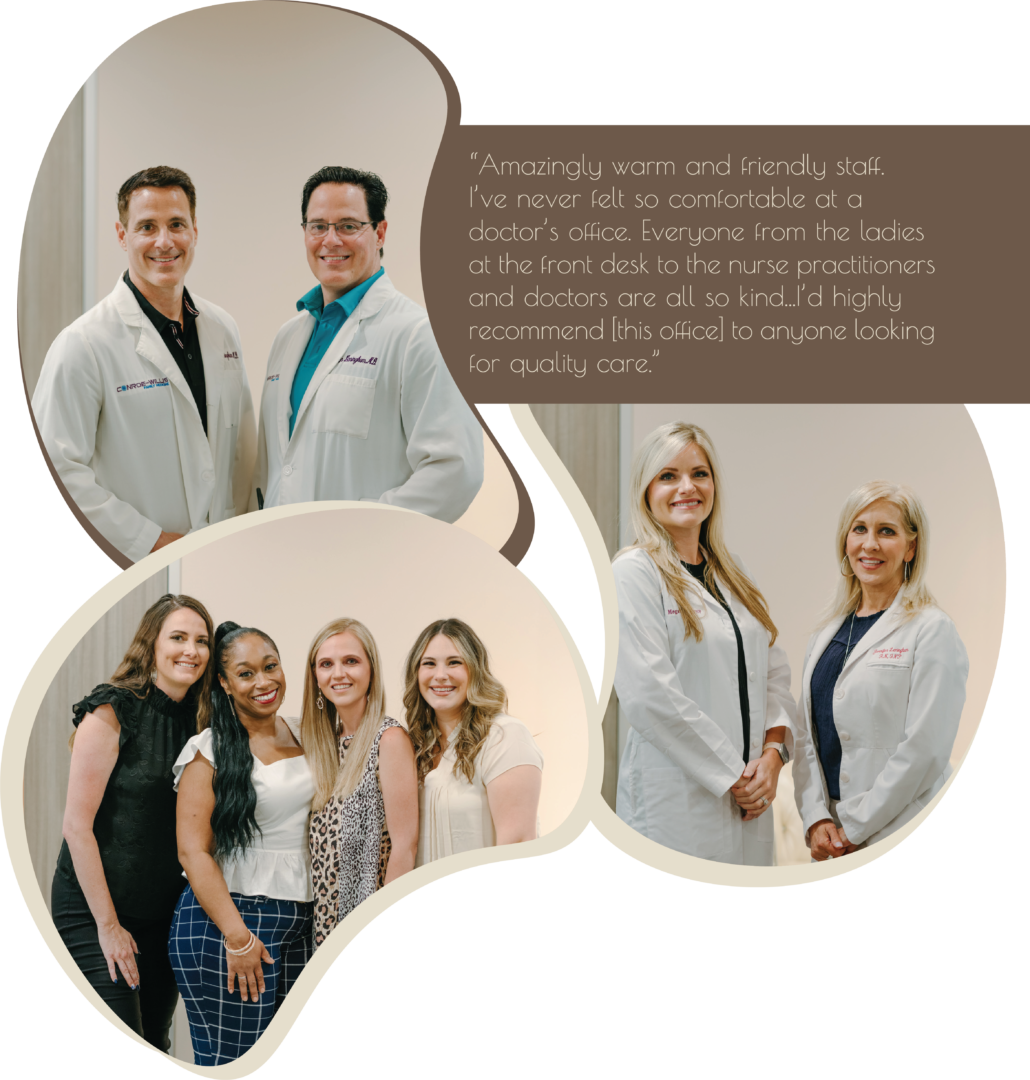 Founded in Family
Conroe Willis Family Medicine understands how to care for every member of your family throughout every stage in life because it has its foundations in family.
CWFM was founded by Dr. Jeremy Laningham and Dr. Jason Laningham, twin brothers with a twin passion for healthcare and families. One of the memories that had a huge impact on them both was growing up around their grandparents and being with them during the moments they started to experience hearing loss and a number of other medical issues.
They remember that feeling of helplessness as they watched their grandparents struggle to communicate with their doctors, and the burden placed on the whole family with these trips to the doctor's office bei
ng an all-day affair getting them to and from appointments. 
These lived experiences with their grandparents helped shape and define their mission as physicians, vowing to dedicate themselves to creating a better healthcare experience for current and future generations. And that's just what they did. 
Focused on Families
After securing medical degrees back in 1996 and completing residencies in Houston, they came back to their hometown area of Conroe. After partnering with highly rated establishments like Sadler Clinic for a time, the brothers were ready to make their vision a reality and established Conroe Willis Family Medicine in 2016. They finally started the practice they always wanted. The successful realization of this vision is apparent in everything they do and everything their patients experience all the way from the front office to the back office, being met with highly trained professionals with "big smiles and kind eyes" at every turn. At CWFM you're not just going to a doctor's office, but a place where you become a healthier person, always feel respected, and have your medical needs filled by a caring doctor and staff. 
CWFM currently operates out of two locations in Willis and Conroe. Maintaining the personability and excellence of patient care CWFM is known for at these locations wouldn't be possible without a dedicated team, including Dr. Morrow at the Willis office and Dr. Koshy at the Conroe office (since 2019!) whose expertise, professionalism, and devotion to patients is essential.
On their website, satisfied patient A.W. writes: 
"Amazingly warm and friendly staff. I've never felt so comfortable at a doctor's office. Everyone from the ladies at the front desk to the nurse practitioners and doctors are all so kind…I'd highly recommend [this office] to anyone looking for quality care."
CWFM was founded for families and excels in caring for them. They offer comprehensive medical care for the whole family including wellness exams and physicals, as well as treatment for acute and chronic illness, and minor injuries. They specialize in family medicine, women's health, men's health, and geriatrics, and also provide weight loss and smoking cessation programs. 
Healthcare from the Inside Out
From the inside out, they truly do it all, including their medical spa Radiant Skin and Health that offers exceptional skincare services and aesthetic treatments using the latest technology and providing a calming and relaxing environment. Some of the treatments they offer as a part of the medical spa include:
Hormone Pellet Therapy

Microneedling + RF Energy Treatment

Body Reshaping

Laser Hair Removal

Skin Renewal

 

& Clarity

Thermal Contraction

Spray Tanning

Cosmetic Injections

And so much more!
It's clear that at CWFM, Drs. Jeremy and Jason Laningham and their team are dedicated to your complete well-being and overall health. Their Board Certified Physicians and Family Practitioners take the time to get to know you and your history, not just your set of symptoms. "We know that we must listen to you first before you will listen to us," says Dr. Laningham.
Announcing New Med Spa Treatments and Services!
Along with the regular list of comprehensive treatments and services offered at CWFM's Radiant Skin and Health, the team is proud, pleased, and excited to announce some brand-new med spa treatments that they can now offer! At CWFM, patients can now opt to receive Transform and Morpheus 8 procedures.
Transform
Transform provides two procedures in one visit. Bipolar radiofrequency energy (RF) for deep heating of dermal and adipose tissue, plus electrical muscle stimulation (EMS) alternate to deliver a synergistic layering treatment that produces consistent transformative results. This hands-free body sculpting system uses radiofrequency (RF) waves to tighten skin and destroy fat cells. This technology also reduces the appearance of cellulite and texture irregularities
Transform is on sale for 50% off and you can pay it out in 6 payments (total price =$1250). This deal is only available for a limited time, so act now!
Morpheus 8
Morpheus 8 is a non-surgical advanced needling treatment. When we age, our skin begins to lose elasticity, with wrinkles, lines, and sagging appearing. Using radiofrequency, a Morpheus 8 treatment stimulates collagen production to tighten and smooth wrinkles on the face and body.
This treatment is like mini facelift without the pain and downtime. This treatment is $1500 for one or 3 for $2500, Morpheus 8 will have you looking five years younger without surgery!
Whether you're coming in for a routine check-up or trying one of their exciting new med spa treatments, you can trust Conroe Willis Family Medicine with your health and the health of your whole family, because they are founded in family. They are dedicated to every patient's total health and wellness, and are always looking for more ways to expand upon their original vision of offering a quality overall patient experience with more and better services.
Visit CWFM today!
Conroe Willis Family Medicine serves families and individuals in Conroe, Willis, New Waverly, Huntsville, and surrounding areas, with locations in Conroe and Willis. Come stop by the brand new office in Willis and experience the best in quality healthcare today!
For more information about Conroe Willis Family Medicine and their services, check out their website at cwfamilymed.com. And for more information about their medical spa treatments at Radiant Skin and Health, call them at 936-209-3010 or visit their website at radiantskinandhealth.com