School of Rock The Musical!
Sharpen your pencils, open your books, get out your guitar, and get ready to play as The Players Theatre Company presents School of Rock the Musical!
Based on the 2003 movie of the same name, School of Rock the Musical is the story of lovable loser-slash-wannabe rock god, Dewey Finn, who poses as a substitute teacher at prestigious (and expensive) Horace Green Prep school in order to pay his rent.  It doesn't take Dewey long to realize that his students are more than just geeky nerds and he quickly turns their 3Rs into two-Rock and Roll!
In his very first lead role is Ethen Garcia, portraying the ineffable Dewey Finn.  Garcia brings not only charm and charisma to the Owen stage, but also energy and killer guitar-shredding skills.  Audiences will be blown away by every facet of Garcia's performance.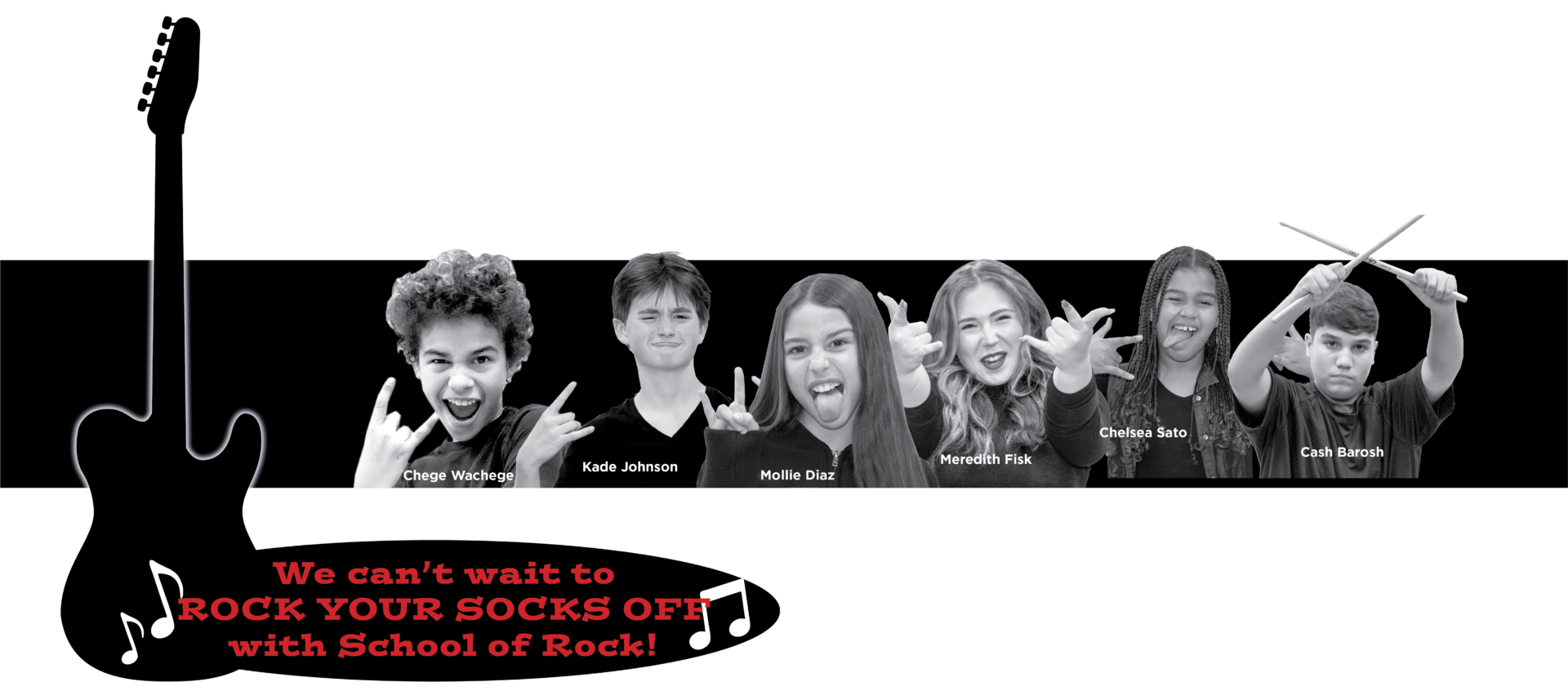 Taking on double roles once again as Vocal Director and cast member, Meredith Fisk is incredibly excited to portray Rosalie Mullins, principal of Horace Green Prep.  Fisk has Broadway stars in her eyes and definitely has the chops to reach those heights, but we have her amazing voice on stage for now and we can't wait for audiences to have their breath taken away by both Meredith's performance and her polished directorial skills.
Roger Ramirez and Amanda Kendrick, each seen last season in  The Players's Bright Star and Dearly Departed, respectively, round out the main adult characters as codependent couple, Ned and Patty.  While Ramirez is precious as the timorous Ned Schneedbly (the real Ned Schneebly), Kendrick's Patty is his perfect overbearing, brash power-suit wearing counterpoint.  Ned is a former rocker; Patty is a current businesswoman.  Their tenuous relationship is put to the test by Ned's former bandmate and current leech of a roommate, Dewey.  This puts Dewey in a position of needing to get his rent money for Patty, like, yesterday!  Ramirez and Kendrick bring a perfect balance to their Ned/Patty relationship and play off each other to great comic delight!  Audiences will be thoroughly amused, and maybe even relate.
School of Rock features many new Players including adult ensemble members Angela Wetzel, Lizzie Pineiro, Joey Scale (who doubles as Band Director), Garrett Carter, and Justine Gray.  We're thrilled to have so many new faces take the stage with us and have enjoyed working with all this hidden talent.  Audiences will definitely want to see more of these talented actors.  
In addition to a dazzling adult ensemble, School of Rock also features a dozen of Montgomery County's most brilliant, multi-talented young actors. Mollie Diaz, Wesley Burns, and Austin Krueger are sharing their gifts with The Players' audiences for the third time after all appearing in Matilda and A Christmas Story last season.  While Diaz is the youngest and smallest member of the cast, her personality fills the stage, and this wunderkind easily holds her own.  Burns and Krueger venture into new territory this time out, with Wesley playing the keyboard live on stage and Austin playing the electric guitar!  And, in a fantastic turn of events, both Wesley's and Austin's dads, Will Burns and Keath Krueger join their sons for stage time of their own!  The grown up Burns will be playing the drums and portraying one of the youth's fathers while Krueger the elder will be playing his real-life-son's dad!  That's worth the price of a ticket on its own!  
Several new young actors are taking on challenging roles as well.  Rafaela De Azevedo (Tamika), Sara Bong (Katie), Chege Wachege (Billy), Carly Smith (Shonelle), and Cash Barosh (Freddy) are all new to The Players and are all pure enjoyment to watch.  Bong and Barosh will also each be playing the bass guitar and the drums live on stage!  All these young rockers will thrill audiences.
Rounding out the cast are some more familiar faces of the Conroe Theatre scene.  Siblings Reece and Chelsea Sato, who have appeared in shows with both Stage Right and The Players, and Isabel Alexander and Kade Johnson, who appeared in Matilda last fall, complete the youth ensemble with great energy, fresh ideas, and killer talent.  They are such wonders to work with and to watch bring their characters to life.
School of Rock the Musical opens September 9 at the Owen Theatre in Conroe and runs Fridays, Saturdays, and Sundays through September 25.  Purchase your tickets online now at owentheatre.com or by calling the box office at 936-539-4090.  Discounted tickets available for students, seniors, and large groups.