The 2022 Dock Line Gifting Guide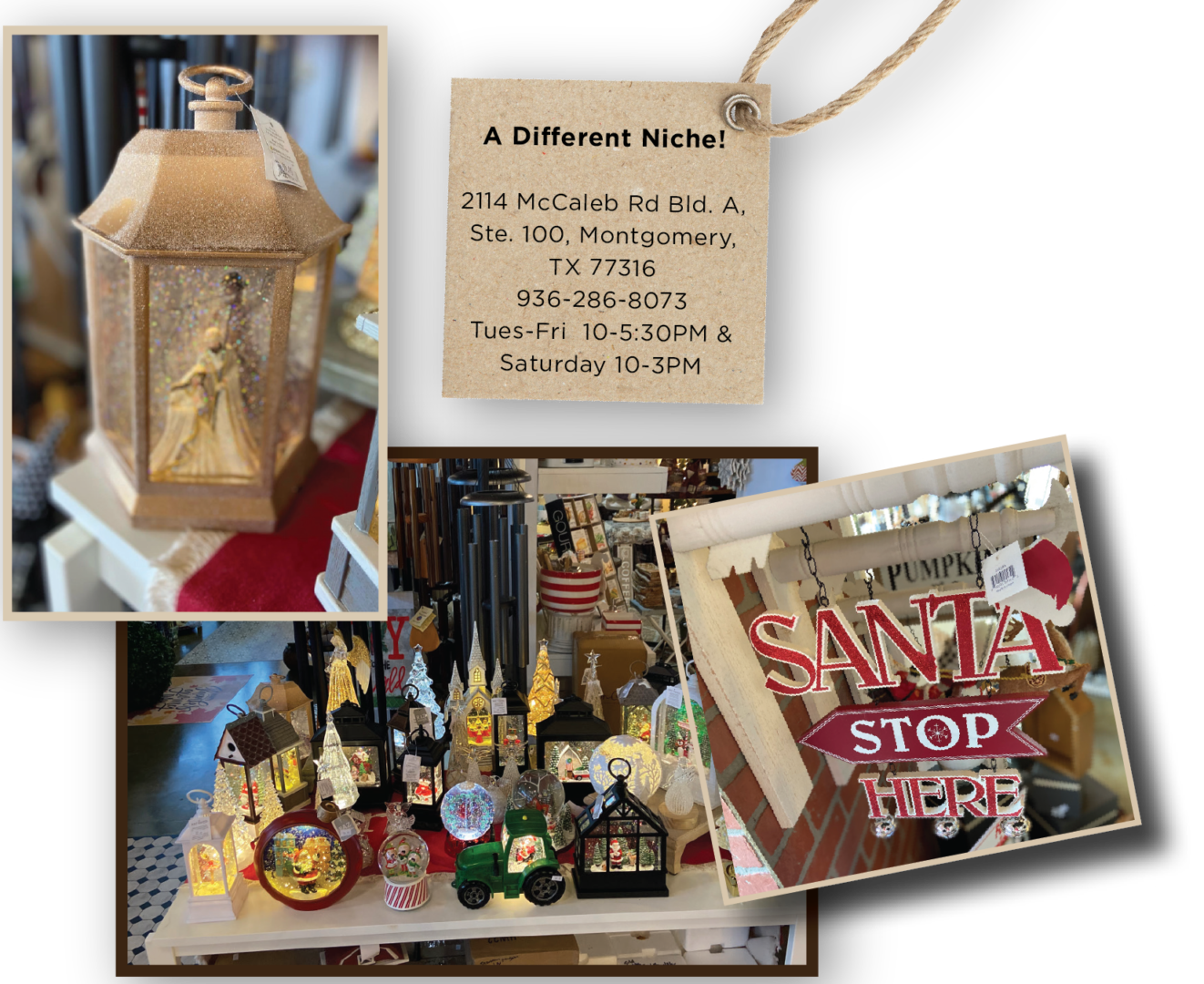 A Different Niche!
A Different Niche! is more than a store, it's an experience. "I want my customers to come in and take the time to browse, touch, feel the products and smell the wonderful candles and lotions," says owner Faye Milstead. After working with her husband in the glass business for 30 years, Faye decided to follow her true passion and started selling unique home décor. She opened her own store on McCaleb Road in Montgomery in 2020, and has loved it ever since!
Visit A Different Niche! for a variety of unique Christmas décor and gift items like santa's from Santa's Workshop, water globes from Raz, paper goods, the Mudpie brand, table runners, signs and more!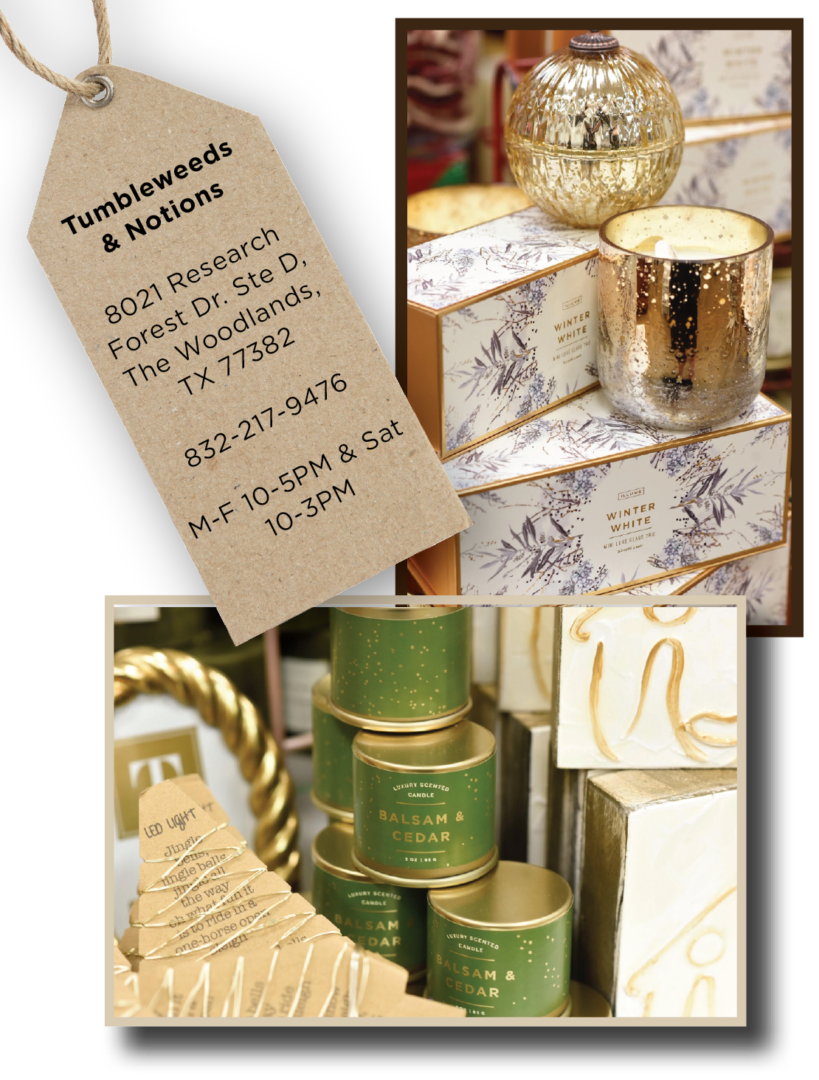 Tumbleweeds & Notions
Giving good gifts is a bit of a lost art, but Tumbleweeds & Notions is bringing it back one whimsical note card at a time! Nestled in the Alden Bridge shopping center since 2015, Tumbleweeds & Notions brings "whimsy" to the local gift shop niche of The Woodlands. The shop specializes in unique gifts, stationary, home décor—just what you need to love others well this holiday season!
After moving into a new space in March of 2022, this year's holiday season is expected to be the biggest yet! Tumbleweeds & Notions owner Caroline jokes that she's taught her customers well during the holidays: when a product is gone, it's gone! Since there is only one round of holiday décor and gift offerings, you can expect new arrivals weekly!
Give them a follow on Facebook or Instagram 
@tumbleweedsandnotions to stay up to date on products and events this holiday season. 
Tomball German Festival
This is a loaded weekend-long festival taking place in historic downtown Tomball, where visitors can eat, shop, dance to live music, and drink! The festival was started 16 years ago to celebrate Tomball's heritage beginning with German settlers in 1840. Tomball's German Festival is now one of the largest in the area, and has been recognized by Travel Magazine as one of the "Best Christmas Markets in the U.S."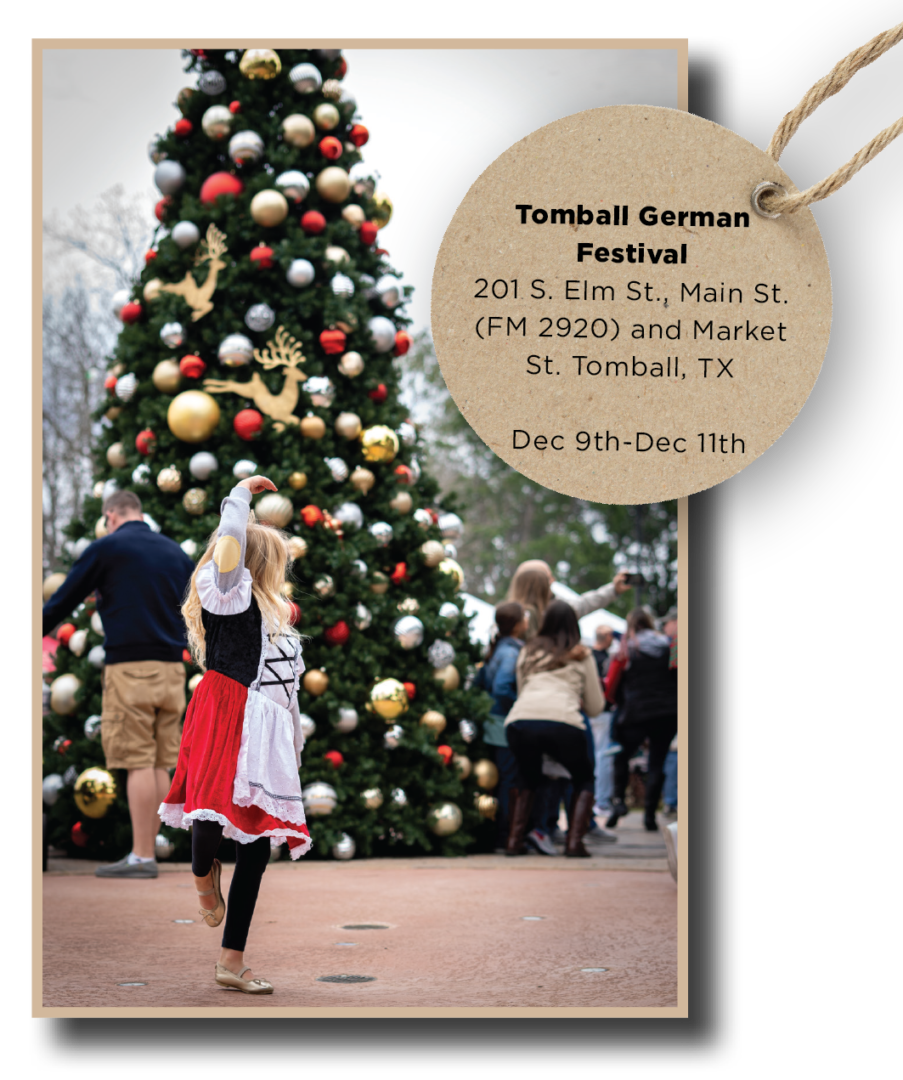 This street/music festival has 4 stages of live performances, contests, ethnic foods, street vendors, artwork, antiques, pony rides, a petting zoo, and more! You'll find unique gift ideas and fun souvenirs at the open-air market or any of the local antique shops in the area. Bring the whole family out for a fun weekend celebrating Tomball's history!
Free admission, parking and shuttle.
Address: Old downtown streets of Tomball, TX near 201 S. Elm St., Main St. (FM 2920) and Market St.)
Friday, Dec 9th: 6PM – 10PM
Saturday, Dec 10th: 10AM – 10PM
Sunday, Dec 11th: 10AM – 6PM
Downtown Conroe
 

Sip, Shop & Stroll

As the Conroe area continues to grow, the local community is blossoming with unique small businesses, retailers and new eateries. Conroe's Main Street has been revitalized as city officials work on sidewalks, building upgrades and other improvements. This has attracted many business owners and the local community in an area that didn't have much foot traffic before. 

Out of these new endeavors came a monthly event called Sip, Shop & Stroll where the community is invited to come out and support local businesses. Enjoy live music, an outdoor market, food trucks, boutique shopping (featuring free mimosas) art galleries and eateries with the whole family! Get some last minute Christmas shopping done while you're at it, too.

Some local gift shops to visit near Conroe's Downtown Main Street include: 

Branding Iron – Featuring locally made custom merchandise, leatherworking, custom engraving, custom embroidery, screen printing and more.

Main Street Merchants – A women's clothing boutique and unique gift shop with handmade made jewelry and accessories.

Mod Boutique – A unique combination of women's fashion and home accents.

Sweet Texas Treasures Boutique – A unique product assortment of handmade items and treasures not found anywhere else.

On your stroll, you'll also see several antique shops, thrift stores, wineries, jewelry stores and eateries!

Date: Thursday, December 22nd, 5PM 

Location: Main Street, Conroe, Texas 77301