Did you know that there is a right and wrong way of disposing of fats, grease, wipes, floss, medications, and more? That's right, you'll want to keep reading to find out if you've been doing it the wrong way all along and how you can dispose of these items properly from here on out!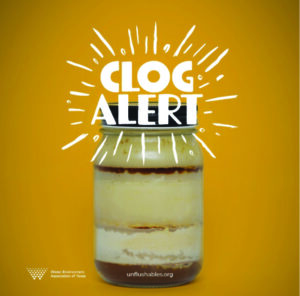 SJRA has partnered with the Water Environmental Association of Texas, Kimley-Horn, Signature Automation, City of Arlington, City of Dallas, City of Garland, El Paso Water, McAllen Public Utility, San Antonio River Authority, City of Waxahachie, Trinity River Authority, City of Lubbock, and Texas Association of Clean Water Agencies in the CLOG ALERT campaign. The goal of CLOG ALERT is to remind Texans to practice proper disposal of various household items that clog pipes and create wear and tear on wastewater infrastructure. Items that should never be poured down the sink drain are any types of fats, grease, or oils, such as butter, cooking oils, bacon grease, and other fatty liquids. These fats solidify in the pipes when poured down the drain. It becomes a sticky trap, called a "fatberg," that catches other objects that flow by, leading to blockages in the pipes. To ensure you don't clog your household pipes, you can pour or scrape the grease into a disposable container and toss it in the trash can. Another option is to take a paper towel and wipe out the cooking oil from your pan and toss it in the trash can. This will help keep your sink water flowing nicely through your pipes!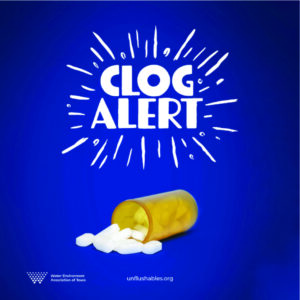 Another area of the house where pipes are frequently clogged is in the bathroom. Items like wipes (even the ones marketed as "flushable"), paper towels, medications, floss, rags, Q-tips, and masks should NEVER be flushed down the toilet. All of these items feed fatbergs, the solidified grease in the pipes, and do not dissolve in water. These items can easily be tossed in the trash to keep wastewater infrastructure in working condition. Make sure to place a small trash bin next to each toilet, so those in your home remember to trash these items instead of flushing them.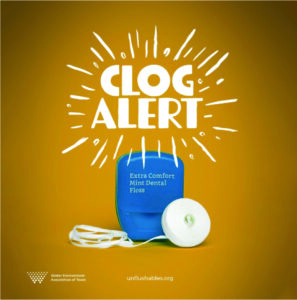 The CLOG ALERT campaign can be seen on SJRA's social media account. SJRA frequently posts graphics and reminders to help our community keep our pipes free and clear! 
To learn more about the campaign and what should never go down the drain, visit www.unflushables.org. To get tips on keeping your pipes clear, follow SJRA, Water Environmental Association of Texas (WEAT), or any other of the CLOG ALERT sponsors on social media.