The Fifteenth Anniversary: Season 2023-24
On December 5, 2008, Stage Right debuted with the performance of Christmas Belles by Jones, Hope and Wooten.  The zany comedy began this fifteen year journey that ensued when seven individuals strived to organize a new theatre troupe to present quality entertainment to Montgomery County residents.  As one of those seven people attempting to produce a first show, I can assure you that each one of us recruited friends, family and fellow actors to assist in this endeavor. Those seven founders were Michael Goode, Molly Goode, Greg Kelly, Thomas Lockhart, Carolyn Corsano Wong, Steven Wong and me. In honor of this anniversary, Stage Right will once again bring Christmas Belles to the stage in December, 2023 with some of the original cast members.  What better way to celebrate this milestone.  That is just one of the excellent shows that are scheduled for the 2023-24 season!
The first show of the season is 9 to 5, the Musical based on the 1980 movie of the same name with music by Dolly Parton and book by Patricia Resnick. It debuted on Broadway in 2009 and received 15 Drama Desk Award nominations and 4 Tony Award nominations.  9 to 5 demonstrates that three unlikely friends employed in an office with a toxic work environment can triumph over their situation and learn there is nothing they can't do even in a man's world.  Directed by Adam Isbell, 9 to 5 takes the stage from September 8-21, 2023.
October brings Clue: On Stage based on the classic board game brought to life. Written by Jonathan Lynn, Hunter Foster, Sandy Rustin and Eric Price, Clue begins as six invited guests arrive for a dinner party by an anonymous host.  The guests are given aliases: Colonel Mustard, Mrs. White, Mr. Green, Mrs. Peacock, Professor Plum and Miss Scarlet. Though discouraged from revealing personal information, they soon discover that all have fallen victim to the same blackmailer, their host for the evening. A madcap evening of murderous mayhem and laughs as the guests seek to puzzle out the culprit amongst the criminals.  Running from October 20-Nov 5, 2023, Clue will be directed by Melody Montez.
The December show will be Christmas Belles by Jesse Jones, Nicholas Hope and Jamie Wooten. In this farce, a church Christmas program spins hilariously out of control with squabbling sisters, family secrets, a surly Santa, a vengeful sheep and a reluctant Elvis impersonator. Set in the small town of Fayro, Texas, the Christmas program at the Tabernacle of the Lamb is spiraling into chaos.  Even one of the shepherds is refusing to watch over his flock by night without pulling his little red wagon behind him. Will the citizens of Fayro, led by the Futrelle sisters, be able to save the show? This hilarious holiday journey through a misadventure-filled Christmas Eve is guaranteed to bring joy to your world. Directed by Jennifer Bowlin, Christmas Belles runs from December 1-17, 2023.
Stage Right's first show of 2024 will be West Side Story, a musical conceived by Jerome Robbins with music by Leonard Bernstein and lyrics by Stephen Sondheim and book by Arthur Laurents. Reminiscent of Shakespeare's Romeo and Juliet, it depicts young lovers who are caught between prejudice and warring street gangs. The love story of Tony and Anita occurs as tensions grows between the Sharks, a Puerto Rican gang and the Jets, a gang made up of "American" boys in the mid-1950s in the Upper West Side of Manhattan in New York City, then a multi-racial, blue-collar neighborhood.  West Side Story was nominated for six Tony Awards and winning two in 1958. Directed by Cricket Pepper, West Side Story will take the stage February 9-25, 2024.
Sean Keith Thompson will be directing The Buddy Holly Story which runs from April 5-21, 2024. The Buddy Holly Story is the true story of Buddy's meteoric rise to fame. From the moment "That'll be the Day" hit the airwaves until his tragic death less than two years later, the show features over 20 of Buddy Holly's greatest hits including "Peggy Sue", "Everyday" and "Rave On" plus Richie Valens' "La Bomba" and The Big Bopper's "Chantilly Lacy" honoring all three of the talented musicians lost on "the day the music died". Relive the golden days of Rock and Roll with The Buddy Holly Story. It's sure to have your toes tapping.
The final show of this outstanding season is Disney's Beauty and the Beast, the romantic and enchanting take on the classic fairy tale. Once upon a time in a faraway land, an enchantress turns a selfish a spoiled young prince into a hideous beast. To break the spell, the Beast must learn to love another and earn their love in return before the last petal falls from an enchanted rose. If he cannot, he will be doomed to remain a beast for all time. Maurice wanders onto the Beast's lands and he is captured and thrown in the dungeon.  His lovely daughter Belle comes to her father's rescue and offers herself in exchange for her father.  The Beast agrees and Belle must stay in the castle. As Belle and the Beast develop a bond, can she see beyond his outward appearance? This much beloved tale is sure to warm the heart of theatre patrons of all ages. Beauty and the Beast will be directed by Sara Preisler and will take the stage July 5-21, 2024.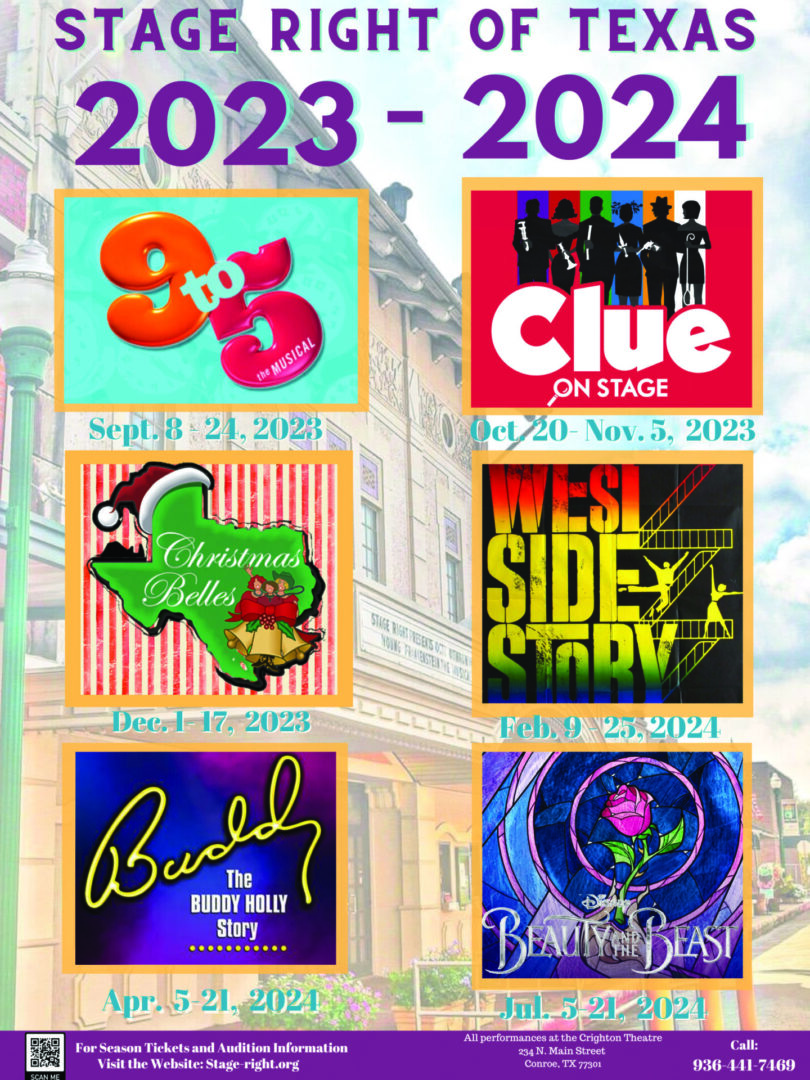 Season tickets are now available at the Crighton Theatre box office. 
Call (936)441-7469 for
season tickets. 
Season tickets are $140. 
If you buy your season tickets before the end of July, you will receive a $10.00 discount. 
In addition, you will receive one friend's ticket to give to the person of your choice that can be redeemed in the box office for a ticket to any
2023-24 Stage Right show for each season ticket purchased.