Cream of the Texas Crop
Tamarah Courtright Curtis has Your Next Great Real Estate Deal!
When you want the best results, you need the best person for the job. This might seem self-explanatory at first, but let's think about how often we settle for average results in our daily lives. For some, pursuing excellence is a calling in-and-of itself. For Tamarah Courtright Curtis, there has never been an alternative.
For the past eight years, Tamarah has been in the Houston Business Journal's Top Ten Real Estate Agents. This year, she was #3 on the top 10 list, beating out nearly 30,000 other agents. I managed to catch up with Tamarah and ask her about her career, her strategies, and what she can offer to her customers. I also asked what advice she can give to those looking to have some of their own success in an ever-changing real estate market.
Tamarah graduated from Sam Houston State University with a BBA in marketing in 2006. She immediately began working in real estate. For almost eight years, Tamarah worked for other brokers, but she saw room for improvement. So, nearly a decade ago, she helped form Creighton Realty Partners. She's worked there ever since as the company's broker.
Broker or Agent?
One of the first questions some people may have is, "Why should I go with a broker over a normal Real Estate Agent?" I asked Tamarah the same question. At first glance it might appear as though it's simply a matter of more training and education. But there's more to it than that (though that's no small matter, either). There's also going to be a track record of success with brokers, and a certain amount of success is required, as well.
Brokers also employ other agents, and enjoy a certain amount of flexibility when negotiating closings that real estate agents simply don't have. "I can say, 'You know what? I'll charge you 1% because you're a repeat client, not a problem, all good,'' Tamarah explained. She can work out deals based on what she thinks, and has the control over her business practices. This obviously lends itself to more customizable deals.
A Different Perspective
"So my goal is, with everybody who buys something, how much can you make if you end up having to sell it in two to three years?" Tamarah laughed. She continued on to say that oftentimes, people's expectations did not align with reality. You may think you're going to buy a house and live there for the next twenty years. That arrangement, however, is becoming increasingly rare. Tamarah, then, focuses on maximizing your value, even if you end up selling your house in two to three years.
I asked Tamarah what specifically about real estate she found so appealing. "You can buy something in two years and you can make $50,000 off of it. Even the stock market is not a tangible good. You can't feel it. You can't touch it. If the stock market crashes, you don't have anything…" she thoughtfully replied. "Think of it as generational money—this is how you should look at real estate."
Perks of Creighton Realty Partners
It should be clear at this point that Tamarah's experience and success are part of what makes her a sought-after broker. This experience and business savvy have also led Tamarah to put many of her business practices into place.
Creighton Realty Partners will help you with all your commercial or residential needs. What's more, Tamarah has a 24-foot moving truck for free use by her clients. The company also has a fully functioning office, running seven days a week, for meeting with clients. Tamarah has several agents and assistants, so you're guaranteed to talk to a person when you reach out for help.
When you partner with Tamarah, you can rest assured that she knows the area like the back of her hand. She makes it a habit to stay up-to-date on the trends and prices of the area so that she can get the best deals for her clients. The real estate market can feel flooded and over-saturated. Even so, Tamarah stands out a head above the rest.
THE FUTURE OF TEXAS REAL ESTATE
Despite some of the uncertainty of our present day, Tamarah remains hopeful. "We live in America, the best place in the world," she chuckled. "Actually, Texas is the best place in the world. And Montgomery County is actually the best place in Texas!" She was insistent on this point. "You know Montgomery County is the number one one-way destination for U-haul?"
Even COVID has left Tamarah undeterred and positive about the future. "You can put something on the market over a price and still get $20,000 more than you listed it for. That's because the inventory is so low. There are so many people moving here because they like the politics, the Texas schools, and the business opportunities.
If you're a business owner, you want to be here. It's so affordable compared to everywhere else. You're still in a city type situation where in 15 to 20 minutes, you can be anywhere with great amenities."
Even more important to Tamarah than the profit of the market, though, is the satisfaction that comes from helping other people succeed. "I truly enjoy watching other people make money," she says. Tamarah says that if you can perceive every deal through the lens of selling in two to three years, you'll be on your way to finding success in real estate.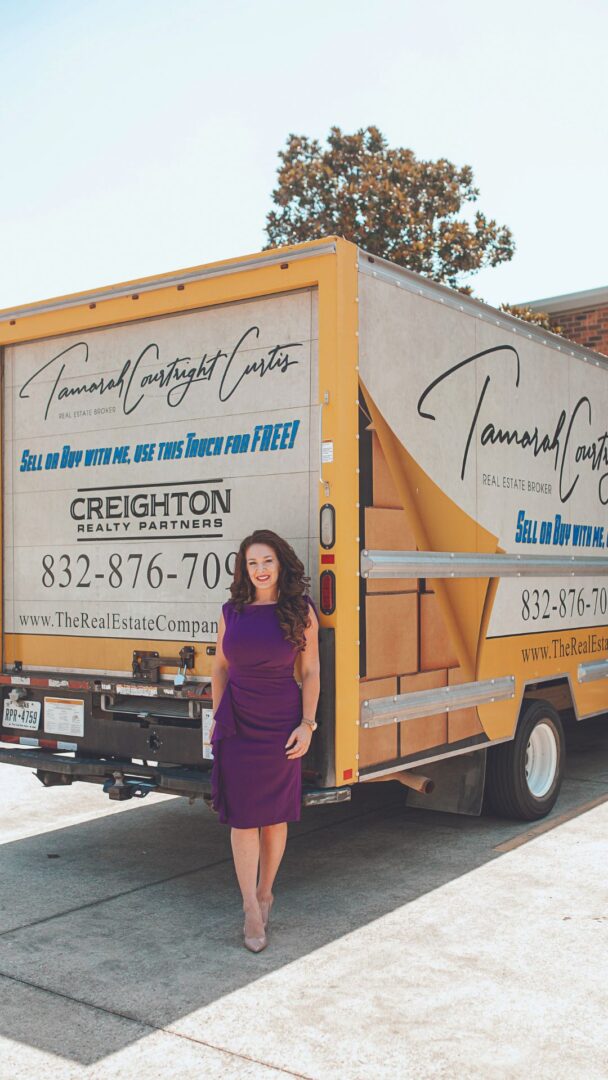 As we ended our interview, I asked Tamarah for any parting advice. "Do you own real estate yet?" she asked.
  "No," I replied..
  "Even if you're younger, just do it," she laughed.
I suppose I shouldn't be surprised at the suggestion. When someone has been as successful as Tamarah at something, it's probably wise to take notice.
Looking for real estate? Ready to partner with the best broker? Call Tamarah at (832) 876-7097, or call her office at (936)756-8083. You can also email her at [email protected]. Check out her website, mocorealty.com, where you can browse featured properties by city.
If you'd rather stop by in person, head over to 11133 Interstate 45 S, #110,
Conroe, TX, 77302. Drop by and get started on your real estate journey today!