Teaching Empathy Through Education
In this month's article, we just wanted to focus on our many educational outreach programs.  We feel very strongly that education is a vital aspect of our mission; by teaching people, especially children, how to coexist with our native wildlife, they will hopefully grow into empathetic and caring adults.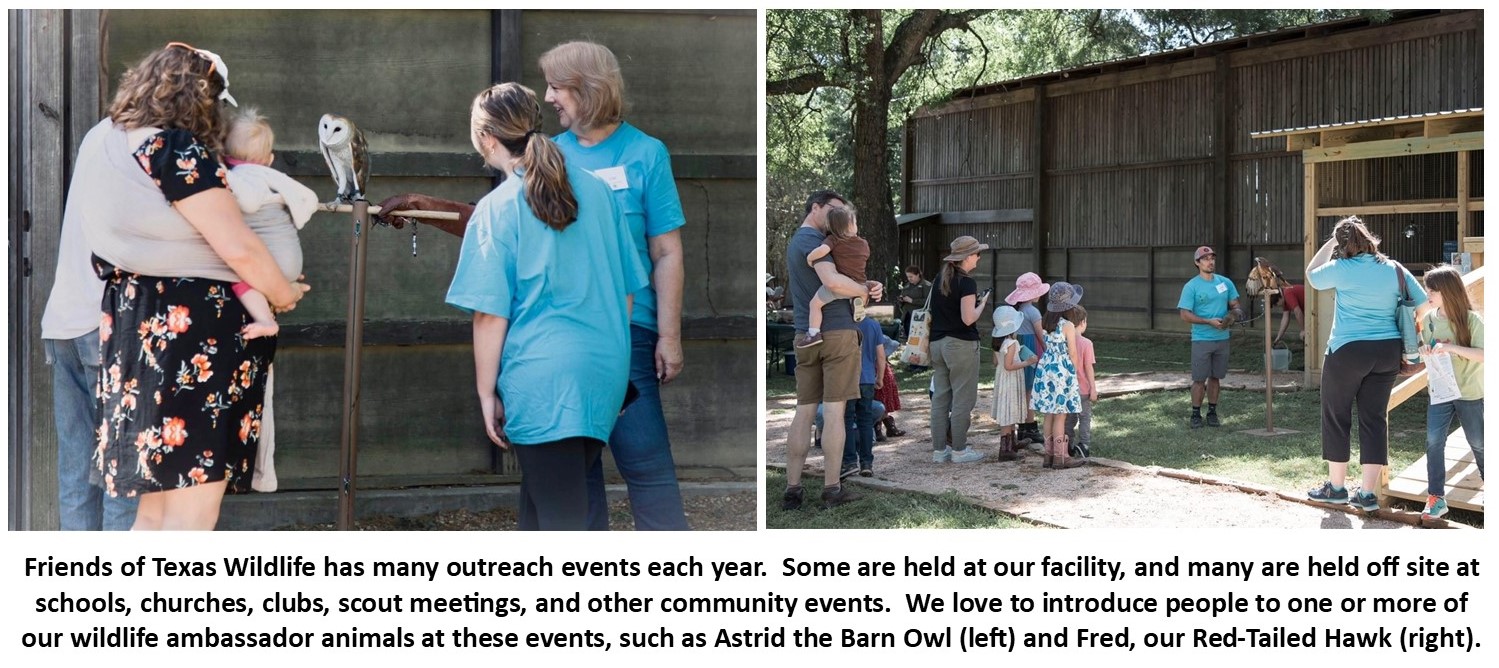 At our facility in Magnolia, we have a separate educational center.  At this center, we have many outreach events, such as spring break and summer camps; birthday parties; our monthly Second Saturday events; and presentations given by appointment to clubs, scout groups, school groups, and other community organizations.  Spring Break camps and Second Saturdays are come-and-go events, held between 10 am and 2 pm, where visitors can explore our educational displays (many are hands-on activities, similar to what you might find at a children's museum), make a craft to take home, check out our treasure table (bring a nature object, such as a shell, leaf, rock etc. to trade and take one home from our table), and get up close with one or more of our wildlife ambassador animals.  Summer Camps require prior registration.  Campers are dropped off by parents or guardians and enjoy different wildlife-themed days (one day of birds/raptors, one day of reptiles, and one day of mammals), do a craft to take home, play games, and eat lunch.  Birthday parties can be reserved in advance for small groups as well. 
In addition to our on-site events, our education team does many off-site presentations.  These would include visiting schools, churches, scout troops, civic groups, and community events.  Our team will bring one of our wildlife ambassador animals, conditions permitting.
We also try to have at least two larger events at our facility annually; in the spring, we have an Open House, and in the fall, we have our "Pumpkins & 'Possums" event.  At the open house we have our entire facility open for tours; this is the only time each year our intake center and educational facility are both open to the public.  For 2024 our Open House date is Saturday, April 6 from 10 am to 2 pm.  This year, our Pumpkins & 'Possums event will be held on Saturday, October 21 from 5 to 7:30 pm.  Come on out and meet some fun nocturnal friends (costumes encouraged!).  These events can be accessed through our Education Center, 29816 Dobbin Hufsmith Road, Magnolia.  Admission is $5 per person with children 3 and under admitted free.
If you are interested in learning more about any of our programs, or to reserve a presentation or birthday party, please email [email protected].
To learn more about what we do and view pictures of many of the animals we assist, please visit our Facebook page at www.facebook.com/SavingTexasWildlife. Details and more specifies-specific flowcharts regarding how to help found animals can be viewed on our website at www.ftwl.org (click on "Help and Advice"). These charts are extremely helpful to determine if an animal truly needs rescuing or not.  If you need assistance with a wildlife animal you have found, please call us at 281-259-0039 or email us at [email protected].  Our educational visitor's center is open the second Saturday of each month from 10 a.m. to 2 p.m., located at 29816 Dobbin Hufsmith Road, Magnolia, Texas.