The Barkly Pet Retreat and Spa: A Luxury Haven for Your Furry Friends
Our four-legged companions are cherished members of our families. As such, finding the perfect place to care for them during our busy lives is a top priority. That's where The Barkly Pet Retreat and Spa comes in. I recently had the opportunity to chat with Brent Harris, The Barkly's General Manager, and Kayla Verm, who shared insights into their extraordinary pet care facility.
A Long-Standing Passion
The Barkly Pet Retreat and Spa is not just any business; it's a family-owned and operated establishment. Owner Amber Murphy has been in the dog boarding and pet care business for over two decades, bringing a wealth of experience and passion to the business.
Amber has always loved animals, especially dogs. That love for animals has etched itself into every aspect of business at The Barkly. Passion for dogs has made The Barkly one of the top pet boarding facilities in the State of Texas.
Luxurious Amenities
The attention to detail is evident in every aspect of The Barkly. All buildings are climate-controlled, ensuring your pet's comfort. The facility also provides 24-hour water access and raised bedding for their furry guests. But what truly sets them apart is their dedication to each pet's well-being, including three walks a day, and the option to add extra services. You can add cuddle time, pool access, senior time, special treats, enrichment puzzles, and more!
In addition to overnight accommodations, The Barkly also offers daycare options. If you are a working family and concerned about your pup during the day, you'll find your solution with The Barkly.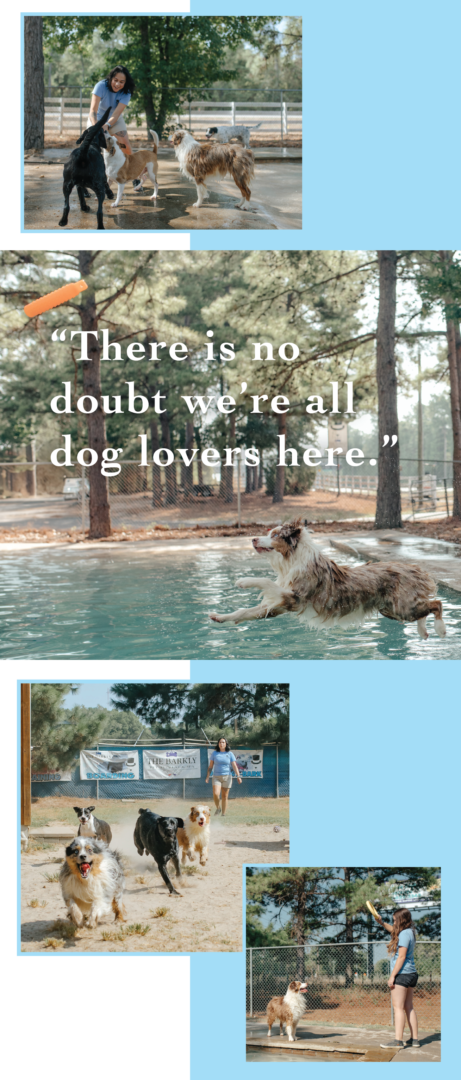 Daycare
Day Room
Group Play
Individual Play
Group Splash Play
Individual Splash Play
A Wealth of Options
At The Barkly, a wide range of services are offered to cater to the unique needs and preferences of your beloved furry companions. The "Active Pup" package ensures your dog gets a minimum of 4 hours of playtime at the pool or in our dry camp area, along with engaging puzzle toys to keep them mentally stimulated. For a more social experience, the "Pool Party" option provides 2 hours of pool and dog park fun, accompanied by a Kong or lick mat treat. The "Enrichment" service includes 30 minutes of outdoor playtime and a choice of puzzle toy, Kong, or lick mat treat. Older dogs can enjoy the comforts of our "Golden Oldies" package, featuring upgraded bedding, two cuddle sessions, and an extra walk. If your pup needs a calming experience, "Calming Cuddles" offers a calming treat, a soothing blanket, and two cuddle sessions.
The Barkly also provides additional services such as custom food options, upgraded bedding, and a variety of pet-specific play options. Your pet's well-being is our top priority, and we have services to cater to every personality and age group.
A Grand Reopening
The Barkly Pet Retreat and Spa underwent a major renovation earlier this year, signaling a grand reopening. All of the buildings at the back of the facility were torn down and rebuilt from the ground up. This renovation brought brand new kennels with seven different size options, catering to every dog's needs. One unique feature is the ability to combine rooms, allowing dogs to enjoy more space or be near their furry friends.
Boarding Room Sizes
Standard (4X4)
Upgrade (4X5)
Plus (4X6)
Suite (4X7)
Patio Suite (4X4 with patio)
Deluxe (5X6)
Deluxe Suite (5X8)-minimum of 2 dogs
Making a Splash
One standout feature of The Barkly is their pool, designed to make even the most water-shy dogs feel at ease. With a "beach walk-in" design, dogs can gradually ease into the water, making it a fun and safe experience for all. "Normally we like to introduce the pool and let the dogs know that it's a beach walk in. So that helps the dogs kind of get used to it if they're a little nervous about the water," Kayla explained.  "Other dogs just walk straight in." The pool is just another one of The Barkly's many prominent amenities.
Exceptional Customer Service
What truly distinguishes The Barkly is their exceptional customer service. They hire staff not just for any perceived skills but also for care and attention to detail. This personal touch ensures that each pet's unique needs are met. They believe in caring for pets more than just taking care of them, and it shows in their dedicated staff. Any run-of-the-mill kennel will house and feed your pet. The Barkly staff want to make sure their furry guests feel loved and cherished during their stay.
"We go above and beyond at every step," Brent said. "There is no doubt we're all dog lovers here."
Community Engagement
The Barkly Pet Retreat and Spa keeps its community updated through its Facebook page, featuring pictures of regular guests, the facilities, and sharing important updates. They prioritize communication and transparency with their clients.
"A lot of our customers are repeat customers," Brent stated. It is a testament to the quality of The Barkly's care. Satisfied, happy customers bring their furry friends back time and time again for vacations, snuggles, and pool parties!
Safety First
One important aspect that often goes unnoticed is their commitment to ensuring that pets have up-to-date vaccinations, a vital consideration in emergency situations or during challenging times like hurricanes. In the aftermath of a natural disaster, the concentration of displaced and potentially unvaccinated animals can create a breeding ground for disease. Diseases like parvovirus and kennel cough can spread rapidly in such conditions.
Natural disasters are traumatic experiences for pets. Separation from their familiar surroundings, exposure to loud noises, and the general chaos can lead to heightened stress and anxiety. Ensuring that your pets are up-to-date on their vaccinations helps minimize the risk of them contracting illnesses, which can compound their stress during already challenging times.
In emergencies, immediate access to medical care for your pets may be limited. Having vaccination records readily available can assist emergency responders and veterinary professionals in providing the necessary treatment and care.
So Much More Than a Kennel
The Barkly Pet Retreat and Spa is more than just a pet care facility; it's a haven where pets receive top-notch care and attention in a family-oriented environment. With a recent renovation that introduced luxurious amenities, exceptional customer service, and a dedication to safety, The Barkly continues to be a top choice for pet owners seeking the best for their beloved companions.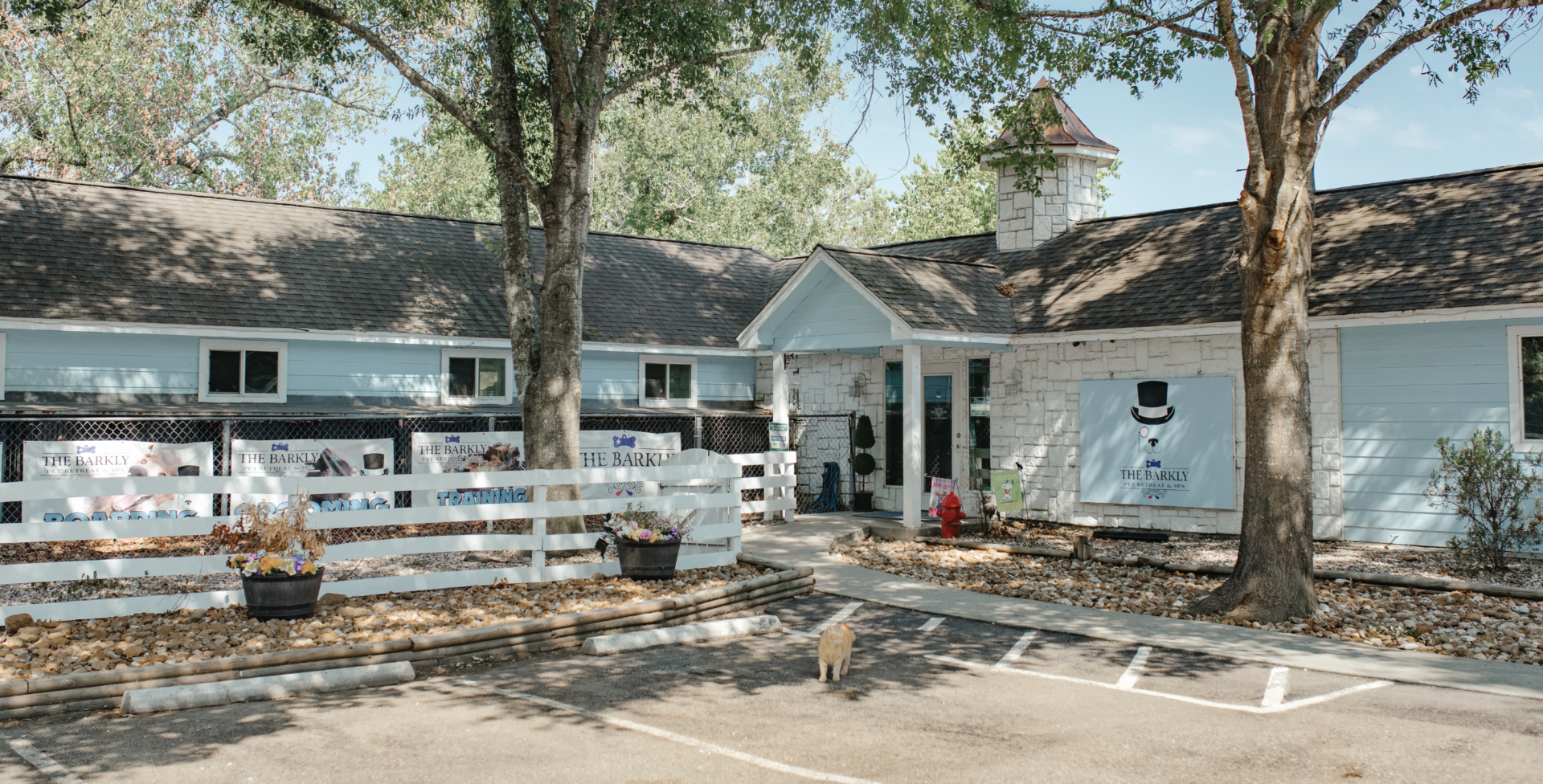 Contact The Barkly today to find out how they can serve your pet's needs!
The Barkly Pet Retreat and Spa
15000 FM 2854 Montgomery, Texas 77316
936-447-2275