Auto Customization Meets Firearms Expertise at CC Plus
If you've lived in the Conroe area for any amount of time, you're probably familiar with CC Plus Trucks, Guns and Ammo, located on Highway 105 near the 336 North intersection. John Williamson started CC Plus in 1991 as a mobile phone services provider, working for what is now known as Verizon Wireless. Originally, John named his company CC Plus to stand for "cellular communications plus," selling cell phones, pagers, direct TV networks, and more.
After a few years, John decided to take his business in a different direction. From high school to college, John had spent many years working at a car audio store, and decided to incorporate his experience into CC Plus. He and his team began to install alarms, car stereos, and other automobile accessories—services which became more and more popular over the years. Living in the once-small town of Conroe, CC Plus became a popular name in the community as John's services spread by word of mouth. CC Plus also began doing work for dealerships like Buckalew and more.
We strive to create an environment that gives our customers the "at-home" feeling while providing for their automotive and gun needs.
"I would work on a guy's truck, and then his son would graduate high school and I'd work on his son's truck," John said. "I have worked with several generations of repeat customers through word of mouth."
This success led John to move into a larger location in 2005. The new building came with plenty of space (24,000 square feet to be exact) to sell not only truck accessories, but also a floor-to-ceiling selection of guns, ammunition and other hunting and off-roading gear. John's staff calls CC Plus the "Toys R Us store for adults," carrying everything a hunting, truck-driving, boating, handy-man could need. Today, while CC Plus has kept its legendary name for 31 years, John has rebranded the company to be the "ultimate truck accessories and gun superstore."
Fix Up Your New Ride or Revamp Your Current
When someone comes into CC Plus with their vehicle, the staff make it their goal to make the customer's dream a reality. "We enjoy the satisfaction of customers turning their vehicle into something they want," John said. "They're excited to get it done, and we're excited to see what their vehicle will look like."
Making modifications and improvements to your vehicle has many exciting and useful benefits. Unlike dealerships who only specialize in car parts and mechanics, CC Plus gives your truck or vehicle a boost with countless additions and accessories like:
Toolboxes
Side steps
Bedcovers
Bedliners
Window Tint
Radar Detectors
On Board Entertainment
LED Lights
Backup Camera & Sensors
Winches
Flat Towing
Gooseneck and Fifth Wheel Attachments
Within the 24,000 square foot facility is an automobile customization area, built with 7 working bays and 3 automobile lifts where the team can install auto accessories and parts.
Tailor your vehicle to your specific needs and preferences with lift kits, aftermarket wheels, and tires to improve performance during off-road adventures. Enhance your vehicle's functionality with truck bed accessories like spray-in bed liners, window tint, tonneau covers, toolboxes, side steps, bumpers and more. Improve safety features with backup cameras, parking sensors, or upgraded braking systems. Along with that, boost your aesthetics with custom wraps, decorative lighting, stylish interior upgrades and more to showcase your unique style.
After decades of modifying vehicles, CC Plus has done their research to know how to give you what you're looking for. "We've collected feedback from past customers and studied the data of aftermarket builds," says Kyle WIllis, Automotive Manager at CC Plus. "​​Working with our team at CC Plus, you can expect that we will explore every possible avenue in order to completely fulfill your desires." The auto team at CC Plus works on everything from trucks, to golf carts and four wheelers; the only thing they don't do is motorcycles. On premises with CC Plus is a mechanic who can help customers with any issues or projects that the automotive team at CC Plus does not specialize in.
John and his team make sure to always stay fully stocked on everything a customer could possibly want. "We've got a warehouse stocked with products." John said. "I like to keep things here, so you don't have to wait until next week. We want to keep things moving and accommodate your schedule." The team is constantly ordering accessories, ensuring that they have everything customers could possibly ask for available right away. Not only that, CC Plus does next-day sourcing of items they don't already have.
Explore the Gun Shop:
Guns, Ammo, and Guns Safes
CC Plus takes great pride in their firearm selection, keeping the largest assortment of major name brands and quality models. Whatever your need—hunting, recreation or self-defense—CC Plus keeps a warehouse stocked full of the latest and greatest firearms and ammunition. Not only that, but the team assembles and customizes each firearm according to the customer's preferences.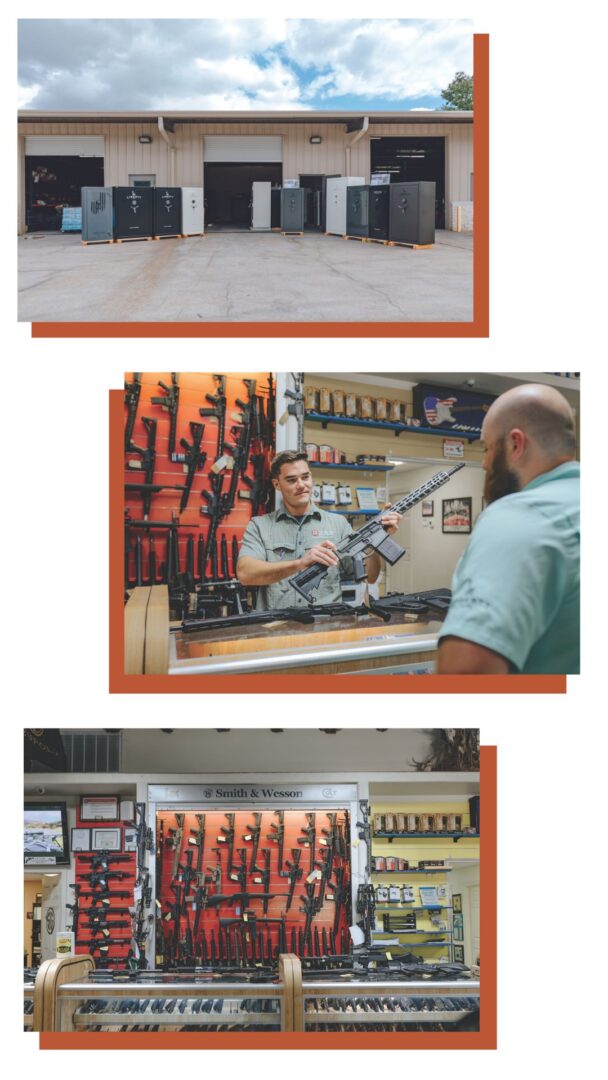 John and his staff provide more than products, but strive to be a full-service store. "Whether you come in looking for a certain deer rifle, scope, or caliber—we can build it. We're not a big box store where you have to buy everything separately and put it together." John said. The team customizes each gun, while matching the quality of the gun with the optics. CC Plus keeps everything you could need stocked in their warehouse, including:
Ammo

Gun cases

Slings

Thermal

Night vision

Lights and Lasers

Tactical gear

Holsters
CC Plus can also handle all your Class III needs for Suppressors and much more. CC Plus offers custom range site in, as well as special 1,000 yard range training courses.
John shared that his customer requests have changed since the events of 2020, with riots and political unrest. Many customers have requested gun safes, for safe-housing their firearms, ammunition, jewelry, and other precious items. As this trend has increased, CC Plus now keeps 60-to-70-gun safes in stock in their warehouse, featuring name brands like Liberty and Rhino. John is proud to say that his facility contains more gun safes than most places in the Houston and surrounding area.
Built on Solid Ground
Between everyone on staff at CC Plus, the staff brings over 35 years of experience and know-how to the table. Customers can trust their vehicles and firearms are in safe, experienced hands. "Our team is able to diagnose a problem and find the solution much faster than most, because our team has seen most issues," Kyle said. "We either already know the solution or can find the answer fast, saving the customer time and money."
In addition to car accessories, guns and ammunition, CC Plus is also a YETI dealer selling all the best YETI products like coolers and cups. When you walk into their showroom, you'll also find Benchmade pocket knives, Costa sunglasses and much more.
John and his staff at CC Plus enjoy being a part of the Conroe community, and watching it grow rapidly. As Conroe has evolved, CC Plus has evolved with it, offering the growing city more options and solutions for vehicle and gun accessories. From 90's pagers and bag cell phones to automotive and gun accessories—CC Plus has come a long way and continues to deliver. "We are grateful for the support in our growth within the budding Conroe community," said Kristin Billingsley, CC Plus office manager. "We strive to create an environment that gives our customers the "at-home" feeling while providing for their automotive and gun needs."
For decades, loyal customers have been doing business with CC Plus time and again.
"The team worked with my wife and I on upgrades for our 2023 Chevrolet Tahoe (3" lift, wheels & tires, and tint) and from start to finish, we had zero issues! They communicated well and worked with us during every step. Couldn't ask for a better company to do business with. Also, if you're looking for guns or accessories for guns (and vehicles) I'm very happy to know a lot of military veterans behind the counter who will assist and guide you!" – Jimmy
In addition to assisting gun and automobile owners, John has had many opportunities to give back to the local community during his time as a business owner. "One of the greatest joys that CC Plus has given me for over 30 years as a business owner is to support and give back to those who supported me," John said. Some of those organizations include local schools, The Conroe Chamber, Montgomery County Fair, Ducks Unlimited, NRA, Lion Club, local law enforcement, fire departments, and countless others.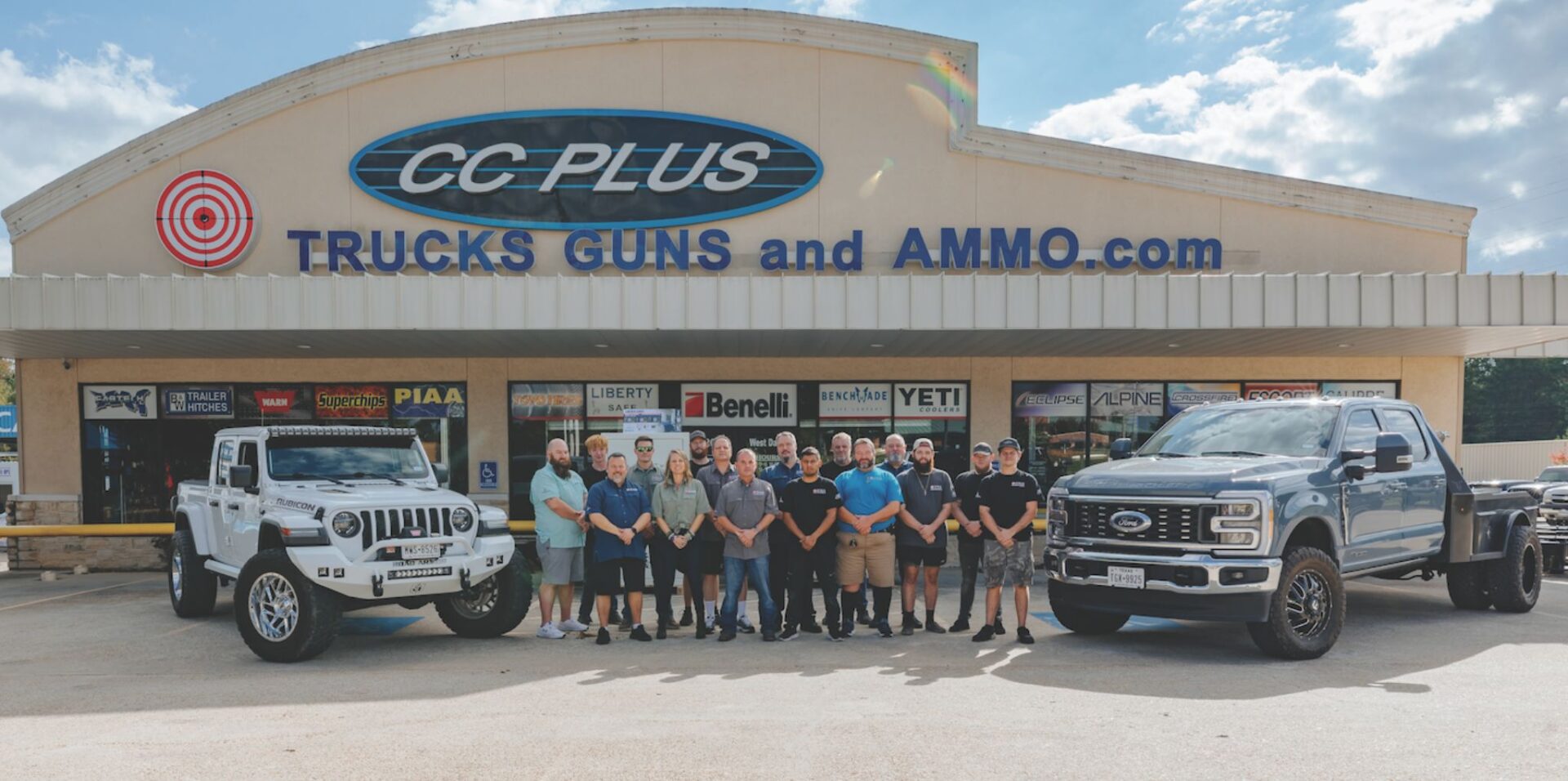 Contact CC Plus by giving them a call at 936-788-1800,
emailing them at [email protected]
or visiting their website at www.ccplus.com.
CC Plus Trucks, Guns and Ammo
4205 W Davis St #1, Conroe, TX 77304
Hours of Operation
Monday – Friday: 9AM—6PM
Saturday: 9AM—3PM
Sunday: Closed