Concrete. You've walked on it, played on it, maybe even danced on it. It's used for roadways, sidewalks, wheelchair ramps, driveways, and so much more. From "concrete jungles" to porch decks, concrete has helped enhance our transportation and way of life. That is, of course, if your concrete is smooth and in perfect condition. However, who do you call when you need to fix your concrete? Should you shell out thousands of dollars to lay down another slab of concrete only to see cracks starting to form in a couple of years due to harsh weather conditions? We think there's a better option: PolyTex Concrete Leveling.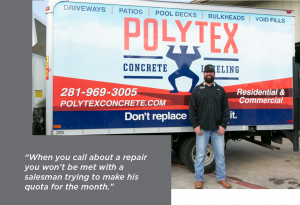 Fixing the Root Problem at a Fraction of the Cost
Oftentimes, concrete can be repaired instead of being replaced. When harsh weather events happen, such as hurricanes, tornadoes, freezes, and other events, this can damage the soil underneath the concrete. In turn, this can cause the concrete to be un-level, causing cracking and other issues. That's where owner David Butler and crew step in. "A lot of the time the concrete is in good condition, but we focus on the root problem which is the soil. We come in and raise, level, stabilize, and save that concrete at a fraction of the cost." 
Homeowners, businesses, and municipalities can save thousands of dollars this way with a little preventive maintenance. PolyTex uses commercial-grade, high density, high compression strength, polyurethane foam, which is top of the line. PolyTex will inject this polyurethane foam underneath a concrete structure (such as a sidewalk or driveway) to raise that slab back to its original height. The foam will bind to both the concrete slab and soil. Doing so allows the slab to stabilize and prevent water from eroding the soil and causing the same issue again—extending the life of your concrete.
Even better, most concrete jobs usually take a small amount of time. "Most jobs can be completed within a couple of hours and are ready to use that same day. We drill a small hole within the slab, no bigger than three-eighths of an inch, which is the size of a pencil head, and it's unnoticeable once we are finished. There's no wait time or dry time," says David. Concrete can be repaired and ready to use on the same day, which can be a game-changer for high traffic areas. Instead of waiting weeks or even months to put down a new slab, you can make your existing concrete stronger than ever before at a much lower cost. 
No Job Is Too Big or Too Small
This type of concrete repair isn't just limited to sidewalks and driveways. This type of repair can be used in all sorts of ways. As David explains, "No job is too big or too small, we do everything from driveways to municipalities, where there is concrete, we can repair it." Sometimes, this can be a vital necessity after storms and harsh weather, such as with washed-out areas. Some of the common jobs that PolyTex Concrete Leveling has conquered both residential and commercial are:
Driveways
Patios
Garages
Pools
Shopping malls
Bulkheads
Expansion joints
Sidewalks
Retaining Walls
And much more!
Your concrete doesn't have to be attached to any dirt for you to use the services of PolyTex Concrete Leveling. For instance, bulkheads can wear down over time and need repair. David and the team can still help repair that concrete as well. "Over time, the wave action can deteriorate your bulkhead. We can actually use a non-excavating process, using rods to seal the backside of your bulkheads. That foam will also repel water, so you won't have to worry about that piece of concrete in the future," he says. Every job is treated differently, and PolyTex is committed to helping its customers find the best solution for their needs.
When you partner with PolyTex Concrete Leveling you can expect nothing but the best, as Brian French pointed out in his 5-star Google Review:
"I bought a house that the sidewalk was a tripping hazard. The 3 sections had all shifted over 20 years. I saw my 75 yo aunt almost fall on my doorbell and decided it was time to fix it and couldn't put it off any longer. I called David out and he gave me a quick estimate later that day. I accepted and it was scheduled a couple days later. The crew came out on time and did a great job of leveling it. It was a heck of a lot cheaper than busting up and pouring new concrete. Nice and level with a warranty! Thanks PolyTex!"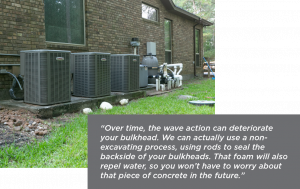 Reputation is Everything
PolyTex Concrete Leveling is a locally owned company in the greater Houston area. Because of this, every interaction with a customer matters. As David pointed out, "We're a truly local company, not a franchise. We try to go the extra mile when it comes to a job because these people are our neighbors and friends. Our reputation is everything to us. As the owner, I'm involved in all aspects of the business, and you can easily reach me any time. It's the little things that matter."
When you call about a repair you won't be met with a salesman trying to make his quota for the month. Instead, you'll meet with a concrete-level expert like David himself, who can give you expert advice on what's best for your situation. They'll walk you through the process and make sure your concrete is repaired as quickly as possible. No-fuss, no gimmicks. Just honest answers.
Currently, PolyTex Concrete Leveling is offering $100 off your concrete project if you book during this summer. Additionally, they offer discounts for veterans and first responders. 
If you'd like to get into contact with PolyTex Concrete Leveling, you can reach them by phone at 281-969-3005, or you can contact them online at https://www.polytexconcrete.com. If you'd like to stop by for a consultation you will find them at 22820 Interstate 45 N Unit 1P, Spring, TX 77373. Operating hours are Monday through Saturday 7 am-7 pm, Sunday closed.