All gun ranges are pretty much the same, right? You come, you shoot, you leave. That might be true for some places, but not for Blackwood Sporting Co. Blackwood is WAY more than "just a gun range." It sets itself apart from the reputation of typical gun ranges by being known as the friendliest, most family-focused gun range in the area. Blackwood's facilities not only include top-notch ranges and courses, but also a thriving event center that is a host to countless charity events, social functions, corporate team-building exercises, and so much more! 
A New Adventure
Jeff Bearden began Blackwood Sporting Co. in August 2016. Instead of retiring, after selling a previous business of 17 years he was looking for a new adventure and a way to give back to the community; and a lifelong passion for hunting, fishing, the outdoors, and the shooting community led him to purchase what was formerly the Gun Emporium so he could do just that.
His philanthropic vision for Blackwood Sporting Co. extended well beyond a typical gun store and range. When he bought the site from the former owners, it included a modest venue space with the capacity to host about 40 people. Jeff saw the potential of this feature and has revolutionized it into a thriving event center capable of hosting over 200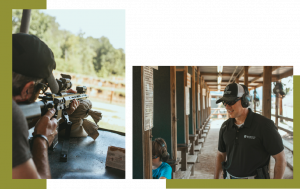 patrons. 
Helping Charities Help Others
This event center is the heartbeat of everything Blackwood Sporting Co. does as a business that gives back. Most importantly, it provides a place for an impressive number of charities to hold events that reach people to raise funds for their benevolent endeavors. Familiar organizations such as Meals on Wheels, Habitat for Humanity, St. Jude's Children's Research Hospital, United Way, Wounded Warriors, various local school district booster clubs, and countless others have all found a welcoming home at Blackwood!
Not only do they help host events for these numerous charities, Blackwood Sporting Co. also plays an active role in several such organizations that they particularly feel led to contribute to. A few of these notable charities include HUG, an outreach in Haiti that takes young men raised in orphanages and teaches them skills that help them learn a marketable trade; Elijah Rising, an organization that actively helps solve the human trafficking crisis; and Young Life Ministries, for whom Blackwood was on the board of their latest fundraising endeavor that raised over $37,000.
Family First
This generous and welcoming heart that Jeff and the team at Blackwood Sporting Co. operate from comes from being rooted in family. As Jeff explains, "I have a passion for my family being first in my life, and we let that passion flow through the rest of the facility." And, indeed, this "family first" mantra is evident not only in how they treat their guests and the excellence of customer service they provide, but in their patronage as well.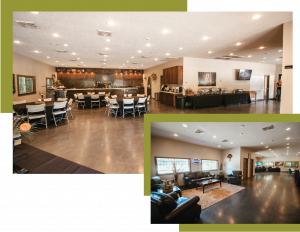 Here to Help
At Blackwood Sporting Co. guest experience is the top priority for Jeff and his team, and everything they do expresses that. Jeff emphasizes to his guests that "no question is a dumb question," and, in fact, encourages you to ask questions of him and his staff when you have them! "We are about growing the shooting community and getting families to come here together and feel comfortable, and we are here to give any advice and help you need," says Jeff. 
At Blackwood, they recognize that not everyone is an expert, and, in fact, most people are there to learn; so they make it a priority to teach. They pride themselves on being a source of education for people who come in to shoot. Jeff runs a staff that is highly educated in their field and is more than open to teaching what they know in their trade. 
Jeff hires range officers (ROs) with excellent people skills and manners who, after previous careers as firefighters, U.S. Army veterans, and registered nurses, etc., are there simply because they love the sport and sharing their knowledge. Therefore, the ROs are always present not just for safety, but also to answer questions, sometimes teach a little bit, and maybe even give some pointers. Ramiro summarizes this perfectly with his review on Facebook:
"Awesome range! Very helpful and extremely nice. Most gun ranges make you feel like an idiot when you ask for help. Not these guys they actually take the time to help you enjoy your time there. The ranger is a very nice guy and helpful as well. I'll definitely recommend this gun range!!!"
It's no wonder, then, that Blackwood attracts a community of families with kids, and even moms and wives seeking to learn on their own. Jeff and his team not only allow but encourage children to learn how to shoot at their range under parent supervision, as they understand it is a valuable skill set to begin learning at a young age. Blackwood further supports youth education by being the proud host range of two 4-H groups and the Splendora High School shooting team. On Facebook, another excellent review from Jacob boasts:
"Always a great place to go, staff is always friendly and helpful. My son and I have been shooting here nearly 4 years, he is now almost 9. Staff have always been encouraging and positive about him and his shooting. Nice to see complete "strangers" encourage children or anyone for that matter and making them feel proud."
Also, Blackwood has created their own shooting team, the Blackwood SCTP Shotgun Team, who in 2019 proudly placed 1st in Texas and in the region, and went on to place 3rd in the nation. The Blackwood SCTP Shotgun Team has won the TEXAS STATE CHAMIONSHIP four years in a row. This year they were 1st Overall, 1st in Skeet, 1st in Sporting clay, 1st in Super Sporting, and 4th in Trap.

Overcoming Obstacles
With all the effort put into creating the best guest experience possible, Jeff is proud that Blackwood Sporting Co. has become known as the friendliest gun range in the whole area; because getting there wasn't easy. 
When Jeff took over the former Gun Emporium, the site had a poor reputation as being a surly, mean place with military-style ROs taking extreme measures to run the range and treating guests harshly. This was a huge hurdle to overcome, but Jeff took the challenge head-on and began at the staff level with some re-training and new hires where needed. And now, not only are they the "friendliest range" to their regular patrons coming to shoot at the range, but their booming event center is constantly a host to charities, parties, and corporate team-building events. 
Jeff and his team's welcoming and helpful approach to running their facilities is perfect for corporate team-building exercises, where establishments such as corporations, small businesses, and men's church groups take their staff for some recreation time together; especially since some of these businesses come out-of-state from states where many members have never even held a gun before. Whether you're attending or hosting an event at Blackwood, you will always have help. Jennifer, another Facebook reviewer describes her experience:
"We just had an amazing day there yesterday at a Magnolia West FFA booster club fundraiser. I was very impressed by both the staff and the course. The staff was very welcoming and supportive to the group and we cannot wait to come back again. I am a local event planner and was also impressed with the clubhouse. This place will definitely be on the list for my next event. While talking to the staff, I was alerted to the range of events they have put on themselves. A Date Night Dinner, Taco Tuesdays Specials, Sunday Sundays, and much more. These dates will definitely be on my calendar."
A New Name
However, the reputation of the former ownership is not the only hurdle Blackwood Sporting Co. has had to overcome. In the recent sociopolitical climate, gun stores/gun ranges have been throttled by bad media due to association with the increasingly controversial topic of guns. Blackwood and other gun ranges in the industry are being blocked on social media and emails and having a hard time getting the word out about what they do. This is just for having a reference to firearms or shooting in their names. Therefore, most are having to reboot and rebrand themselves. Formerly known as Blackwood Gun Club, Blackwood Sporting Co. is well into this rebranding process. 
And the timing couldn't be more perfect. 
This summer, August 2021, Blackwood Sporting Co. is planning an exciting Grand Re-Opening event, complete with food, fun, and top brand vendors such as Smith and Wesson! Not only are they celebrating their 5-year anniversary and completing their rebranding, but they will be revealing some significant improvements to their facilities as well! Listening to and acting on requests from patrons, Blackwood is not only rebuilding some of their clay courses, but they are expanding their rifle range from 200 yds. to 400 yds.! Adding to the excitement of the event, patrons will be able to start qualifying for the expanded range on the day of the Grand Re-Opening.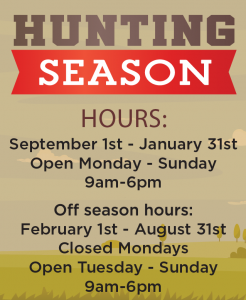 Open to the Public!
A common misconception about Blackwood Sporting Co. is that it is a private range. However, while there are memberships available, Blackwood is open to the public and all are welcome! So what are you waiting for? Plan your next visit or event with Blackwood Sporting Co. today, and be sure to attend the Grand Re-Opening on August 7th. You won't want to miss it!
You can find out more about Blackwood Sporting Co. at https://blackwoodsporting.com. You can also give them a call at (936) 441-4040 or visit their facilities at 11400 FM 2854, Conroe, TX 77304. Business hours are seasonal, with both hunting season hours and off-season hours.