Your dog is your most loyal companion, your biggest fan, and your best friend. They deserve the best you can give them. If you're leaving for a trip, planning to be gone all day, or simply want to pamper your dog with a grooming session, treat them to a getaway stay at The Barkly Pet Retreat & Spa. 
A Passion for Pet Care
Amber Murphy has been caring for animals her whole life and has owned The Barkly Pet Retreat & Spa since 2014. Before The Barkly, Amber worked professionally in corporate pet care for five years, during which time she learned a lot about the industry before venturing out on her own.  
On the surface, many would consider working at a pet boarding facility an easy dream job. Getting to pet and play around with puppies all day? Sign us up! However, there is nothing easy about it. Taking care of so many dogs at once and being in charge of their lives is a very serious and very important job, and if you use your imagination just a little you can probably think of some less than glamorous chores involved. It's a lot more work than most people might think. Even so, if you're passionate enough about pets it can be incredibly rewarding. 
And it doesn't take long when talking with Amber to realize how passionate she and her staff are about pet care. "My employees and I love our jobs so much, and we love other people's dogs so much," she explains, "you don't even know the kinds of things they put up with and do with a smile. My people will leave their families to come and take care of whatever needs to be taken care of. We're so grateful for all of our customers and we just love their dogs so much!"
Many dogs at The Barkly are regular guests and begin to feel like members of an extended family, along with their pet parents. In a review on their website, Jake's pet parent had this to say:
"I love the staff at The Barkly, and never worry about Jake, my lab, when leaving him for daycare or extended stay. He absolutely loves going and is very attached to the staff. He has been going there since he was a puppy…"
Full-Service Facilities, Fun, and Furry Friends for Fido
"The Barkly Pet Retreat and Spa is a safe and fun place for your fur baby to stay while you are away or even just for a day of playtime and fun," explains the staff, "We provide different types of unique accommodations including grass yards and a pool for doggie playtime, we also provide multiple services that are personalized for your dog."
The Barkly hosts their furry friends on its 7-acre lot with 7,000 feet of indoor space and a 30,000 gallon "beachfront" pool for dogs to enjoy getting their paws wet using the inclined entrance. The services offered at The Barkly aren't limited to simply dog boarding though, with more options including: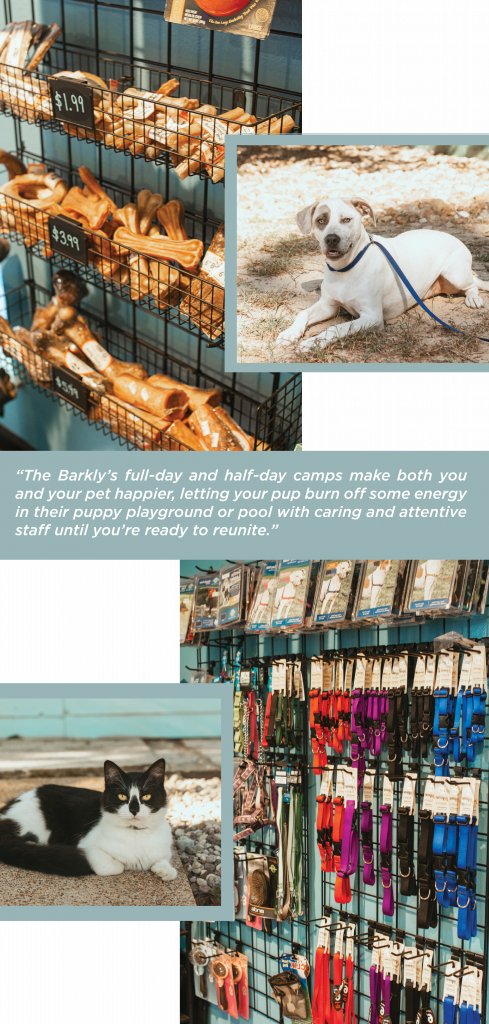 • Dog and cat boarding
• Dog and cat grooming and bathing
• Dog and cat daycare
• Dog training
• Dog socialization through group play
• Outdoor potty breaks for dogs
• Medication administration for cats and dogs
Perhaps you have a busy schedule that leaves your best friend at home alone all day causing trouble in the form of chewed or torn-up belongings, and you don't want to leave them outside all day in the Texas heat. The Barkly's full-day and half-day camps make both you and your pet happier, letting your pup burn off some energy in their puppy playground or pool with caring and attentive staff until you're ready to reunite. 
The staff elaborates further, "The best part is your dog is going to sleep great because your dog is a couch potato at home – running around your backyard is not exercise. So they are going to sleep for like two days after they come home from camp. So if you have guests coming to the house, it's the best. Bring them to camp [to burn off their energy], and your guests will think you have the best-trained dog ever!"
With so much playtime, it's no wonder dogs like Stella have the best time. On the website, Stella's pet parent excitedly writes: 
"I am in LOVE with this pet resort!! I called with tons of questions, and Virginia was so kind and patient with me! When we showed up, our pup went crazy!! The outside area, pool is BEAUTIFUL!! The dogs playing at 9 in the morning were having a blast!! You can tell how much everyone here loves animals…HIGHLY recommend!!"
Prepare for Boarding!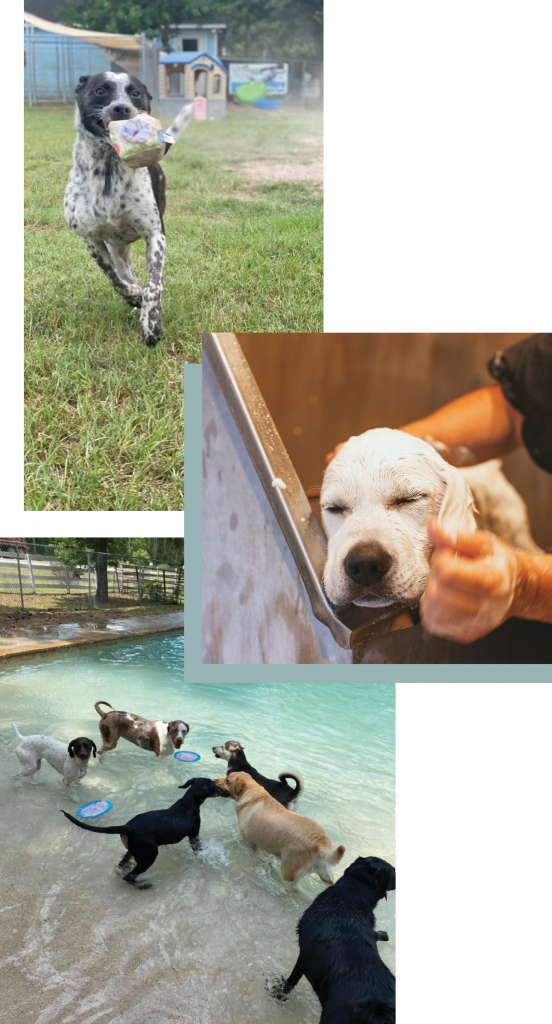 Pet boarding is not only fun for your dog; it can be important in their development andprevent future problems in emergencies as well. The staff explains: 
"It's good for dogs to have a change, to stimulate their brain, and smell new smells. It's different for them and so stimulating to their minds. Especially when they are young. If you get a new puppy, boarding and day camp are great things to introduce them to. You never know when you might have an emergency situation where you have to board them. If you had boarded your dog as a puppy or anytime before there was an emergency, they would have felt so much more comfortable. It's good for them to have those experiences so that you are already aware if there's an issue instead of finding out during a stressful time. I always recommend at least letting your dog go to daycare or spending the night one night every once in a while just so that they know it's not a terrible experience."
Emergencies
In light of the uncertainty that's been unfolding recently with current events like pandemics, extreme weather, and hurricanes, it's important to consider emergency preparations not only for the human members of your family but your canine members as well. To have things for your pet prepared in case of an emergency, Amber advises having on hand the medication bottles from any medication your dog might take. That way, if you run out and your vet is closed, you and your boarding facility can get the medication your dog needs from a different vet. 
Also, make sure you have easy access to your dog's current vaccination information. The smartest option is to take a picture of it and have it on your phone or be able to pull up an email and present it to your boarding facility. Just make sure it's on your person because you never know if you might not be able to make it home, or your vet might not be available. You don't want you and your dog to be left stranded because you weren't able to access that critical information.
Things to keep in mind!
If you're rather new to boarding your dog, Amber has some other tips for you, too!
• "Don't just assume your dog is fully vaccinated. There are some vaccinations your dog specifically needs if they are boarding, so you need to inform your vet of your intent to board and verify your dog has everything they need. Also, have the vaccination records with you on your person to avoid having to call the vet after you get here."
• "I would recommend that if you have an early flight and need to rush in and out that you drop off your dog the night before. Nothing goes as planned when you're trying to catch a flight, so even if you think you'll have time you probably won't. It's well worth the cost of an extra night to drop them off the night before and have peace of mind." 
• "If your dog is on a special diet or has allergies, bring their food. However, don't bring any new food or treats they've never had before that might cause a tummy ache. Just bring what they normally eat."
• When it comes to bringing personal belongings for your dog's stay, keep in mind that less is more! You don't need to bring every stuffed animal and toy they own, but a couple of things that might make them feel more comfortable is fine. Any other common things they might need (such as beds, blankets, etc.) we can supply!"
If you do need a facility to board your pet even in uncertain circumstances, The Barkly Pet Retreat and Spa will be ready to help your furry friend feel comfortable and loved while away from you.
Learn more about The Barkly by visiting their website at www.TheBarkly.com. You can also give them a call (936) 447-2275 to set up appointments, ask questions, and check availability, or visit their location at 15000 FM 2854 Rd., Montgomery. Their lobby is open from 7am-7pm every day, including Sundays, except for Thanksgiving Day and Christmas Day.