Insurance That Works For You
Everyone needs some type of insurance, whether that be auto or home, but what's the best deal for you? More importantly, who's going to be there when the going gets rough? Many people have stories of calling their insurance after a life event and waiting hours on the phone, or claims taking forever to file, or even waiting weeks for a check to arrive in the mail. Oftentimes, customers don't feel heard or seen especially when they need it the most. They pick up their phones or open their app only to find automated messages. The process of filing a claim feels daunting and confusing. Not to mention, a lot of people don't know everything their policy covers. 
But insurance doesn't have to be complicated. In fact, with the right insurance, filing claims can be made simple and easy. At least that's what Jimmy Thompson and the team believe whenever you step into their facilities. You don't have to go through this process alone. With the right team, you can feel empowered whenever you file a claim. With dual locations in Montgomery County, the team at State Farm is ready to help you make sure that your insurance works for your needs.
Personal Service When You Need It Most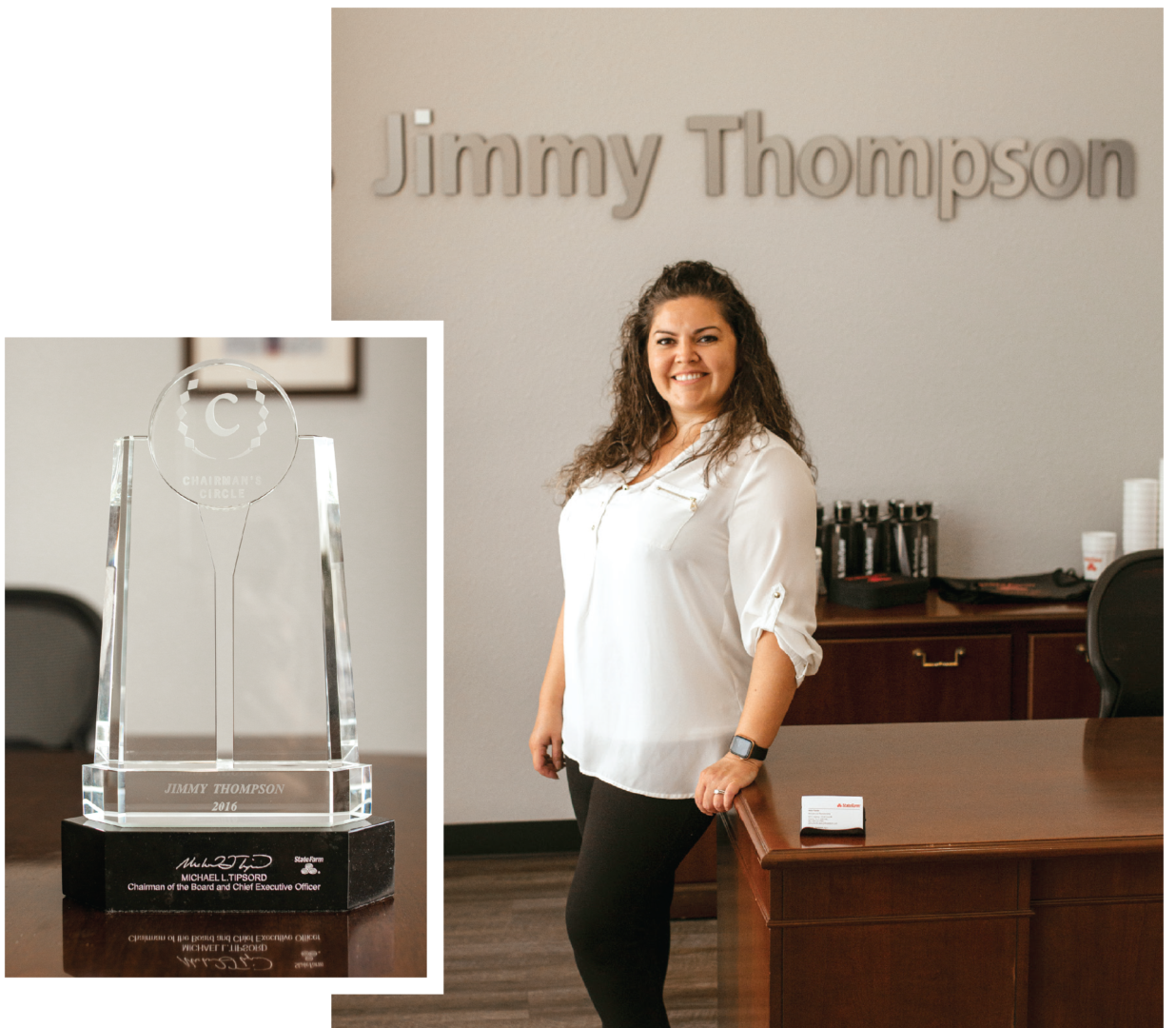 There are many insurance companies, but not all of them are created equal. Knowing the right choice for you and your family can be a difficult task. From sifting through policies to understanding prices, it can be overwhelming to know what you truly need. Jimmy Thompson and crew are dedicated to helping you find the best situation for your family, and as Jimmy puts it, "When you work with anyone on our team, everyone is truly genuine. We are faithfully trying to earn your business and we use old-fashioned customer service. It can be hard to find that these days, but we make it a point to do business in a personal manner. Not to mention, we have a combined experience of over 120 years to help our customers."
It's that genuine care that Jimmy and his team have tried to cultivate into everything they do at their State Farm agencies. You'll work one-on-one with the caring and thoughtful staff, as Jimmy noted, "We have 12 local licensed agents on staff who can help you anytime and help solve any problem. You'll talk to a real person when you call our office, whether that's filing the correct claim or updating your policy."
This can be vital after a natural disaster occurs. Not only for being proactive but for when the worst strikes, you know that somebody has your back. Specifically, agents at State Farm can help you with more than just pointing you to a claims department, "Unlike other companies, State Farm allows agents the ability to write claims checks on the spot. We can use this ability especially during a catastrophe or emergency, such as the winter storm that hit Texas. We were able to write checks immediately which helped people secure the best local contractors for their repair. You can walk into the door and get a check from your agent the same day instead of waiting for one in the mail or talking to claims," says Jimmy. That's the level of care you can expect when you visit the State Farm agencies in Montgomery County.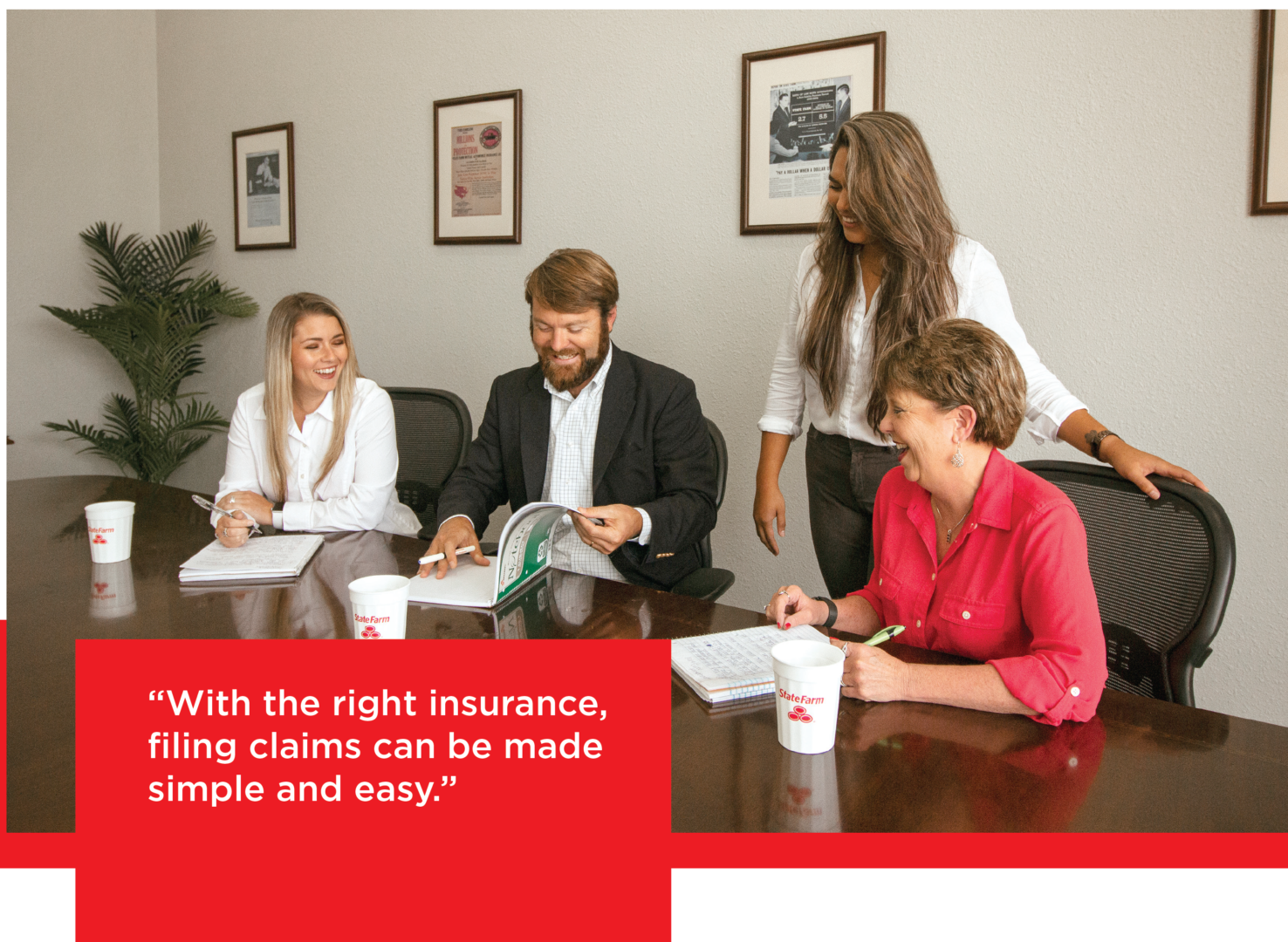 Coverage For Your Needs
Truthfully though, insurance is about helping people when they need it most. That help can come in a number of different ways. Many people know State Farm for their great rates on auto and home insurance, but that's not all they do. State Farm offers a wide range of insurance for a multitude of reasons. As Jimmy stated, "State Farm has been the #1 Home & Auto-insurer since the '40s, but we also do so much more than that. We do investment and retirement planning, home mortgages through Rocket Mortgages, banking with US Bank, major medical insurance through BlueCross BlueShield, and even do pet insurance, we really can do just about everything."
State Farm is your one-stop shop for almost all of your needs. They can provide you with comprehensive policies and affordable rates for all of your major life choices. It's not just about protecting you and your possessions but preparing you for whatever life may throw your way.  When life throws you a curveball you don't need to be nervous or scared, you can be ready. Talk to someone locally who will understand your needs. Even if you are moving out of that area, Jimmy and the team are licensed for Louisiana, Arkansas, Oklahoma, and New Mexico.
Being Proactive
The best way to make sure you are ready is to sit down ahead of time and figure out the best policy for you. As Jimmy puts it, "We know that insurance can seem boring, but an annual review of your policy and what you need is really important. Everyone can benefit from sitting down with a licensed agent and talking about what may be best for their situation and location. Hopefully, we cannot only save you money but make sure you're fully covered." While everyone's situation is different, it's important to be vigilant about taking care of your belongings. Life is unpredictable, and an ounce of preparation is worth a pound of cure.
From working with you to secure a new policy or adding on to your old one, you can count on the State Farm team in Willis and Conroe. The agency under Jimmy Thompson and his team are actually the first dual State Farm Agency in Montgomery County. It's a new program that they qualified for due to their history and track record. They have an office in Willis and Conroe to better serve their clients. They've made insurance accessible, personable, and engaging for the community.
If you'd like to contact Jimmy or his team, you can reach them at either location. 
Willis location information:
10652 FM 1097 W
Willis, TX 77318-5739
Phone: 936-228-2991
Conroe information location:
6511 Highway 105 W Suite B
Conroe, TX 77304-4782
Phone: 936-228-2980
You can also reach both locations online at: https://www.teamthompsonsf.com
Come check out how Jimmy Thompson and the team can help you save money this year and get the coverage you need for all of life's crazy adventures!