"Elf: The Musical" at the Crighton
Christmas makes children of us all. Scrooge, Ralphie, the Grinch, and the Little Drummer Boy pop back up every year, and now there's a new grown-up kid in the holiday lineup – Buddy, the elf who comes to New York looking for his real father. Played by Will Ferrell in the 2003 hit movie Elf, Buddy now stars in Elf: The Musical, opening this month at the Crighton Theater under the auspices of Stage Right.
You see, Buddy snuck into Santa's toy bag as a toddler, and grew up in the North Pole workshop thinking he was an elf, but now he's reached those turbulent years and knows he's different. So he hitches a ride on Santa's sleigh, hoping to come back and find his real family. He winds up in the heart of Christmas at Macy's department store, famous for its all-out holiday décor. Children line up there to tell Santa what they want him to bring them, and Buddy wants a father.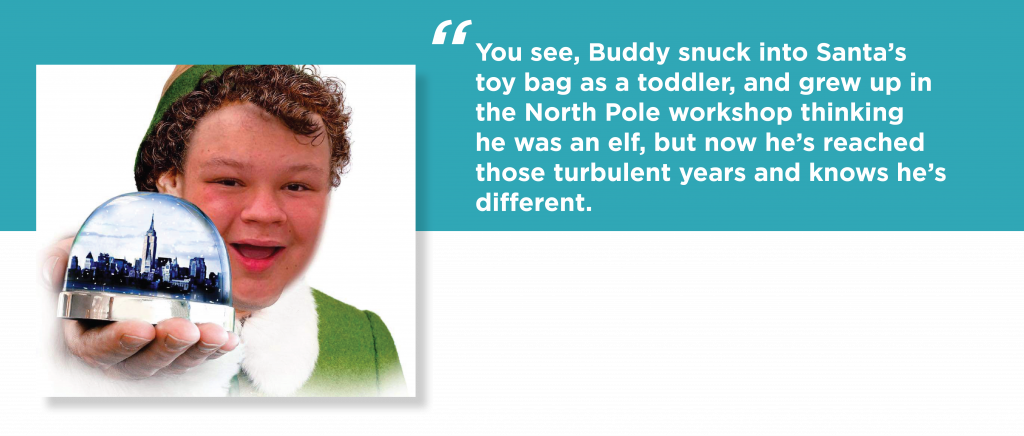 As musicalized by Matthew Sklar and Chad Beguelin, adapted by Bob Martin and Thomas Meehan, the storyline and characters are a little different from the movie, but the central idea is still there, with rousing energy and heartwarming sentiment. The songs are infectious, the cast is captivating, the Christmas culture is in full swing. Everybody likes to sing at this time of year, and Elf offers us plenty of tunes to cheer the season.
Kara Kowalik is making her Stage Right directorial debut with Elf, shepherding a large cast though song and dance, comedy and drama, bringing out the best in everyone. Known for her spectacular scenic design and artistic genius, Kara now steps up to oversee the entire production. The whole Stage Right talent crew is called into action, starting with artistic director Sara Preisler, masterminding the show's many children's numbers, bringing her bravura history with Tarzan, Peter Pan, and Annie into play.
Stage Right is well versed in the art of spectacular holiday staging, with a beautiful soap bubble snowfall wafting over the audience, and Elf: The Musical doesn't disappoint, conveying all the mystique of New York department store abundance, toys piled high and gifts richly wrapped. At Macy's, it's a wonderland, warming the winter chill with high spirits and high harmonies.
Leading the Crighton cast as Buddy, the elf himself, is Ara Holliday. Audiences know him best as a child actor, but he's a big boy now. Perfect casting for the role, Ara has always seemed wise beyond his years, and now he's catching up with himself. Watching him grow up onstage over the years has been very enjoyable in shows at both the Crighton and the Owen and at the Renaissance Festival, but Buddy is an adult role and Ara finds the core truth and depth amid all the silliness.
A family feeling pervades the backstage reality show, with parents, kids, and spouses performing together. Father and son Jeremy and Kai Desel return from Tarzan to share the stage again, as Buddy's troubled birth family, Walter and Michael Hobbs, alongside Desel youngsters Addie Jae and Grayson, debuting in a lead role as Charlie, the Head Elf. As Walter's canny secretary, Christina Sato brings signature sizzle, plus her talented offspring Chelsea and Reece. David and Debbie LaRue are married, and Macy's manager Matthew Johnson appears opposite his daughter, Clover. Katie Sigler, who plays mom Emily, is also mom to young Bennett, in her first show ever.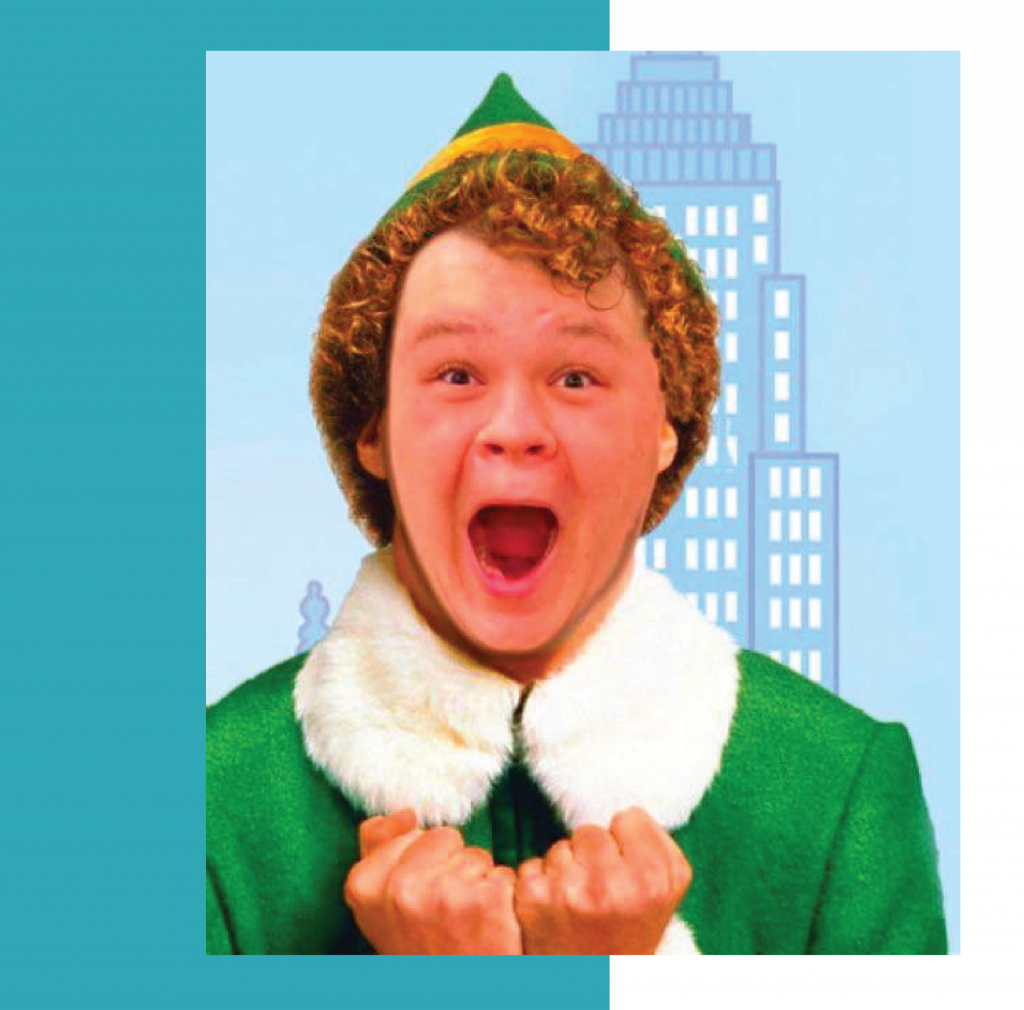 Other principals include Dallas Hiett as a debonair Santa dispensing "sparklyjollytwinklejingle" to blasé New Yorkers, with the dazzling Cahlyn Velasco as Jovie, Buddy's elusive love interest. A host of familiar faces from our local musical family brightens the scene – Amy Massey, Matt Wehring, Kenzie Soape, Victoria Best, Carly Cremin, Monique and Monaé Lott, even Sophia Von Koschembahr, to name but a few. It's a mad Manhattan whirl of Conroe celebrities. 
Awesome acrobatic dancing greets Santa's grand entrance into Macy's, infusing commercialized Christmas with true generosity of spirit. There are elves galore, a hectic adult ensemble, boys and girls bouncing with glee, while a troupe of despondent, out-of-work Santas dance a bluesy lament for our era of disbelief – even when Elf gets a little mopey, the talent brims over. 
The show unpacks many musical styles, and guiding it all along is music director Meredith Fisk, herself a storied soprano from Little Shop of Horrors and Into the Woods. "A lot of people will be hearing Elf here for the first time," she says, "and we want to make it a lifelong cherished memory." 
The longing to belong is stronger now than ever. "This is why I wanted to do this show," says director Kowalik. "After Covid, the world needs to rediscover the good things and bring them back to life. Joy and participation and family, that's where the real cure comes from." 
Searching for himself, Buddy the elf teaches his father how to love, and lights up New York in the process. As in all Christmas stories, all non-believers are converted, cynical businessmen are confounded, and children's dreams all come true. Stage Right's Elf: The Musical sings from the heart and brings us home.  
Elf: The Musical will run from December 3 – 19, Fridays and Saturdays at 8:00 p.m., with matinees on Sundays at 2:00 p.m. For reservations, call 936-441-7469. The Crighton Theatre is located at 234 N. Main St., Conroe, TX 77301, with the box office open daily at 3:00 p.m.