Stage Right Presents: The Drowsy Chaperone
Imagine a dingy New York apartment inhabited by a mousy, agoraphobic man who is obsessed with Broadway musicals. In order to ease his "non-specific sadness", he plays a record of the soundtrack of his favorite 1928 Broadway musical comedy.  As he listens, the apartment recedes and transforms into an elaborate, glitzy set with performers in fabulous costumes. This show-within-a show centers on Janet Van De Graaf, a popular showgirl who is the star of Feldzeig's Follies. Janet has decided to retire from show business because she is marrying Robert Martin, an oil tycoon.  Feldzeig, her producer, is being threatened by his chief investor who insists Janet continue to perform because a great deal of money is riding on her star power.  The ensuing plot includes a bumbling Lothario, mistaken identities, dream sequences, an unflappable English butler, two inept thugs and Janet's drowsy chaperone.

The Drowsy Chaperone is a musical with book by Bob Martin and Don McKellar and music and lyrics by Lisa Lambert and Greg Morrison.  It is a parody of the musical comedies of the 1920s.  It opened on Broadway May, 2006 and won five Tony Awards and seven Drama Desk Awards.  The Stage Right production is directed by Manny Cafeo who has directed numerous shows at the Crighton Theatre as well as many other venues. Sean Keith Thompson is cast as Man in Chair. He sees the Man in Chair as a tragic figure. He says, "He's alone, he's self-admittedly blue; he's anthrophobic and agoraphobic and is as desperate for human contact as he fears it." Sean is an actor and director with numerous credits, however this is his first role onstage at the Crighton.  Once many years ago, he performed literally under the Crighton stage in the music pit for a production of Little Shop 
of Horrors. Sean, referring to working with this director says, "I've known of Manny over the years by his reputation and the shows he's directed, but this is my first time working with him, and I'm thrilled as an actor at his firm vision for the production combined with his willingness to allow his actors to experiment with choices and motivations." 
Sara Preisler is cast as the talented and beautiful Janet Van De Graaf.  She is well known to Crighton audiences as an excellent actor, singer and dancer; she is also wonderful and creative director.  She has performed in Steel Magnolias (Shelby), My Fair Lady (Eliza Doolittle), Young Frankenstein (Inga) and Singing in the Rain (Kathy Seldon) and many other productions.  Her directorial credits include Tarzan, Peter Pan, Roger's and Hammerstein's Cinderella and Annie. 
The Drowsy Chaperone is portrayed by Christina Sato who was last seen on the Crighton stage as Deb in Elf.  She has also graced the stage in Tarzan (Kala), Peter Pan (Mrs Darling), Thoroughly Modern Millie (Muzzie van Hossmere) and Cinderella (Evil Stepmother).  Christina is always a delight on stage with her beautiful voice and comedic timing.
Rounding out this excellent cast are Stephanie Cleverly, Charles Rodenberger, Cain Hamilton, Adam Isbell, Lindsey Steel, Ryan Anthony, Layne Roberts, Monique Lott, Monae Lott, Matthew Johnson and Matthew Wehring.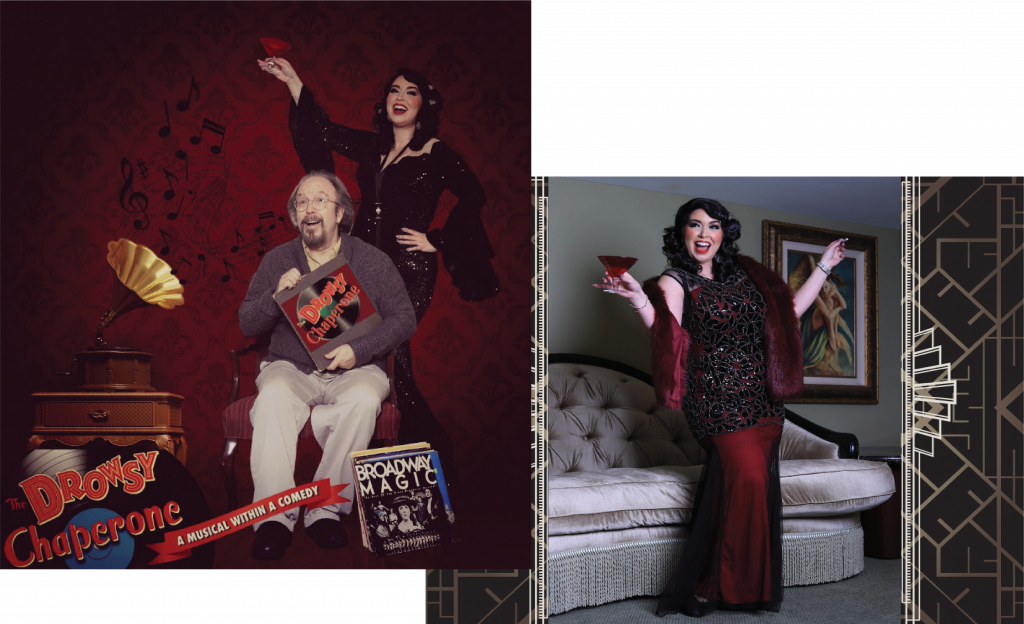 The Drowsy Chaperone opens on February 11 and runs through February 27 at the historic Crighton Theatre, 234 N. Main, Conroe, TX. To buy tickets, go to crightontheatre.org or call the box office at (936)441-7469
Tickets are $26 for adults, $22 for seniors over 60 and $17 for students under 18.  So don your best 1920's party ensembles and head out for a night filled with music and laughter.