Bird Love & Bluebonnets in the Air
If you've been outdoors in the past month, you couldn't have missed the bird action on the water, in the trees, and on the ground. Late winter and early spring in the Piney Woods of Texas is a crossroads for birds leaving their tropical wintering sites for their warming northern breeding ground. Many arriving from further south nest and breed here. 
They travel thousands of miles each year for one or more of these reasons:
1. Procreate where food is plentiful and not frozen
2. More nesting options and less competition
3. Avoid the cold
4. They love longer days for love and foraging

All of these reasons increase the chances of survival for a bird and its brood. 
Since before Christmas, our yard was spotted with pops of red with dozens of Northern cardinals at the feeders for safflower and black oil sunflower seeds. Rowdy feeder clowns, American goldfinches and their pine siskin cousins empty bags of nyjer (thistle) every week since January. Red-bellied and downy woodpeckers hit the suet cakes and shelled peanuts while beating off the squirrels and blue jays. And plenty of of Carolina chickadees and wrens, tufted titmice, pine warblers, yellow-rumped warblers take quick nibbles from feeders of clean insects from the barren gardens and trees. Three kinds of doves, multiple sparrows, grackles, huge crows, and soon we'll be seeing red-winged blackbirds attack all feeders, even grabbing uneaten cat or dog food.
Still, birds are pretty picky about their food, with good reason. You'd be picky too if you needed a whopping 10,000 calories a day to fuel a very high metabolism (imagine you consuming 155,000 calories). 
I've seen cardinals and chickadees chucking seed they didn't want to the ground. I avoid birdseed that is filled with filler like yellow millet, preferring black oil sunflower, white millet, nyjer, safflower, and sunflower chips. Quality seed is scientifically proven to help with growth and survival rates and doesn't deter birds from natural foraging. Just watch them scarf the berries off wild yaupons.
Now, back to bird love in the air.  We've seen Great blue herons pluck loose tree branches, then fly them to build their treetop nests. A rookery formed near the intersection of FM 2457 and FM 3126 in West Livingston and while not currently crowded, draws cattle egrets to the wide, muddy grass fields. The ponding is perfect for annual gatherings of great egrets, snowy egrets, and especially cattle egrets. Don't underestimate the beauty of cattle egrets until you've seen them dressed for breeding.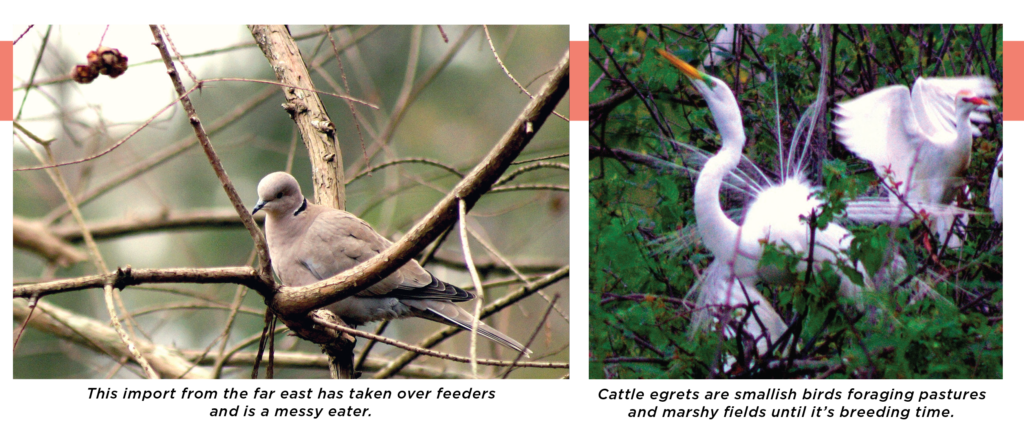 While you can't attract nesting action from herons and egrets, eastern bluebirds and purple martins rely on us to provide them housing. Martins are here now and already building nests in multi-chambered houses we lift onto high poles at water's edge or grassy fields.  They rely on us to help keep the houses free of invaders like sparrows, starlings and snakes. As reward, we can enjoy their morning song and evening goodnight, plus they consume mass quantities of mosquitos daily.
Bluebirds are here year-round and seek our built to specification houses. They live in the small boxes with precisely sized entry hole and no perch, placed just 5 feet off the ground. Contact Piney Wood Lakes Master Naturalist for easy-to follow directions, txmn.org/pineywoodlakes.
All this bird love is going to make for a fun summer. It won't be long before we see clutches of ducklings following mama ducks. We watched both mom and dad cardinals and blue jays teach their young to eat all through the summer last year.
To make this love fest and frenzy even more fun, in March our soil gives way to the deep blue caps of bluebonnets filling the air with their sweet, pure Texas scent.  If you want bluebonnets, plant a 4 or 6 pack in a sunny location and let them bloom and go to seed, then wait and hope. Or throw out a large bunch of seeds in November or December of this year, and hope for next spring.
 Learn more about helping monarch butterflies by joining a chapter of the Texas Master Naturalist or Texas Master Gardeners. Piney Wood Lakes Master Naturalist serves members across Polk, San Jacinto, Trinity, and Tyler Counties with volunteer opportunities, educational resources and conservation projects. txmn.org/pineywoodlakes   SJC Master Gardeners serves members in San Jacinto and Polk Counties, sharing their time, knowledge, and expertise to improve the quality of life for neighbors and area visitors.