CHARLIE BROWN COMES TO CONROE THIS CHRISTMAS
Charlie Brown and his Peanuts® pals are a favorite staple of every holiday season. This Christmas, the Players Theatre Company will bring the intrepid blockhead to life on the Owen Theatre stage, but not in the traditional Christmas show. You're a Good Man, Charlie Brown will be performed weekends December 2 through 18.
"This show is all about happiness and joy which makes it a perfect choice for the holiday season," said Director Roger Ormiston. "It's also a nice opportunity to take a break from the oversaturation that can happen around Christmas and do something different. You're a Good Man, Charlie Brown is a fun classic everyone will enjoy."
The upbeat musical is based on the comic strip "Peanuts" by Charles M. Schultz, who would have celebrated his 100th birthday this year. Charlie Brown, his sister Sally, and his nemesis Lucy, along with Linus, Schroeder, and Snoopy navigate the joys and pitfalls of childhood including chaotic baseball games, unrequited Valentines, WWI flying beagles, and five cent psychiatry. 
Under the clever guidance of choreographer Jodie Schrier, the much-loved blanket comes to life to dance with Linus, played by Jonathan Duttweiler; Charlie Brown, played by Nick Lumpkin, tangles with his flying kite; and Mark Doreza's Snoopy takes flight to battle the Red Baron. "It's a dream to work with such talented actors and a director like Roger who is so creative technically," said Schrier. 
Kristin Bennett makes her Players Theatre Company debut as Sally. Kathy Evans plays Lucy, and Philip Harris is her love interest Schroeder. "These are six strong, lead soloists, and we couldn't have asked for a better cast," said Music Director Shann Powers.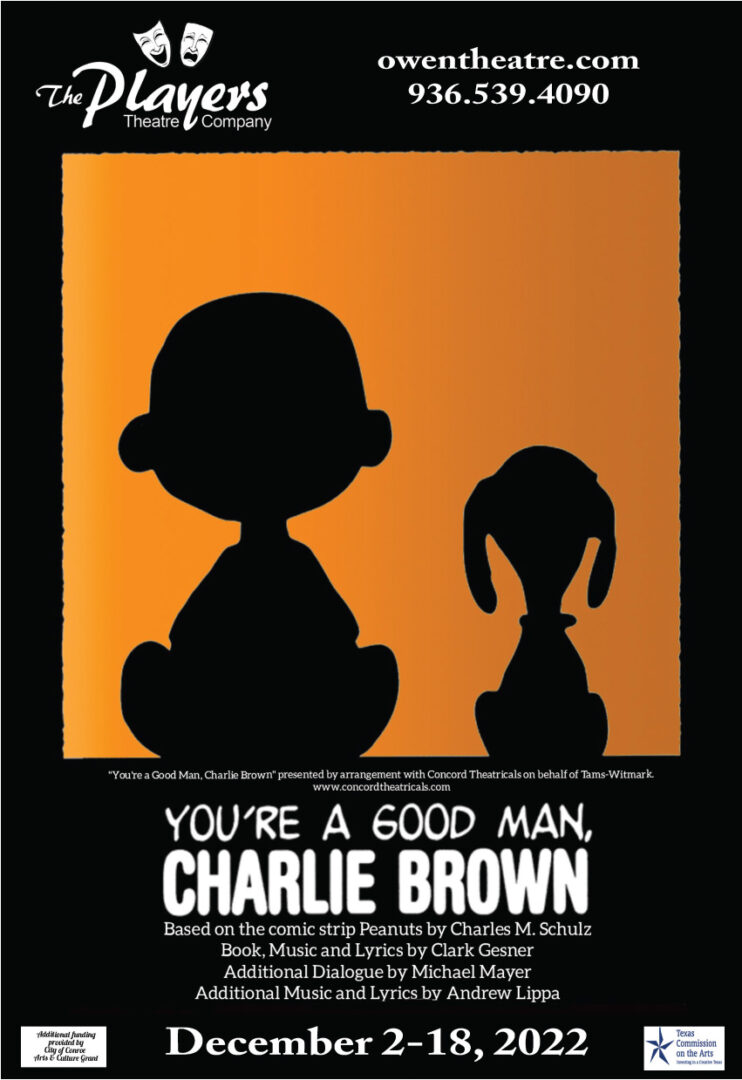 You're a Good Man, Charlie Brown is appropriate for all ages. Tickets are available at the Owen Theatre box office (936) 539-4090 Tuesday-Friday 3-6:00pm or online at www.OwenTheatre.com. The box office is also open at the theatre two hours before performances, 225 Metcalf Street, Conroe.